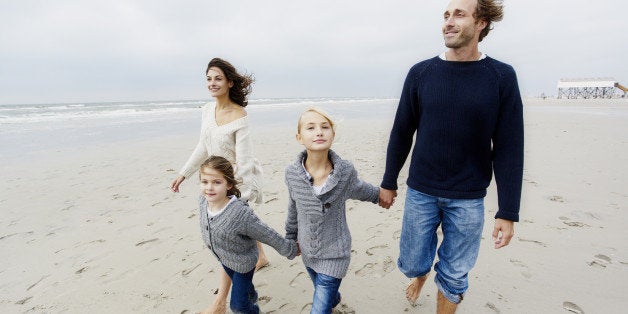 Less and less people think of me as weird when I say this. Of course more and more of these people are parents like me. Because let's face facts -- if we loved exploring the big wide world before we had our children, isn't it only natural to continue doing it and sharing our passion with them? I can still remember every trip I took with my parents and still consider those times to be the best ones we've had. They infected me with the desire to go out there and spend every dime I had on the next big adventure. Finding a hubby who loves the same wasn't even that hard and we bravely traveled for the few years we were alone.
The minute I found out I was expecting, I looked at my hubby and said: "We are not done with the traveling now." Of course, the birth of my daughter stopped those plans for quite a while and I started complicating things when we did decide on our next destination. I felt like I needed to bring the whole nursery along and it was hard having to adjust to the 'kid friendly travel', where I had to think of everything and most of all be prepared for all possible scenarios. I tried hard to not think about all the pre-kid careless wonderings on no schedule, following only what the two of us wanted to do. There in France, in the beautiful Provence, I had to bear in mind the afternoon naps, the baby food, toys etc...
All of the above doesn't sound as a way to recommend travel with kids, let alone the best way to travel. Well, that was our first trip where I learned to take it easy, to let go of the routine that has us grounded at home and to enjoy each other's company. But most of all, I realized it can be fun. Forget about those scenes of tantrum throwing kids or tots screaming and running around the plane for eight hours. That is not to say that kids don't do it, but not all of them and not all the time. I don't have perfectly behaved girls, but I am teaching them what is appropriate, when and how. And the best way to learn is by example and by experience. I take my girls to galleries and museums, to parks and playgrounds, to the store and to the theater.
And while I too have to endure some establishing my boundaries scenes and bang my head at the first available wall because I get the looks from all the people in the gallery, I pick myself up and carry on. I want my children to see my passion and even if they don't share it, maybe it will inspire them to find something that they feel deeply about. Besides, traveling with them really did make me see travel in the whole different light.
It's definitely more fun -- visiting a castle and having to come up with answers to, where are all the princesses or dragons. Or instead of walking all day in the stuffy, overcrowded museum, we spend the whole day at the beach building fortresses in the sand. And it's all OK. If we were all alone it would probably never happen, because we'd feel we had to do all the sights in the guidebook. This way we get to blame the kids and skip some of them.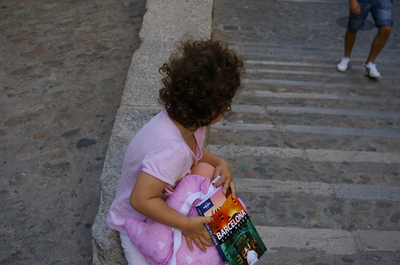 I think that really is the best part for me. Realizing I didn't need to do it all. Children make you take it easy. As a parent with two tots, we have learned to pace ourselves; we have to choose because we know we can't do it all, but what we do manage to experience is all so much more insightful and true than just rushing by, on to the next big thing. We do it almost as locals with kids, eat a snack at a park, try all the playgrounds in the vicinity, hit the zoo instead of the galleries, walk around the center instead of a museum, go to sleep instead of a party...
My girls make me see things differently. I have outgrown my youthful creative imagination where in every ruin I could see what it once was. But with the help of my daughters, I can again appreciate all the beauty around me. Castles are no longer ancient buildings or museums full of useless stuff, they are now places where stories come alive.
The same way they are inspiring me, I hope by showing them the world I am raising them to be smarter, open minded and curious. But most of all I think of travel as spending quality time together. Work, chores, school, every day life means we don't get to spend a lot of time with our kids. And the time we do spend together is rushed, incomplete and mostly just the routine. Going away from home, we get a chance to be more relaxed, more fun and excited to be together. We let the routine be a little loose and us a bit more creative.