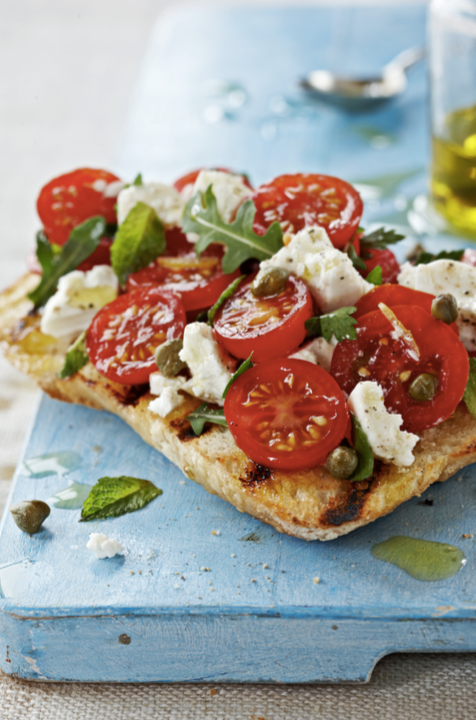 We could call it the multiplication of the loaves without the fishes. That's because this food imbued with meaning—bread—plays more than a symbolic role on Italian tables. It happens above all in summer, when the Mediterranean temperatures and the complete lack of a desire to cook make us crave simple, colorful, tasty but also light dishes. Easy to make in advance, they take little time and energy. You simply mix seasonal ingredients and follow quick recipes, focusing on the quality of readily available ingredients. So bread changes its guise and becomes a leading player in scripts that change according to regional traditions. Often, the most faithful companions are tomato and basil, to create the effect of the Italian flag—green, white and red—that immediately brings cheer to any table.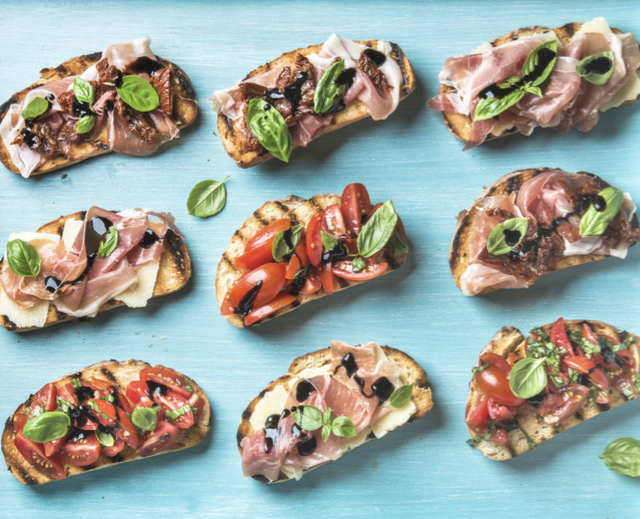 BRUSCHETTA
This is one of the most basic recipes. In its simplest form (garlic, oil and tomato), it is part of any respectable happy hour. But if you add other ingredients (vegetables, prosciutto, anchovies, chili pepper, mozzarella and so on) it becomes a recipe that is perfect for a fun and complete summer lunch, perfect for an al fresco meal. It originated in central Italy, particularly the regions of Lazio and Abruzzo, but it has spread throughout the country and in some areas it's also called fetta unta, an oiled slice of bread. Bruschetta is derived from bruscato, the term referring to bread toasted in the oven or on a grill. As soon as it's ready—crisp and golden at the edges, softer on the inside—you rub a clove of garlic over it, drizzle some extra virgin olive oil on it, season with salt and pepper and then (almost always) add a thick layer of diced tomatoes. You can use any kind of bread, but big slices of Tuscan or Pugliese bread are best.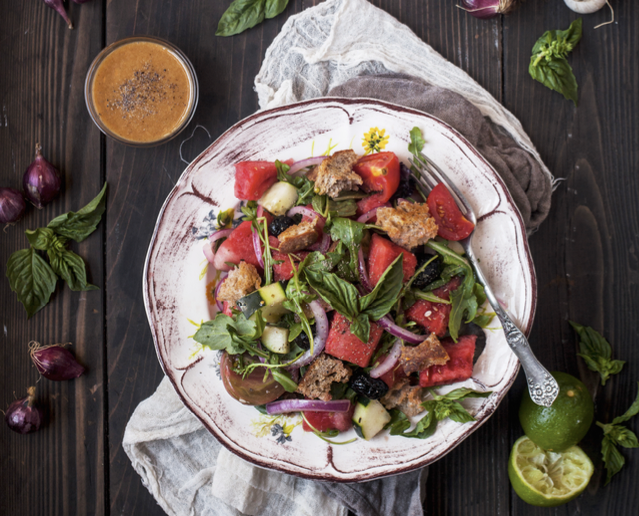 PANZANELLA
This time bread is not a finger food. Panzanella—bread salad— is a unique dish that originated in Tuscany. It is a rustic dish made with poor ingredients. It was brought to the fields and enjoyed during a break from farm work. That's why now it's perfect for a picnic or backyard barbecue. A plate, a fork and off you go! You need stale bread, day-old (or dried intentionally). Then you wet it with water to soften it, squeeze out the water, and toss it in a bowl with chopped cucumbers, thinly sliced red onion, basil, tomatoes and, if desired, black olives. Dress with basil, extra virgin olive oil, salt and pepper, and a splash of vinegar. Voilà.
PANE PISTOCCU CONDITO
This unique dish brings us to Sardinia. Its originality lies in the kind of bread, Pistoccu, which is the island's oldest and most traditional, and it was eaten by shepherd when they were away from home. It is a flatbread made with semolina our and is thicker than Carasau bread, and it is almost always rectangular. It can easily be purchased online and can be used for a number of recipes. This is the most basic one. Put the slices of Pistoccu on a plate and drizzle them with water to soften them. Once soft, transfer them to a platter. Don't worry if they break. Dress the different layers with salt, olive oil and, naturally, the ubiquitous tomato. It's like a bruschetta, but in a softer destructed version.