I've been to quite a few writers conferences. They are a fun way to interact with readers, meet fellow writers and discuss craft through reading sample pages from participants or giving and attending lectures by the other faculty members. I think, sometimes, though, they can be a mixed experience for the participants. Editors and agents are there! It's a chance to pitch them with their work! This is stressful, difficult, and ultimately, usually for most, unsuccessful.
But the Writer Unboxed Conference that took place recently in Salem, Massachusetts in conjunction with the Salem Literary Festival (which was also a great event) was something different. That bright line that usually exits between faculty and participants didn't seem to be there. There was an agent there, Donald Maass, but he was there to talk about craft, not to be pitched too. It was a great experience but I was also fascinated with how they had pulled that off. So I sat down (virtually) with Writer Unboxed's co-founder and conference organizer, Therese Walsh (author of the luminous The Moon Sisters and The Last Will of Moira Leahy).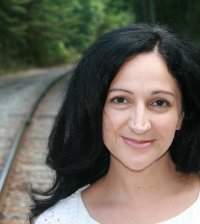 Q. What is Writer Unboxed?
Kathleen Bolton and I founded Writer Unboxed in 2006 as a blog about the craft and business of fiction. Today, ~50 contributors write essays for the site, and we see between 60k-80k unique visitors monthly.
Writer Unboxed also has a thriving, promo-free Facebook group (~5k writers strong) and a Twitter account (@WriterUnboxed) populated with craft, and business-related tweets and links.
Just as significant are the people who make up the Writer Unboxed community--those who comment on and converse with one another following posts at WU, or who respond to the queries of other writers in our Facebook group. These folks are truly the heart of WU; they're why it thrives.
Q. What was the Un-Conference?
It was a five-day gathering of ~90 writers in Salem, MA for an unconventional (un)conference. I wanted to skip the parts of a traditional writing conference that make people anxious, that send people to their rooms, that take people away from the craft of writing--the one thing we can actually control. I decided early on not to focus on the industry at all; there would be no talk of agents or editors or self-publishing or the Big Five or platform. Instead, our 21 sessions focused on ways to enrich our writing through a deep examination of craft and of ourselves as individuals.
The Un-Con was also unconventional in that the majority of sessions weren't strictly taught by one person. Instead, attendees understood that their knowledge was as important as the session leader's; they were encouraged to speak up, and ask and answer questions. This led to crowdsourced wisdom, if you will.
(Ironically, I hit on the name "Un-Conference" before learning that unconference is a real word that describes the sort of event I wanted to run.)

Q. How did you get the idea?
Hosting a live WU event was something that would come up now and then in conversation on the blog or in the Facebook group, and response would always be strongly positive. I was between novels, so I thought this might be the time to try it.
Q. What were you trying to achieve with the Un-Conference?
Making real connections with others and homing in on the things we really want to hear in terms of craft sessions. Too often I've sat through conference sessions and heard just one or two useful things from a closed-off session leader. I didn't want that for the Un-Con; I wanted attendees to feel their voices--and their specific questions--were not only valued but critically important to the success of a session and the evolution of a conversation. I felt this approach would enable a session to evolve past shallow, common content to something deeply unique and powerful.
Most attendees were already involved with the Writer Unboxed community, though a few joined because of a connection with one of our contributors or the city of Salem.
It was an international affair, too, attended by Australians, Europeans, and people from all over the United States - including Alaska.
Q. What was the atmosphere like?
Trust and mutual support were key ingredients for the event to be successful, and attendees brought that. Because people were willing to be real with one another, they were better able to apply a deep-dive mentality to both their work and to themselves--connecting with memories and beliefs that have possibly been trying to find their way onto the page or that perhaps should find their way onto the page.
Because of the tremendous amount of support we had for one another, the Un-Con felt like a gathering of old friends who'd just met almost from moment one. That felt like magic--apropos for Salem.

Q. What's the reaction been like?
Overwhelmingly positive. Online friendships have been enriched and new friendships have been forged. Most if not all attendees left Salem with new ideas and a renewed excitement for their work.
Q. Are you ready to do it again?
I could live in the environment we created at the Un-Conference every day and be happy. But, no; I'm not ready to put on another just yet. I think we all need time to absorb this one, put its lessons to use, and then plan something new in a couple of years--after I've written another book. And next time, I'll delegate.
Calling all HuffPost superfans!
Sign up for membership to become a founding member and help shape HuffPost's next chapter