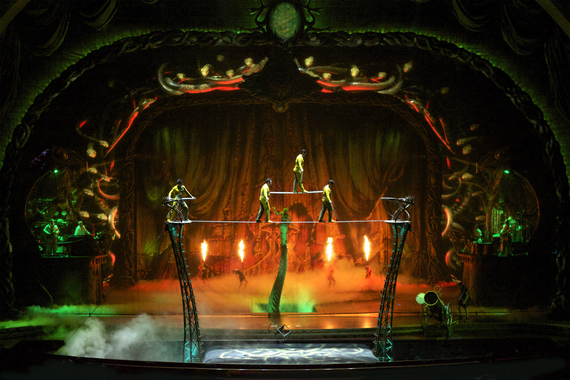 As the mobile horizon expands with seemingly endless possibilities, we're all caught in what you might call a mobile "arms race." The way I see it, the excitement of harnessing the burgeoning mobile movement lies not just in what we're utilizing today, at stages arguably still in their infancy, but in the possibilities of where mobile will take us in the future. It's a great opportunity for us to put our forecasting ability to work.
I want to narrow the focus down to a particular space in which I think mobile tech is developing in exciting ways--the live event experience. So I reached out to a few colleagues, encouraging them to use their predictive instinct to consider the future uses of mobile as a means to enhance entertainment or live experiences.
I asked them to finish this sentence: "The bet I would make is..." Their responses are diverse in scope and reflect the wide array of applications possible in various sectors of the industry. But one invariable outlook is that mobile is here to stay, and as its reach expands, it will continue to elevate the live event experience to new and exciting heights.
Here is what some of the best and the brightest in the business had to say...
Luis Goicouria
Senior Vice President, Digital Platforms & Media Strategy, PGA Tour
Looking forward, I think there is real promise in bringing fans to events through Virtual Reality (VR) platforms and Augmented Reality implementations. VR may enable us to take fans from their homes and offices directly into our venues--to places they cannot even see when they are on-site. Augmented Reality applications may help us further the experience for a fan at an event or while watching an event live on any number of mobile platforms.
Daniel Marrett
Senior Director of Marketing, New York Red Bulls
My bet? That two-way communication platforms will evolve to become part of the match experience and atmosphere. Fans will contribute via mobile to the atmosphere, but also get something back from it, making them feel engaged. What will succeed is what keeps them in the game, not what takes them out of it.
Kristina Heney
Senior Vice President of Marketing, Cirque du Soleil
The bet I would make is on mobile apps that break the fourth wall and expand the definition of "live" theater. I know it goes against conventions right now, but I think we need to embrace and capitalize on mobile tools that can expand the UX in seats like it already does for sports! Most leagues have embraced in-game exclusive playback, box score tracking, etc. How do we leverage the ubiquitous smartphone to add value and create an instant word-of-mouth tool for our customers to help us sell our shows?
What do you think? What's the bet you would make?

#MobileTruth. This article originally appeared as part of the agency's new publication, SITUATION.
REAL LIFE. REAL NEWS. REAL VOICES.
Help us tell more of the stories that matter from voices that too often remain unheard.