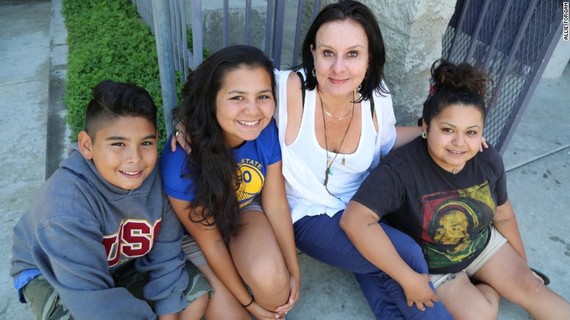 Today I was honored by CNN Heroes. The hero in this scenario is ALL involved in A Sense of Home. It is the aging-out foster youth for whom the impact is intended and all of the volunteers who create homes for the youth. I just happened to be the one who accidentally created the model after a random act of kindness. After only 21 short months, 100 homes created and 150 youths in beds, I have come to see that this is a paradigm that we need more of. Not simply for those in need, but for all of us -- to bind us as human beings, as one.
There is a lot of talk about wanting a more enlightened, meaningful, purpose-driven life and to feel more connected to one another. I am beginning to see that the gift of offering opportunities that enable us to do for others is that we all win. Big time. Some of us get to escape our bubbles to become part of something bigger than ourselves, become bonded with strangers in sharing a common powerful experience, and with the people for whom the impact is intended. Some of us get to begin anew, experience genuine hope and the ability to dream. Some feel like they belong, often for the first time. Mostly, we all feel connected, as one.
With actions speaking louder than words, our collective angels have the opportunity to stomp out divisive rhetoric currently surging like a virus, infecting our essence.
Our better angels usually stay within our own zip codes. But when we go out of our comfort zone and share our gifts and talents -- with those who have zero access to hope -- we do something greater than the sum total of our actions. Beyond the intended impact, we become changed ourselves and a shift occurs for all involved.
If enough of us participate in these kinds of shifts, we will see that we are more alike than we are different. And all that we need is one another.
I have witnessed it. On a very small scale. What lie between myself and change was fear, skepticism, and insecurities. The youth we serve have not one reason to trust. By just doing the hard work, by being kind, people keep showing up and those who were once unbelieving come around.
Imagine if we showed up, each day, sharing our most powerfully kind selves. Imagine if we all did. Imagine what the world would be like. Our better angels of our nature would rise up and win.
REAL LIFE. REAL NEWS. REAL VOICES.
Help us tell more of the stories that matter from voices that too often remain unheard.