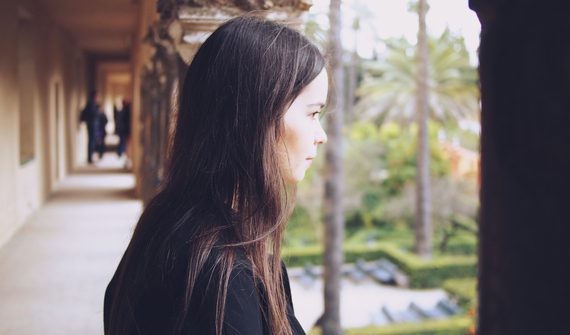 photo by Daria Nepriakhina
I haven't counted for myself, but I've heard it said, "Fear not," is in the Bible 365 times. They teach, preach, and beseech us "not to be afraid."
But frankly, I'm scared shitless sometimes. I fear clowns, criticism, crashing my bike, and car wrecks. Bridges, bears, big buildings, and bull riding. Snakes, shark attacks, screwing up, and smothering. Judgment, jack-in-the boxes, jerky people, and jet planes. Just to name a few.

Before 8 a.m. this morning, I was feeling "overwhelmed," which is a fancy word for "fear."
Saying I'm "overwhelmed" makes me sound busy and sophisticated when what I really want to do is crawl under my covers and hide.
Instead, I sat down with a pen and paper to see why? (After all, there were no snakes or sharks to escape). But what I did find was a pile of sneaky lies slithering around in the shadows of my thoughts. Hissing and making me feel small, helpless, and alone.
I wrote them down. They probably aren't that much different than your lies- the good ol' standbys. "Your work isn't good enough. He/she is smarter, better, more productive (fill in the blank) than you. You suck. You're stupid. Etc."
I know they aren't true, but still they spew. And fill me up with poison sometimes. Then suddenly, I am very afraid.
So this morning, I prayed.
"Jesus, I'm afraid. Apparently there is a "fear not" for each day of the year, but I need one for each minute, please. And since I'm a big scaredy cat, could you please teach me about fear so I don't feel so dumpy?"
Fear is a cause to pause. An invitation to stop and seek My way forward.
I thought about the circumstances in scripture when The Lord says, "fear not." These are pivotal times when His people have paused to ask for direction and courage. They are taking big risks; facing their giants; going into battle; saying unpopular things; traveling into unchartered territory; being persecuted for their faith.
Their fear makes them stop and ask, "Lord, before we press on, is this really from You?" And The Lord says to them 365 times, "Yes. It's me." Or more precisely, "Fear not, I'm with you."

I suddenly realized the incredible value in fear.
It is not something to be ashamed of, ignored, or condemned. Rather it's a healthy emotion created by God. When we are scared, we slow down, become cautious, pay attention.
It's the perfect time to pray. "Lord, is this thought true? Is it loving; is it You? Is it helping me or hurting me? Is it saving my skin or stopping me from stepping my very best life? Is this You or is this the enemy?"
The enemy wants to do a perverted whack job on anything God means for our good. So... can fear become distorted and disruptive and destructive? Hell, yes.
That's exactly why we need to seek God vigilantly in our fear to learn where it's coming from.

But what does life look like with no fear at all?
To fear nothing? No cause for a pause to consider what God might be showing us? To never humble our hearts? To never ask God what's going on and where He wants us to go?
It looks like a big, ugly ego. Haughtiness. Pride. Arrogance. Vanity. Narcissim. Total self-indulgence.
It's a good thing you and I don't have to worry about that, right? Because we're scared sometimes. And that's a good thing- a cause for a pause.
A prayer.
A humbling of our hearts.
A seeking of His will.
Here's to being afraid sometimes, may God use it make us awesome!