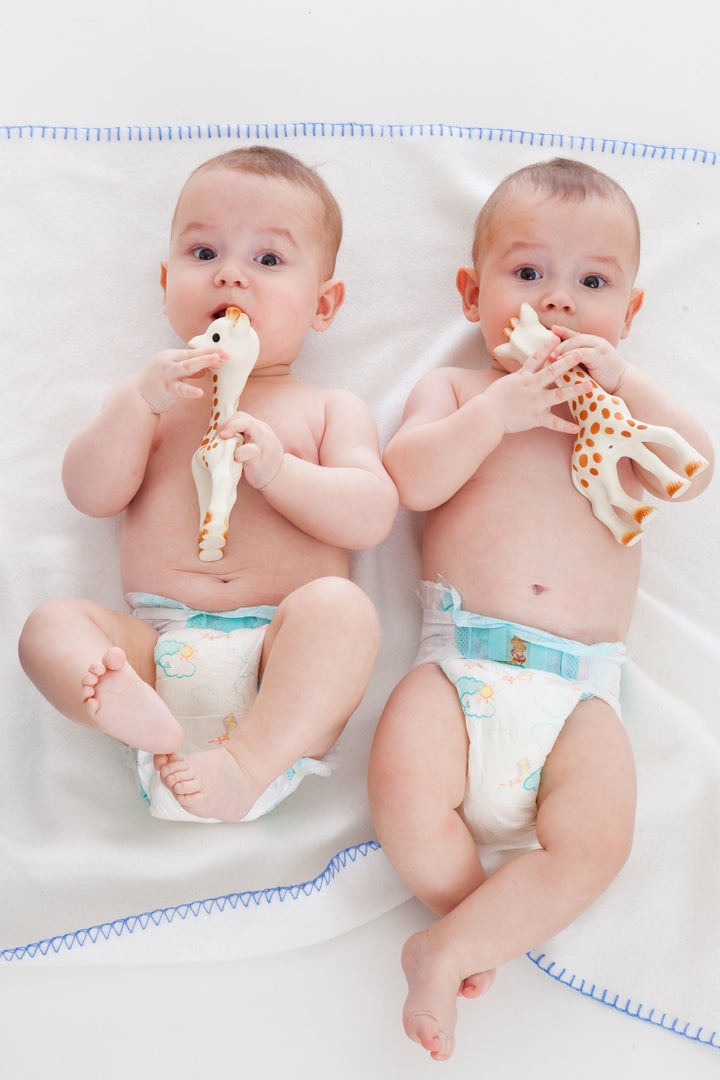 It will take 6.57 billion diapers to keep every American baby living in poverty clean and dry this year. That's based on 3 million children under the age of 3 in the United States living in poverty and a conservative six changes a day. There is no federal program to assist low-income families with diaper purchases. That's right: You can't use food stamps to buy diapers. Some states even charge sales tax on diapers.
That puts this basic necessity out of reach of many families. A minimum wage earner lucky enough to get 40 hours consistently would take home $267.81 a week. Diapering a baby costs about $38 per week. When you think about rent, food, health care and transportation, you realize why one in three American families reports needing to choose between buying diapers and other necessities. One in three!
The consequences are horrible. Babies who are left in wet or soiled diapers get diaper rash -- or even serious infections. Whole families suffer as well. Child care centers insist that parents supply disposable diapers for their children. A parent who cannot do this will have no access to child care -- and therefore no way to work.
One third of the families in this country are faced with health threats to their babies and a barrier to work that worsens their precarious financial situation. Who is addressing this problem? Diaper banks, largely volunteer organizations that distribute diapers to low-income families. There are many models for diaper banks, but a typical one might be run out of a church basement or a bit of donated warehouse space. Most diaper banks are small. Some communities have no diaper banks at all.
Clearly if we're going to attack the problem of diaper need, the dedicated people running these organizations need some help. Diaper banks need to get a whole lot bigger and a whole lot more common.
The National Diaper Bank Network has a new Affiliate Partner program that provides donations of up to 1 million diapers a year (thanks to our founding sponsor, Huggies®) to diaper banks around the country. We hope the influx of diapers will free these lean organizations to pursue other work that will make them sustainable -- such as formalizing fundraising or a supply chain -- and will give some of them the capacity to help fledgling diaper banks take off.
The Hispanic Religious Partnership for Community Health Diaper Bank in San Antonio, Texas, is going to use its partner support to help other diaper banks get started in the Lone Star State. Executive Director Jorge Medina says that parents had been making a three-and-a-half-hour drive from Houston to his diaper bank, because there was no closer organization that offered diapers.
Diapers make a huge difference in a child's life. The Hispanic Religious Partnership teamed with Methodist Healthcare Ministries to offer parenting education to every family receiving diapers. "Our focus was to keep babies healthy," Jorge explains.
Adding an Affiliate Partners program was a huge step for NDBN, especially since we're only a year old ourselves. But there was no time to waste.
We'll be providing millions of diapers to organizations from coast-to-coast. That's great news. But here's some not so great news: America's poorest babies don't need millions of diapers; they need billions, with a b.
So even as we work to bring more and bigger diaper banks online, we have to ask why there's no public assistance for something as essential as diapers. We have to keep reminding everyone who cares about children to support diaper banks. NDBN is doing more than we thought possible when we first opened our doors. (Actually, it's just "door," singular. We try to keep the administrative costs low.) But it's simply not enough. We all need to get involved if we want to make a permanent change in the lives of poor children.
Calling all HuffPost superfans!
Sign up for membership to become a founding member and help shape HuffPost's next chapter