Elbi and The Huffington Post are partnering up, with you, to help change the world as part of your daily routine. Little actions. Big difference.
Today marks the start of The Big Draw's month of creativity, running 1-31 October, so we've invited Jan to tell us all about it. You'll see The Big Draw in the Elbi app now and again. In fact, today you can take part in their logo challenge with a digital drawing. Welcome to the future!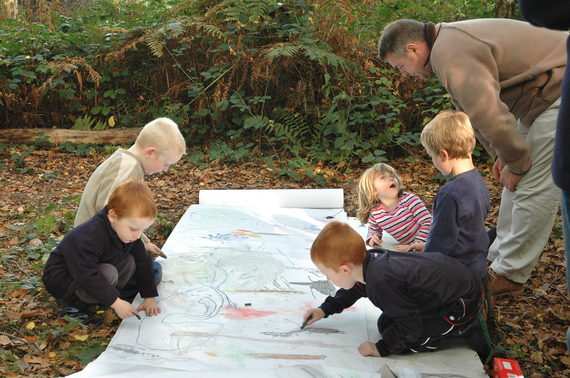 Blog post by Jan Flisek-Boyle, Digital & Marketing Manager for The Big Draw.
If I told you how to change the world, would you do it? Every day, people working with art, science, design and technology use drawing to transform ideas into reality. It is the world's universal language, and connects people regardless of age, race or gender. For The Big Draw 2014, over 400,000 people in 26 countries were drawn together for the world's biggest celebration of creativity.
Everything starts with a drawing. From the phone in your hand and the clothes on your back to the house you live in. It was mankind's earliest tool for recording, redesigning and recreating the environment. A single drawing can convey things we could never say in words. That's why The Big Draw 2015 theme is Every Drawing Tells A Story.
Since 2000, The Big Draw has grown from 180 UK venues to a month-long international drawing festival, with more than 1,800 events across the planet. From world-famous museums and galleries, to small schools and communities, anyone can create an event or take part. But The Big Draw is so much more than a festival. We work with It's Our World, the UK's largest environmental art gallery created by the under 20s. Whether providing training for arts educators, or through The John Ruskin Prize for artists, our campaign for visual literacy will not stop until the phrase "I can't draw" is no more.
This year, we will receive drawings from Big Draws in streets, buildings and parks across the world and will share them globally. We've partnered with the Elbi app to bring you #TheBigDigitalDrawing, a quick way to draw on your iPhone whilst supporting our charity. Whether you create a quick sketch for a child in hospital, or a doodle of your environment for the world, you can both support The Big Draw and make someone's day. Have a story to tell? Make your own #TheBigDraw logo and win a commission, £250 of GreatArt materials and more when you Draw The Big Draw.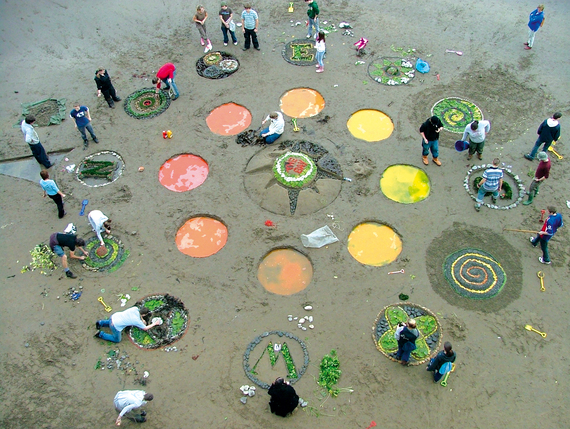 When communities express themselves visually, the results are inspiring. Every year, we crown the most innovative drawing events in the world with up to £1,000 and a Big Draw Award. Outstanding winners include Matravers School in Wiltshire for gathering their whole community to draw with bikes, mopeds, skateboards, guitars and drums. Ordsall Community Arts encouraged isolated adults to draw the view from their high-rise estates in Salford, Manchester. Whilst the Manchester Whitworth Gallery brought in Nobel Prize winning scientist, Kostya Novoselov, to create pointillist drawings of molecules moving from chaos into order. Twelve Big Draw Award winners from Alaska to Vietnam demonstrate every year that drawing changes lives.
From epic Big Draws taking over King's Cross, RIBA, The Royal Society and The National Media Museum, to imaginative and colourful events online and across the world, there have never been more ways to join the worldwide creative revolution and to change lives through drawing.
Watch: Big Draw patron Andrew Marr and industry professionals discuss why drawing is essential to them.
Calling all HuffPost superfans!
Sign up for membership to become a founding member and help shape HuffPost's next chapter