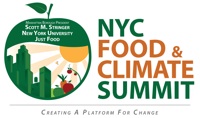 On Saturday, December 12, Manhattan Borough President Scott M. Stringer, in partnership with Just Food and New York University, will launch the NYC Food & Climate Summit at the NYU's Jack Skirball Center for the Performing Arts. The Summit, which consists of 28 public policy sessions and skill-building workshops, will feature a broad array of speakers, including celebrity chef and local restaurateur Mario Batali and Colin Beavan, author of the "No Impact Man" blog. Nobel Peace Prize Winner Wangari Maathai will also address the summit via video address. A complete program can be found, here.
New York City often makes headlines with its food policy and health initiatives - from a ban on trans fats and calorie posting in restaurants to incentives for building supermarkets in low-income neighborhoods and a food stamp campaign that doubled usage at farmers markets. The City has also made national news with its sweeping sustainability strategy, PlaNYC, a model plan which aims to significantly reduce the City's contribution to global climate change and ensure a higher quality of life and greener city.
Yet, despite its ambition, PlaNYC does not address our broken food system, which has fueled the obesity epidemic gripping New York's low-income neighborhoods, and contributes enormously to climate change. According to some sources, food and agriculture, in particular livestock, contribute an estimated one-third of all greenhouse gases.
The New York City Food Pledge and Charter, which was launched last Friday, aims to pave the way for the inclusion of food in New York's long-term sustainability plans. The food charter is comprised of ten principles from which City leaders and agencies can draft policy and better poise New York to deal with its alarming rates of chronic, diet-related diseases and achieve its PlaNYC goal of reducing global warming emissions by 30%.
Manhattan Borough President Scott M. Stringer, who led the coalition of educators, farmers, policy experts, anti-poverty and food advocates (including the author of this article) that drafted the principles, kicked off the campaign via email and a website. Over the weekend, food activists on Twitter quickly began "tweeting" and "retweeting" a call to action "NYC Sustainable Food Charter - read it and if you agree sign it!"
In his email to thousands of New Yorkers, Stringer invites the community to get involved and support the NYC Food Charter by signing the Food Pledge. The goal of the campaign, says Stringer "is to spur government to create a food system that improves the health and well-being of you, your family, your neighborhood, and all New Yorkers."
The principles in the food charter are an outgrowth of last year's "The Politics of Food" conference at Columbia University and focus on the linkages between food access, health, economic, and environmental issues. The campaign launch is timed to coincide with the "NYC Food and Climate Change Summit" being held at New York University on Saturday and the two-week UN Climate Change Conference in Copenhagen that ends on December 17th.
Early endorsers include Anna Lappé, author of "Diet for a Hot Planet," and Marion Nestle, author of "Food Politics," who are slated to speak at Saturday's food summit which is co-produced by Just Food, the Manhattan Borough President's Office, New York University and over thirty other organizations. The all-day event will feature policy and skill-building sessions that are designed to educate, energize and mobilize the over 1,000 registered attendees (a low-impact, vegetarian lunch will be served).
Food policy in New York is no longer just about access to fruits and vegetables and good nutrition for all but also about creating green collar jobs and protecting the environment - more and more New Yorkers want to know where their food comes from, how it's grown, stored, prepared and disposed of.
The explosive growth of urban farms in backyards, empty lots and on rooftops, home cooks and restaurant chefs using produce purchased at farmers markets and from community supported agriculture farms, and NYC Public School children engaged in farm-to-school activities - thanks to the vision of the NYC Department of Education's Office of SchoolFood and New York State's Department of Agriculture and Markets - reflects the growing interest of New Yorkers, young and old, in their food.
Thomas Forster of the New School's Food Studies Program collaborated with the food charter sub-committee. He notes that "Climate change, food security, job creation, ending hunger, the plight of family farmers are all connected in the language of the New York City Food Charter. These interrelated challenges must be addressed together for solutions to benefit not just some, but all New Yorkers."
The time is ripe for change as the adverse effects of food on human and environmental health are more and more obvious. New York City needs to ask the tough questions and to set some visionary goals in order to evolve beyond "business as usual" and transform the city to have a more just, vibrant and sustainable food system.
Here are a few: How is NYC going to ensure access to nutritious food for a projected one million more people in the year 2030? How can we create more green collar food jobs that also provide an adequate wage? How can we reduce food and packaging waste and increase composting? What more can be done within the food system to combat childhood obesity? What needs to happen to build a robust foodshed and supply chain infrastructure so food that is grown in the region is more readily available and priced competitively?
Policy makers have a role to play in facilitating real change. So does the community. All farmers, food producers, distributors, food industry workers, environmentalists and resident eaters are invited to join in on the conversation and read the Food Charter and sign the Food Pledge. And, contribute to the dialogue at the NYC Food and Climate Summit's page on Facebook and on Twitter @nycfoodclimate, #nycfoodclimate.
Perhaps this will be the start of a food revolution in the Big (and Green) Apple.

Popular in the Community