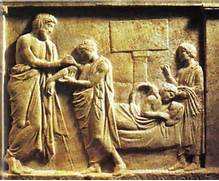 Wherever the art of Medicine is loved, there is also a love of Humanity.
Hippocrates
Integrative medicine is an ecosystem of support for pursuing your own health and well-being. Inside that ecosystem is someone who cares about you.
Integrative medicine is emerging from a successful history of treating physical ailments that often eluded Western modalities of care to become an ecosystem of support for health and wellness. Possibly the most visible sign of this development is the increasing attention of integrative medicine to primary care, where prevention and regard for the whole person is most critical.
What distinguishes integrative medicine as an approach is that it distances itself from the traditional model of a patient dependent on an expert. Rather, it embraces a genuine clinical partnership in which both the patient and the care provider have something to offer in pursuit of the patient's optimal health. The care provider embodies not only clinical knowledge, which is the result of his or her training, but also qualities not always associated with experts. These include curiosity, emotional support, collaboration, humor, and the ability to articulate options and alternatives without judgment. Patients are participants as well, offering knowledge of what has worked for them in the past, providing information that can't be quantified on a medical report, and finding meaning and purpose in their response to the challenges faced when confronted by illness.
The power of integrative medicine comes from acknowledging the multiple dimensions that can cause illness and an equal respect for the various modalities that can address healing and cure. Freed from a traditional repertoire of either pharmacological or surgical solutions (pills or knife), integrative medicine practitioners have expanded the treatment landscape to include nutrition, bodywork, chiropractic, mindfulness-based stress reduction, integrative psychotherapy, and ancient healing practices such as Chinese and Ayurvedic medicine. From exploring the optimal chemistry for our digestive tract to treating autoimmune conditions to finding novel ways to address trauma, integrative medicine is showing us a whole new way to educate ourselves about health and take responsibility for our own well-being.
The emerging field of integrative care is as much an idea as a set of practices. The idea is of an ecosystem of support, an intersecting set of relationships that address the whole human package -- body, mind, heart, and soul. And at the center of this ecosystem of support are people who care about you. The ability to be seen by a team of providers and staff who value you as a whole person is a central premise permeating all other techniques and practices.
I am reminded of the support that the poet W.H. Auden gave Dr. Oliver Sacks when he was composing Awakenings, a book about his work with a group of patients who had been in a decades-long sleep and were now coming back to consciousness. Auden wrote: "You're going to have to go beyond the clinical. ... Be metaphorical, be mystical, be whatever you need." I find here the implication that it is our deep regard for the human condition that moves us beyond the complacent and routine. It is in our profound respect for service to others that we touch mystery and wholeness. At the heart of integrative medicine is a bold invitation to go beyond the clinical, into regions that capture our hearts and imagination. Caring is fundamental. Nothing else really matters without love as an organizing principle. Or as one patient I know told her physician, "I just want someone who gives a damn."
Caring relationships can and should be with our care providers, but they must also be evident in our social networks, our family, and our community, and in our relationship with nature. Beyond the particular type of care we receive is a broader view of health that includes the social and relational. Caring is about how we manifest love in the form of looking out for each other, witnessing, supporting, provoking, and optimizing our capacity to face health and illness, life and death, with dignity. Wise old Hippocrates had it right: Where the art of medicine is loved, there is also a love of humanity.
I had the opportunity to talk about all this with Dr. Jeff Draisin, co-medical director of the Institute for Health and Healing. IHH operates a network of clinics in Northern California and has pioneered integrative medicine practice there for nearly 25 years. Here are seven distinctions he articulated about the emerging field of integrative care. I think he captures something here of essence, particular themes that direct our attention to what matters most and the attributes that together make a whole.
Integrative care does the following:
It shifts our understanding of care from a focus on illness and shortcomings to a focus on well-being, personal growth, and transformation.
It cares for the whole person by addressing mind, body, and spirit as three interacting elements that together result in health and well-being.
It helps individuals craft healthy relationships with their physical bodies, mental outlook, and emotional well-being. Beyond fitness and exercise is the relationship we have with our whole self.
It treats nutrition -- what we put in our body -- as medicine. Beyond diets and supplements is an understanding of what helps our body to feel vital and how best to decrease the effects of toxins.
It embraces the latest discoveries of neuroscience and mind-related health for personal well-being -- from mindfulness stress reduction to the benefits of awe and wonder.
It creates a true partnership that joins the best of Western medicine with ancient healing traditions and complementary modalities. The guiding intent is to restore harmony and address imbalances that detract from optimal health.
It values psychological and spiritual forces as food for the soul. Feeling valued, having purpose, and finding meaning are all essential elements of healing and health.
If we pursue health practices and policies along these lines, we will transform health care and bring the art of caring into the heart of medicine.
Related