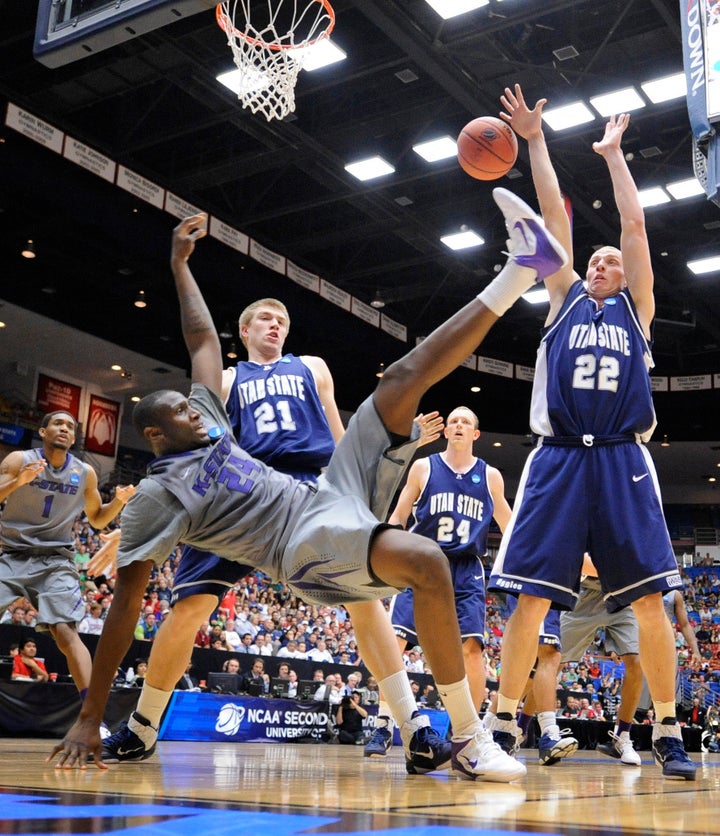 Maybe I'm bitter because I had Pitt winning it all. All year we've heard about how brutally tough the Big East is. All year we've heard about how a middling record in this conference means nothing because the competition is so much better. Big East squads were awarded a record 11 bids last Sunday. After the first weekend, a paltry two teams remain, a sign of the oversaturated, commercialized, mentally weak wreckage that is Big East basketball.

No Big East team has played in the National Championship game in the past six years. Every other BCS conference has had a representative in that time period, as well as two smaller leagues, Conference-USA (Memphis) and the Horizon League (Butler). There is no denying the history of many of the league's teams, but a prolonged drought like this is shocking. North Carolina and Florida have both won multiple championships since a Big East school had the chance to play for one.
The Big East's highest seed this year, Pittsburgh, flamed out in spectacular fashion in the round of 32 against a team from a Chip Hilton novel. Notre Dame, a 2 seed, got spanked by a Florida State team that is 321st nationally in turnovers per game. Georgetown didn't even show up against a hot VCU team, finishing their year in a spectacular flameout by losing five in a row. 3rd seeded Syracuse struggled with Indiana State in the first round before falling to Marquette Sunday. And then there was Louisville. Facing Morehead State, a tiny school from northern Kentucky, the Cardinals didn't score in the first six minutes a game and eventually lost on a thrilling buzzer-beater.
One or two of these losses would be okay. Nine Big East losses already hammers home what we should have already known. Over the past half decade, the Big East has been as overrated as any athletic conference in America.
So why is this? Why does a conference with so many highly touted teams flame out when it matters most? The cop-out answer from Big East apologists is that their teams are so tired out from their tough conference slate that they can't possibly string together six wins in a row to win a National Championship. The conspiracy theorist response is that because ESPN owns the television rights to the Big East's games, they hype their product, which influenced the selection committee into giving the conference 11 bids.
The truth is probably somewhere in between. It's unfair to say that the conference didn't deserve at least 10 bids this year (I think Villanova should have been left out). Based on recent history, the committee shouldn't be surprised at the epic fail, which is the Big East's NCAA tournament performance.
The beauty of March madness is it's utter unpredictability. There's a reason that the odds of picking even the first two rounds of the tournament correctly are 1 in 13 million. When the brackets are released next year one things for certain; I'm not picking a Big East team to win it all.

Calling all HuffPost superfans!
Sign up for membership to become a founding member and help shape HuffPost's next chapter