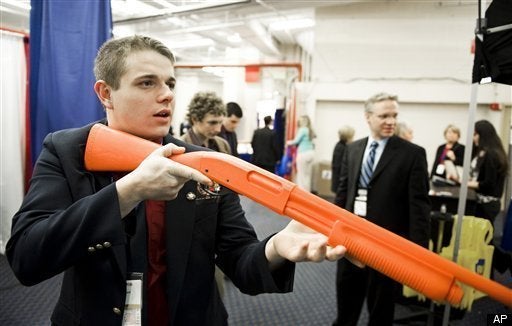 Hidden back against the far wall of the vast exhibit hall here at the Conservative Political Action Conference, Frank Enten is selling buttons for $5 apiece. The booth for his one-man Political Campaign Button Company is piled high with Tupperware containers full of the things, buttons from campaigns dating back to 1896. Walk by, and Enten will hand you a flier from which you can clip out an order form for his new buttons -- you have to mail the form and a check to his home in Bethesda, Md. Three of his four featured buttons have Sarah Palin's face on them ("Pro Life-Pro Palin 2012," "Sock It To 'Em Sarah 2012," and "Sarah Palin 2012, In Your Heart You Know She's Right"). On the fourth, a bald eagle and an American flag overlook the words, "PROUD TO BE A TEABAGGER."

Enten says he isn't in it for the money. He's an avowed "die-hard conservative" who's been living mostly off the welfare state -- military disability and Social Security checks -- since he retired from the insurance industry. Next to Frank is the booth for Print Communications, Inc., a small Indianapolis-based firm that refuses to publish anything they feel undercuts their conservative worldview. The Print Communications booth is stacked with table tents imploring readers not to employ "bloated conglomerates that work for the likes of them" -- "them" meaning Democratic leaders, liberal groups, George Soros and Larry Flynt. Other companies don't measure up to their standard, Project Manager Randy Dickerson says.

"If you're buying printing and you're against abortion, and you're against a lot of the Democratic way of thinking and way of doing business, the bigger companies -- and I'm not going to name big names -- they will strictly print anything anybody does," says Dickerson, a proud former secretary of the Perry County, Ohio Republican Party. Print Communications CEO Lowell Morrison used to run that county chapter, Dickerson brags, and he knows Sarah Palin from his years in Alaska, so you can be sure they stand on their conservative values, unlike the nameless big boys. "They have no morals and no consideration other than that of the almighty dollar," he says.
It's all very principled and pure. But their placement in the back of the room is appropriate: These guys have nothing to do with the way the conservative movement actually operates.
The rest is about big money.
If Dickerson leans to his left and Enten leans to his right, they can see past a load-bearing beam down the exhibit hall to the rows of booths on the main drag, where a movement can be assembled for the right price. Once a candidate or advocacy group has foot soldiers, they need a Web site, mailing lists, advertising -- and yes, buttons. Each item on that checklist means big business, and there are corporate interests here at CPAC booths that have them all for sale.
The advocacy groups dominate the exhibit hall. There are dozens of them, most making an effort to stand out for the college students and other political newcomers. At the NRA booth, registrants can grab a neon-orange mock-shotgun and take aim at a digital red, white and blue target. The poster behind Students for Life of America displays a graveyard filled with white crosses, and their table features a huggable plastic fetus. A guy wearing a sandwich board that reads "Stop Net Regulation" is handing out fliers which ask people to oppose net neutrality -- that is, he's against laws that prohibit corporations from restricting or censoring content and communications on the Internet.

By contrast, the firms that sell fundraising prowess make an effort to look corporate, to look like grown-ups who can be trusted to bring in cash for the people manning the other booths. At the opposite end of the hall from Enten and Dickerson, Netboots offers to set up conservative Web sites on a sliding scale "starting at $50," although their parent company, Terra Eclipse, got a lot more than that from groups like FreedomWorks. Across from Young Americans for Liberty, the student arm of the Ron Paul movement, Intermarkets Advertising Management Services sells advertising space on the Web sites of conservative publications -- or, if you'd like, the left-leaning Washington Monthly. Just off the main floor, the electronic phone-banking company Victory Solutions keeps a decent-sized room stocked with snacks, TVs and wireless Internet access, along with sales professionals to walk prospective customers through the use of their voter-identification systems.

Some of the campaign-development corporations plaster testimonials from well-known Republicans on the walls of their booths to emphasize their conservative bona fides, but they all lean on professional-looking handouts, crisp suits and salesmanship. They have to sell, after all: First they sell their services to their campaign clients, here at CPAC and elsewhere; then they try and sell their lists of past political donors on the virtues of those clients.
There's big money in those lists. Raise Digital, the online arm of Herndon, Va.-based "direct mail fundraising specialists" Hogan Schenk & Paul Direct, made one client $61,000 last month, CFO Brian August tells me. An HSP direct-mail campaign might bank a client -- generally a Republican political candidate or advocacy group -- $100,000 or so over a couple of months, August says. The firm's cut of that varies on a client-by-client basis, but unless they're forced to accept a flat fee on top of their expenses, like they would be if they were repping a "brand" like Barack Obama, August says, they usually get a respectable percentage of the profits.

Those profits, however, rely on a steady stream of new names -- literally, lists of names of potential campaign donors. Between 1.5 and 2 percent of the people on those lists will respond to either paper or e-mail, so there can rarely be enough names on any given list. While a lot of money changes hands within the industry when one firm rents its donor lists to another, or rents "new" donor lists from recently-ended campaigns, these firms' prosperity rests on their lists of Republican donors, and record-low percentages of Americans identify themselves as Republicans. So if the industry is going to keep growing, direct-mail companies need to identify new potential donors who haven't been politically active before, like the ones who started wearing teabags on their heads last year.

"You can't just take people from List A and move them to List B and then next time move the same people from List B back to List A," says Tammy Cali, the vice president and chief operating officer of McLean, Va.-based Eberle Communications Group. "We don't just go for the Republican conservative base. We try to find people that may not be on other lists because they haven't identified them as being political before. This group brings new people to the table, because they may not be coming from a political list of whatever. I like to say they come from an ideal, they're idealistic."

The Eberle booth proudly proclaims that the company has been in business since 1974, and offers testimonials from Nancy Reagan, Young America's Foundation and American Border Patrol, among others. The company's Web site features a list of the 11 campaigns in the company's history that have netted $1 million or more. Cali, the Eberle VP, is all-business chatting up a prospective client who is running against Barney Frank, but her conference ID is pinned to her jacket with a hot-pink button reading, "A Conservative Chick."

Frank Enten's buttons aren't visible at the corporate booths, but buttons are still the coin of the realm. At the booth for Base Connect, which is double-sized -- triple-sized, if you include the adjacent one for its sister company, Legacy List Marketing, Inc. -- a sea of buttons lie ready for the taking, some for aspiring Congressional candidates, some reading "HARDENED CONSERVATIVE," some commemorating the conference itself. "The road to 2012 starts here," reads the enormous Base Connect banner, which hangs above a steady supply of cookies, candy and drinks.

Allen Miller, a copywriter and "fundraising strategist" for Base Connect, is wearing one of the buttons that reads, "No NY-23 in PA-12," which the firm had made for William Russell, an unsuccessful GOP challenger to the late Rep. Jack Murtha who is running again. "No NY-23, I love it," says an approaching woman whose ID outs her as an elite "Diamond"-class registrant. "Yeah, this is Murtha's district, John Murtha who just passed away, there's going to be a special election," Miller replies. "Great," she says.

The woman says she's from Connecticut, representing a "Constitutionalist" candidate -- likely the tea-party darling Peter Schiff, though she won't confirm that -- and presses Miller to stand by his work. "So you are an organization that represents people because of their ideology or because they hire you?" she asks.

"Uh, both."

"So you will only do business with people with certain values?"

"Right. Because in order for our mail to work, we direct mail specifically to conservative voters, stuff like that."

The lists do such big business that there are companies here, like TMA List Brokerage and Management Services, that just handle that tiny sliver of movement campaigning. Even the conservative news organization Newsmax Media is pitching their "targeted e-mail lists," which feature prominently in their booth display.

Most of these companies, list brokers or otherwise, probably got started fairly organically. Like all of the corporate campaign developers I spoke with here, Miller's resume is stacked with stints on Republican campaigns and work for conservative nonprofits. Most of them resent being asked whether they're astroturfers -- faux-grassroots organizers -- or what the difference between what they do and astroturfing. They don't deny, however, that the movement isn't what comes first.

"We're a business," Miller tells me after the Connecticut woman leaves. "We're a movement conservative-oriented cause, the Republican Party movement, the Right. But at the end of the day, we're in business to help campaigns and PACs raise money. As far as the Tea Party movement, that's something going on more recently."

REAL LIFE. REAL NEWS. REAL VOICES.
Help us tell more of the stories that matter from voices that too often remain unheard.