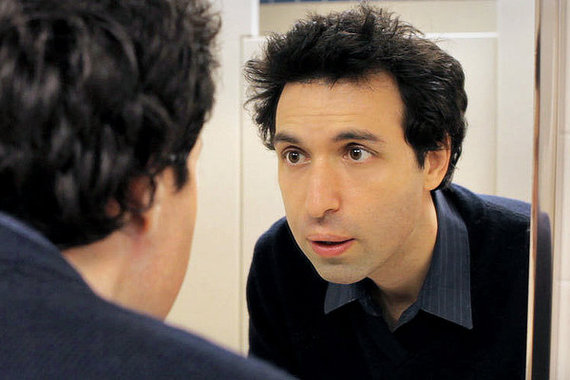 Indiewire is a "must read" according to Variety. Forbes branded it the "online heartbeat of the world's independent film community." So when the young writer/actress Mallory Culbert's (Road to Nowhere) script The Big Spoon was featured as project of the week, I felt comforted and encouraged that maybe I've been on to something.
Billed as an "unromantic comedy about the perils of staying together when you should really be apart." The script is smart and funny and, I predict, would save a good woman (or man) from beating their head against a wall when it just wasn't meant to be.
Since my early teenage years, I've been wary of 'til death do us part. In fact, before college I declared, "I'm going to be the last one to get married." The last one of what? Mankind? My best friends? My senior class? I witnessed an admired cousin wait to get married until she was well into her 30s. And charging into my own 30s I sought examples of other women who waited to bite the bullet, or not bite at all.
The irony is that in every romantic relationship, I've wondered, pondered, dreamt and analyzed: will I marry this man? For better or worse, it's a balance upon which I, and many, weigh a romance. Now at 48-years-old, I have to say, be careful what you declare to the universe -- for better or worse.
For better or worse is how I consider the substantive relationships that have marked my life. Each person I've ever been close to, whether a best girlfriend, family member or boyfriend, has marked my life in profound ways. It's through other people that we learn about life and eventually learn who we are -- which is why I quietly applaud never succumbing to the pressure or cultural fairy tale that marriage was to be chapter three or four or five of my life.
I'm not married, but I'm with a man who is, and has been, well worth the wait. Through my single and not so single years, I've come to know me, which has helped to see, and experience, romance more clearly. Certainly, there's always more to learn, but I know what I want in a partner and feel I've found him. I wouldn't do my 20s, 30s or 40s any other way. Except....
Those substantive, learning-curve relationships I mentioned earlier, I'd learn how to rip cord out better, smarter, faster and safer. Exit strategies are anathema to coupling and hence, not well thought out. But they should be and the best way to visualize, imagine or understand how or when to say goodbye is through story, the time-honored way of sharing human experience. Better to sit back, get comfortable and instead of living the drama, watch it on the big screen or read some Shakespeare; let actors make the mistakes and leave the fictional story all the more wise.
Culbert, along with budding director and co-writer Carlyn Hudson and a great production team with cast, including Alex Karpovsky (Girls, Inside Llewyn Davis), is raising funds for filming in the very apropos town of Austin, Texas. You see, I do believe it's possible to meet "the one" earlier than a half century in. Perhaps I needed more time to learn the lessons all those folks were unbeknownst to me (or them?) trying to afford me. Or maybe if I'd seen a few unromantic comedies like The Big Spoon my exit strategies over the course of time would've been in tack for the better, not worse.
REAL LIFE. REAL NEWS. REAL VOICES.
Help us tell more of the stories that matter from voices that too often remain unheard.