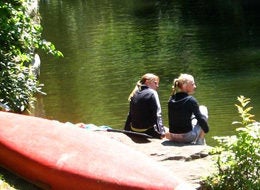 The word "legendary" can be overused. But sometimes, it actually does apply. In the case of Gus Kahn, he was simply a legendary songwriter in every sense of the word. And his wife Grace was a wonderful and successful musical composer in her own right.
Among countless songs, Gus Kahn wrote the words to some of the most classic songs in American music history. These included "It Had to Be You," "Dream a Little Dream of Me," "Carolina in the Morning" ("Nothing could be finer than to be in Carolina...") "Makin' Whoopee," "Yes Sir! That's My Baby," "Toot Toot Tootsie," "San Francisco" ("Open your Golden Gate..."), "Ain't We Got Fun," "I'll See You in My Dreams," and so many more. Even though, after 70 years, some of these songs might not be recognized by name, they're instantly recognized when heard. Because, remarkably, 70 years after being written they're still being sung, still being used in movies, and even still used on commercials.
A major motion picture was made about Gus and Grace Kahn's life. Titled I'll See You in My Dreams, it starred Danny Thomas and Doris Day, and was released by Warner Bros. in 1951. Let's be honest here: that doesn't happen for most people.
Just five years ago, the Grammy-winning team of Joan Morris and William Bolcom recorded a CD devoted entirely to the songs of Gus Kahn.
And among all Gus and Grace Kahn's many legendary credits, there's one other song they wrote, as well.
Er, "Thanks for the Pines"?
It all came about because the Kahns had sent their 12-year-old son Donald to summer camp at Camp Nebagamon in 1931.
I will admit to being a little biased because I went to Camp Nebagamon, as both a camper and counselor. But it's sort of a remarkable camp. For starters, it's been around for 80 years, founded in 1929 by the equally remarkable Max (known as "Muggs") and Janet Lorber. It sits in the tiny town of Lake Nebagamon, Wisconsin, in the heart of the North Woods wilderness, on the grounds of the original Weyerhauser lumber mill. In fact, some of its cabins and structures are the original lumberjack facilities.
The camp even has its share of famous alumni. Most notably, John Kander went there, long before he wrote the music for such Broadway musicals as Cabaret and Chicago as well as the song "New York, New York." So, too, did brothers William Goldman (who won Oscars for writing "Butch Cassidy and the Sundance Kid" and "All the President's Men") and James Goldman, author of the Broadway shows Follies, with Stephen Sondheim, and The Lion in Winter (winning his own Oscar). In fact, all three collaborated on a musical, A Family Affair. It's probably not generally known that that teaming had its start at summer camp.
But all the other famous alumni aside, and biased as I am, the reality is that there simply aren't many summer camps with an official camp song that comes from such impressively high pedigree.
For many decades, however, the song existed only in the ether, as words and music. But a few years ago, I was asked to track down its history by Bernard and Sally Stein, who ran the camp for 30 years, taking it over from her parents, the Lorbers. They figured that there had to be some tale that explained how a couple of the most renowned songwriters in the history of the Great American Songbook came to write their camp's song.
And so there was. And therein lies the tale. The history at last revealed. And it began with finding Donald Kahn -- in 1931, the young camper who was the cause of it all.
Looking back over a great many years of his lifetime, Donald Kahn was surrounded by mementos of his own successful life, but still remembered with fondness the events that surrounded the writing of that song, during the summer when he first attended Camp Nebagamon.
"I had never been to a camp before," he recalled, "so my parents came up from our home in Chicago to visit during Parents Visiting Week."
Those parents, Gus and Grace Kahn, also split their time at Camp Nebagamon with visits to another nearby camp, where their daughter Irene was spending the summer. But there was something about Nebagamon that struck them as special.
"I think what they liked the most about it," Donald Kahn laughed, "is that it got my sister and me out of the house for two months. But they really loved Nebagamon. After all, they sent me back the next year -- all the way from California where we had moved."
While visiting their son at Nebagamon, the Kahns not only loved what was there -- they also noticed something that wasn't there. There was no camp song. "And of course, being professional songwriters, they couldn't stand it, that the camp didn't have its own song," said Donald.
Over in the Rec Hall sat a piano. And the creative juices began to flow. "Knowing my father, I'm sure he wrote the words first." And then came the music of Grace. The Kahns went to the camp director and founders Muggs and Janet Lorber and made a very simple request, "Do you mind if we use the piano?"
There was one minor problem to be faced: Grace Kahn hadn't expected to do any songwriting on this trip and didn't bring any music sheet paper along. While Gus Kahn had written the lyrics out, Grace had to remember the exact music she'd written. It was only later, when they returned to Chicago, that the song was finally put down on paper. All that was left was its debut performance -- just days later.
"That Saturday night there was a camp show," Donald Kahn related. "My mother was a very good pianist and a very good singer, and my father was a good singer, too. You have to remember, in their early days they had demonstrated songs (which is how songwriters tried to sell material to publishers and singers), and they even performed, so they were very used to doing that sort of thing."
(In fact, it was as a song plugger that Grace Kahn met Groucho Marx. Years later, one of his favorite songs when he entertained was a number that Gus and Grace wrote together, "Oh, How That Woman Could Cook." The connection goes further, since Groucho and the Kahns eventually became in-laws.)
According to Jimmy Ullman, a boyhood friend and cabin-mate of Donald Kahn, the words to "Thanks for the Pines" for that very first performance were copied out onto individual sheets so that all the campers, counselors and staff could have them. And then, with the lyrics at hand, everybody sang along with the composers.
Usually, it takes a few years for something to catch on, to create an emotional impact with people. But not with "Thanks for the Pines." "It became the official camp song instantly," Donald said with great emphasis. "That was it."
It's safe to say that most camp songs exist solely in their own world of camp. "Thanks for the Pines," however, surprisingly had a life of its own. After Gus and Grace Kahn returned home to Chicago, their little camp song did the unprecedented -- it got performed on the radio.
"It's important to understand," said Donald Kahn, who himself was a songwriter and music publisher before he passed away last year at the age of 89, "at that point in his life, my father was probably one of the most successful songwriters in the country. He was an intimate and friend and collaborator with people like George Gershwin. And Irving Berlin published a lot of his songs."
Indeed, with its unique pedigree for a camp song, "Thanks for the Pines" got performed even further away from its camp home:
As happens when professional songwriters gather for a party, inevitably everybody goes to the piano and takes a turn to play something. The "something" is usually one of the writer's personal gems, as each artist tries to impress the other artists.
"Every once in a while, my folks would play the song at one of those gatherings. And the other songwriters would look at them like they were crazy," Donald Kahn laughed, sitting in his warm living room in Beverly Hills. "I mean, they'd be expecting to hear 'Makin' Whoopee' and instead they'd get 'Thanks for the Pines Around You'! My parents loved that song. They felt very special about it."
And it almost never came to pass.
As a boy, Gus Kahn had been classmates with Lionel Ullman at temple where they'd both been confirmed. Time slipped away, and the two youngsters lost track of each other for 20 years. Then, one day, by pure chance, on separate family vacations in Florida, the now grown-up Kahn and Ullman ran into one another. Friendships were re-ignited, and the sons Donald Kahn and Jimmy Ullman became best friends. When the Ullmans decided to send their son to Camp Nebagamon, it was a natural course of events that Donald Kahn would go, too.
"In recruiting campers, Muggs and Janet Lorber used to come around to your house," Kahn said. "I can still remember all the excitement when they came, and we were talking about my going. It was like the biggest thing that ever happened."
And 70 years later? "Jimmy Ullman and I are still close friends," he noted at the time. "And we can both still sing the song."
There is probably no better description of the camp motto: Keep the Fires Burning.
One day, half a century after the song was written, I was lucky enough to be at a small gathering where, as it happened, Grace Kahn herself was attending. An elegant, friendly and still lively woman, she sat in the living room, reminiscing about her career and life in music. At one point, when someone sat down at the piano, she sang (in her 90s) what is still to this day the most sweet, yet risqué version of "Makin' Whoopee" I have ever heard. Yet for all her accomplishments during a very long life, she told a story during that evening that amazed even her:
"My husband and I wrote some of the greatest songs ever written," she quietly commented, not immodestly, just honestly, "and more people have come up and talked to me about 'Thanks for the Pines' than any other."
It's a song that has lasted through the changing generations, through the changing tastes, through the changes of society. And it's done so for a very simple reason. Hearing the words sung to her after the passage, at the time, of five decades, a gentle smile of memory came to Grace Kahn's face. "You know..." she said, as her eyes sparkled and she sat up in a comfortable chair, "...that is a wonderful song!"

Thanks for the pines around you.
Thanks for the sky so blue.
Thanks for the summer day I found you
And hearts I found so true.
Thanks for the silver moonlight.
Thanks for the golden sun.
For the memories of you
That will live all year through
Thank you, Camp Nebagamon.
Thank you, Camp Nebagamon.
Popular in the Community