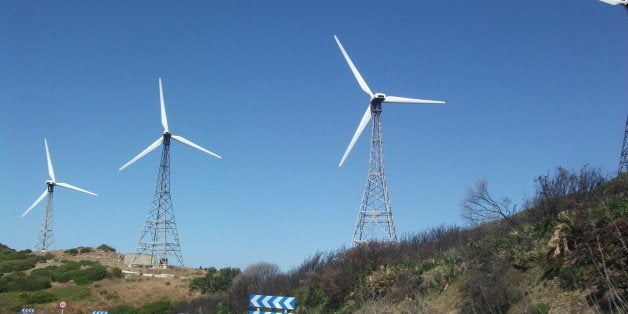 When presenting the groundbreaking report "Our Common Future" to the U.N. General Assembly in 1987, former Prime Minister of Norway and current Deputy Chair of The Elders Gro Brundtland spoke out on the need for a new way of doing business. "We must break away from our sectoral ways of viewing economy and ecology. We must learn to accept the fact that environmental considerations and economic growth are parts of a unified management of our planet. The one is dependent on the other."
As we prepare to head to COP21, those words ring more true than ever. Representatives from more than 190 national governments will meet to negotiate a new international agreement on climate change. This chance to reduce global greenhouse-gas emissions and mitigate the threat of climate change represents the biggest economic and social opportunity of all time.
When Michael Bloomberg asked me to be part of this series of articles on "Businesses for Climate," I jumped at the chance. The only way the world is going to get on top of the climate-change issue is if business plays a central role, entrepreneurial solutions are encouraged, and people work together. It is why we incubated the Carbon War Room to accelerate the adoption of business solutions that reduce carbon emissions, and why CWR joined forces with the Rocky Mountain Institute to advance the low-carbon economy further. It is why we formed The B Team to bring business leaders together to drive positive social and economic change.
COP21 represents one of those rare opportunities to change the course of human history. With a commitment to net-zero emissions by 2050, global leaders have the opportunity to deliver an actionable and clear long-term goal that fosters a thriving and just global economy by 2050. It is up to all of us to encourage this outcome and hold our leaders accountable. Alongside my fellow members of The B Team, I believe that a net-zero target is achievable by 2050. It shouldn't worry us. To be honest, I couldn't think of a more exciting opportunity. A strong agreement will send an unmistakable message to private markets -- expanding research and development into low-carbon technologies, driving innovation, unleashing clean-energy investments, bolstering job creation and contributing to a more resilient, greener economy and prosperous societies.
There are a number of initiatives across the Virgin Group of companies that aspire to achieve net-zero carbon emissions by 2050, either through far-reaching emission reductions, or through offsets. These initiatives include investments in low-carbon and renewable enterprises, more efficient aviation and vehicle fleets. For example, the aviation industry has already set ambitious targets on carbon and our airlines are committed to driving a sustainable future for the aviation industry. Last year, 2014, was the first that Virgin Atlantic successfully decoupled business growth from carbon growth, with an overall 12 percent reduction in CO2 emissions from aircraft operations between 2007 and 2014. Elsewhere, Virgin Active is focused on ways to reduce the energy consumption in its clubs -- already reporting a reduction of 25 percent since 2011, with plans to reach 30 percent in 2015.
Over the last decade, Virgin has invested many millions in renewable energy ventures as well as early solar ventures. Not all have worked, but we remain committed to investing our capital in developing the power sources of the future. We're encouraging each Virgin business to build and regularly review their targets and implementation plans for net-zero by 2050. We believe that all businesses, no matter what industry they operate in, must and should work to embrace these ambitious targets and focus on efficiency, clean energy and off-setting any greenhouse-gas emissions that cannot be eliminated.
When Gro Brundtland articulated her vision for sustainable development in 1987, her comments did not meet with broad agreement from CEOs. Now, more and more business leaders are in agreement with scientists and a growing percentage of the world's population that we all need to take action on climate change. The appetite of businesses to turn the climate challenge into opportunity is greater than ever, and the mandate for world leaders to set ambitious science-based targets is clear.
Whether it is protecting the world's oceans or encouraging the growth of solar energy, the possibilities for the low-carbon economy are endless. COP21 is not an end point, but a crucial milestone in a longer journey. To share with us how we can make a low-carbon economy reality, I will nominate my B Team Co-Chair Jochen Zeitz to continue this series with his view on the role of business in tackling the climate challenge.
Richard Branson is Founder of the Virgin Group and Co-Chair of The B Team. You can read Richard's blog at virgin.com/richardbranson.
This post is part of the "Businesses for Climate" series, led by Michael Bloomberg and The Huffington Post, in conjunction with LinkedIn. The series is intended to call attention to the role of businesses in leading the way when it comes to taking action on climate change, in advance of the U.N.'s 21st Conference of the Parties (COP21) in Paris next week. To view the entire series, visit here.
Calling all HuffPost superfans!
Sign up for membership to become a founding member and help shape HuffPost's next chapter