Entrepreneurs enter the cauldron of business to succeed. But it's never a smooth ride.
These six titans and members of The Oracles share their biggest setbacks, which instigated their richest learning.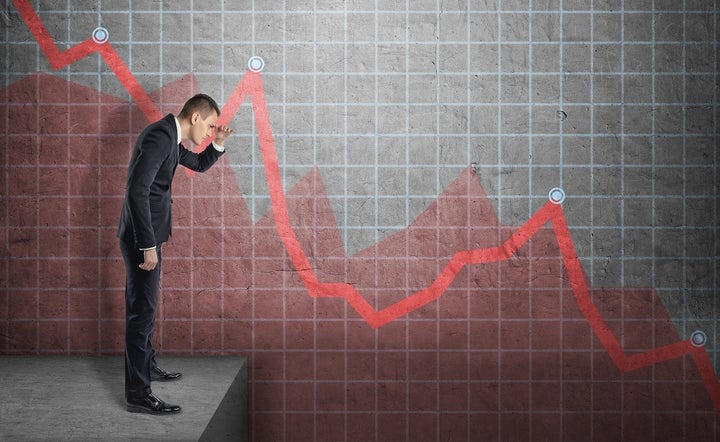 I ended 1992 with a profit, so invested it all in a new idea. I hired a photographer to take photos of our 73 real-estate listings and put them on videotape. Each listing ended with the salesperson's photo and phone number. And I hired a professional makeup artist to make our salespeople look impeccable.
I couldn't wait to introduce my new idea at the company-wide sales meeting. Standing at the lit podium, I bragged to my 200 salespeople: "Our videos will give Corcoran Group customers all the information they could want in one convenient place, for only $20. We're calling it 'Homes on Tape,' or 'HOT'!"
The entire sales team burst into spontaneous applause—this was my best idea yet!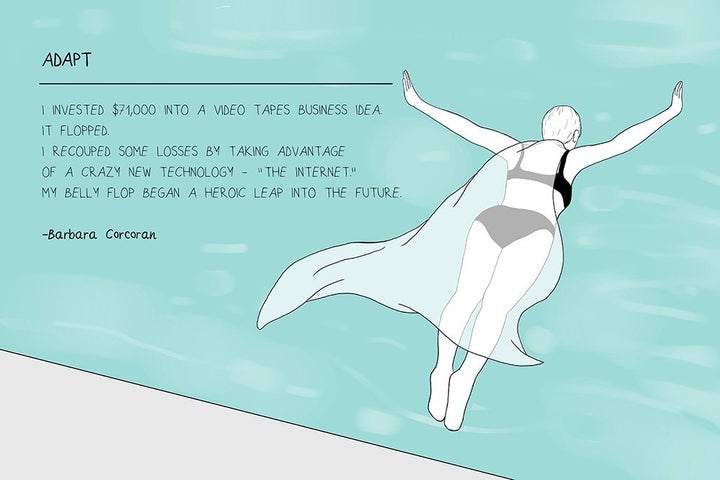 Fast forward to December 1993: I stood in the wet basement of our West Side office, staring at my $71,000 investment. Under the dull yellow light, stacked eight feet high against the back wall, were 32 piles of video tapes. My "HOT" idea was dead on arrival for two reasons:
First, our salespeople wouldn't distribute the videos; they didn't want to show customers another salesperson's face or phone number. Second, the videos contained so many images that each shot appeared faster than even the New York eye could comprehend.
All I could think about was how stupid I'd look at the next big sales meeting. But one night, my husband told me about this crazy new technology he'd used during war games with the U.S. Navy in South Korea. It was called "the internet," and it could connect people and information across the world.
A lightbulb went off in my head: maybe I could recoup some losses and find a way to take advantage of an emerging technology. We registered our "domain name," and I hired the photographer to transfer the videotape images to the web.
I announced phase two of "Homes on Tape" in January 1994: "The Corcoran Group would be one of the first U.S. companies to take its listings into cyberspace!" Within a month, four new customers found properties on the internet, and my belly flop began a heroic leap into the future.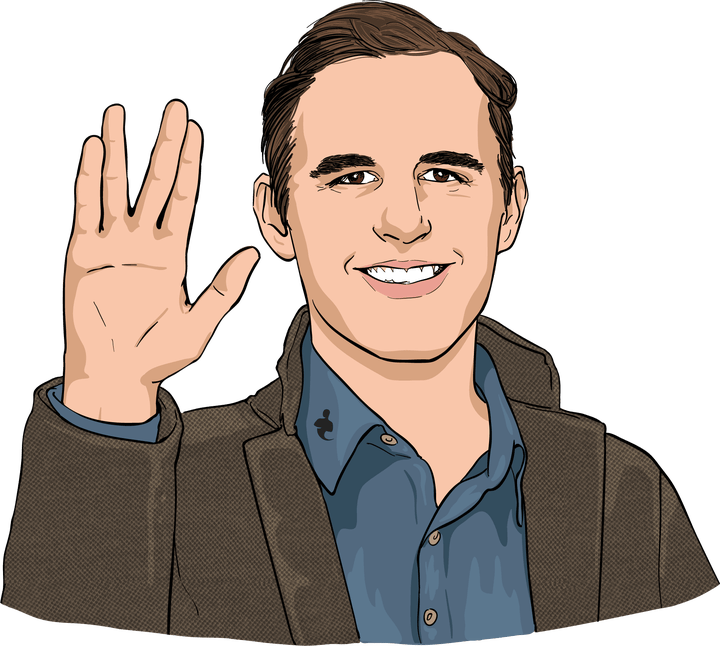 I recently learned that Brad Grey—the former Paramount Pictures chairman and CEO—died of cancer at just 59 years old. This news reminded me of how his life dovetailed my biggest failure.
After writing and producing the first two "Star Trek" reboots with virtually zero interference from the studio, I became overconfident: no matter what I wrote, it would sail through the system unchallenged. I was wrong. When I wrote the third script with a talented young team, I was surprised when Brad decided it was "too Trekky." I had failed to recognize the age-old rule from forensics: know your judge.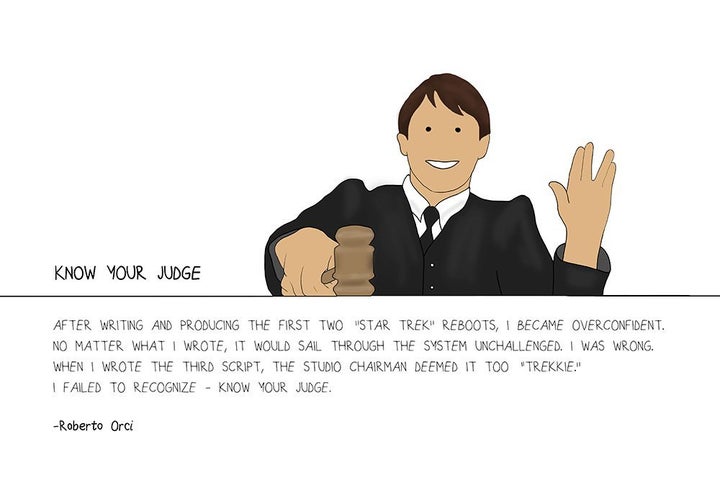 Ironically, this moment of weakness led to strength. I was offered the option to regroup and take another stab, but instinctively, I'd already written what I thought was best for the movie's direction. So, I walked away.
Failure can lead to strength. I will always be grateful to Brad for his honesty and for all of the success we had together.
—Roberto Orci, Hollywood super producer and screenwriter whose movies and TV shows have grossed over $5 billion worldwide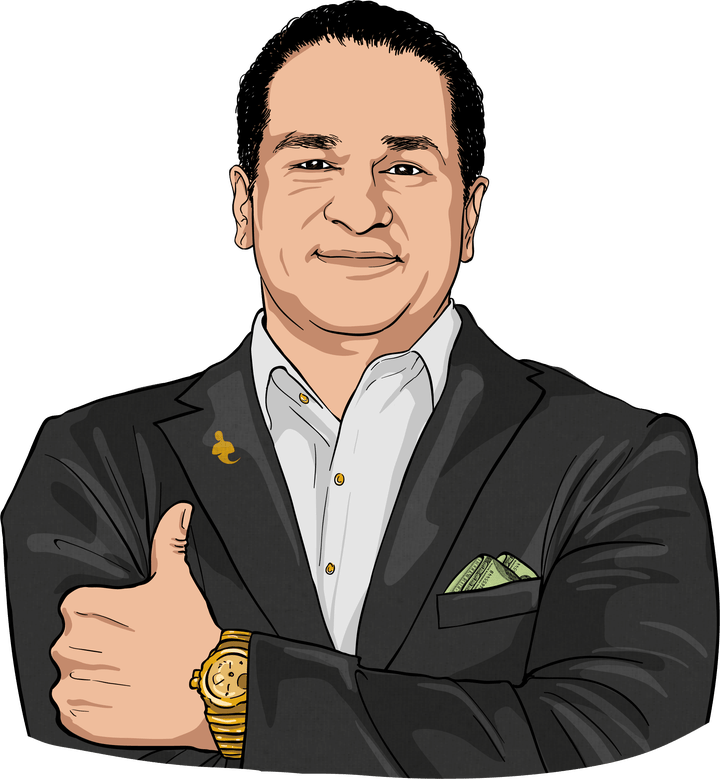 I failed in my first eight companies, back to back. In more than 70 investments, I didn't turn a profit and lost tens of millions of dollars.
We can blame circumstances, people, the weather, the markets, or the government, anything. I stopped blaming people; I started blaming myself. I stopped getting angry and frustrated; I started getting proactive and resourceful. I stopped doing business haphazardly; I started building an efficient, accurate system to take back control of my life.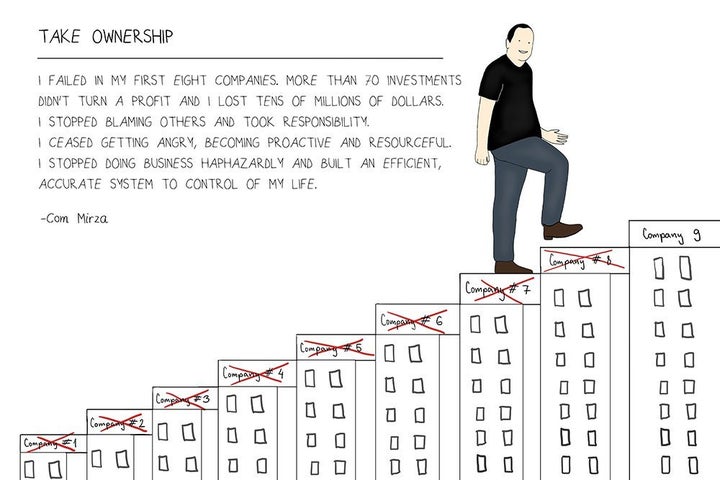 Through the necessity of failure, three lessons changed my life: never give up, build a superior mindset, and design and practice an unshakable belief system.
Failure teaches you the essential missing parts of the jigsaw to learn to reach real success. When you own your failures and take responsibility, you gain immense power, wisdom, and maturity. Have an open mind, immense intestinal fortitude, and a deep sense of purpose to conquer the struggles, adversity, and obstacles.
—Com Mirza, "The $500 Million Man" and CEO of Mirza Holdings; failed in eight companies back to back and today, runs a nine-figure empire with over 600 employees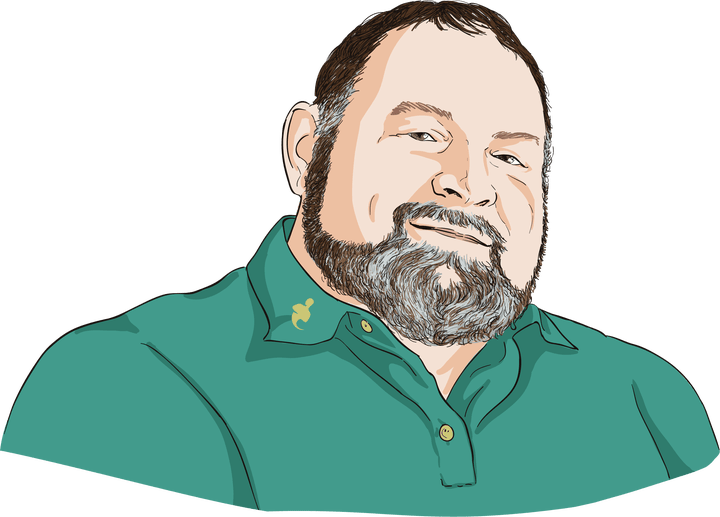 Starting out as a telephone sales agent, I created a new way to sell an additional product at the end of calls.
I made a deal with a Florida-based company to buy space on the call for $2 to sell a product that made me $4; we sold so much volume that it overwhelmed the company.
I didn't know how to fix their support system, structure a better deal, or protect myself with a contract. But a consultant who worked with the company did. So, I hired him. He took my money then stole my deal.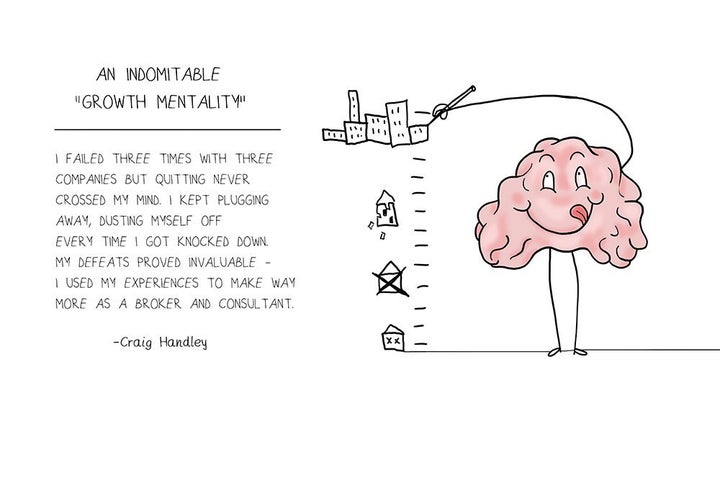 Then I partnered with a Texas-based company. They wanted to charge more than the Florida guys, so I negotiated the contract. I sold some of their products until discovering: from a $15 monthly bill to the customer, they profited $7, $7.50 went to costs, and my company, who did all the work, made 50 cents! The Texas company needed to share more of the pie but wouldn't.
I settled on partnering with a Sacramento-based company. We agreed a better deal and sold 50,000 units of their product, only to have our merchant accounts blow up on chargebacks.
I failed three times with three different companies but quitting never crossed my mind. I kept plugging away, dusting myself off every time I got knocked down. It was all growth; I quickly appreciated the benefits of an indomitable "growth mentality."
Ironically, these defeats proved invaluable down the road: I found myself making way more as a broker and consultant than ever before. It turns out: my experiences weren't uncommon—only that plenty of people hadn't yet learned those lessons for themselves.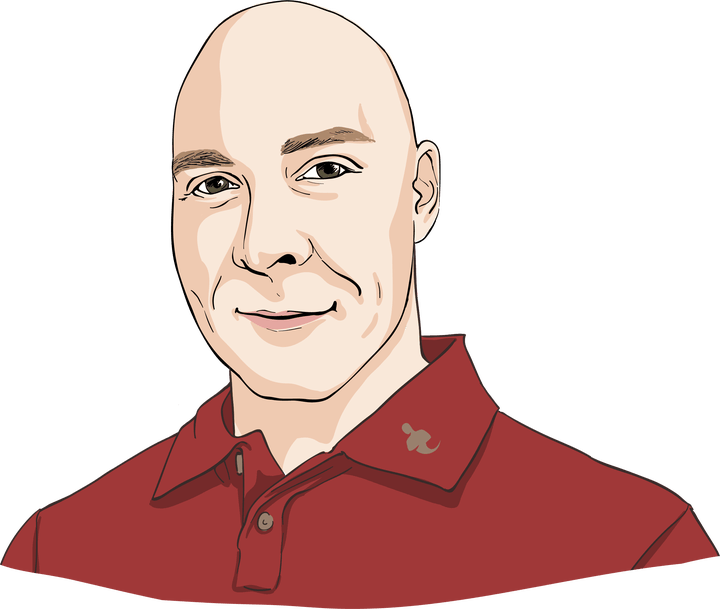 I've made a plethora of mistakes. I've been downsized, entered horrible partnerships, invested poorly, and started companies that did not make money. These mistakes cost me millions, hurt relationships, and caused immense personal suffering. But they led to valuable lessons that I'm immeasurably better for.
Once, I entered a business partnership with a friend, giving access to our valuable brand and helping them begin their business profitably. The cost was a fair royalty percentage. We didn't document this, and the original agreement was never lived up to. Instead, it was continually re-negotiated down to a flat fee. As a result, our relationship was never the same and it cost millions in lost revenue.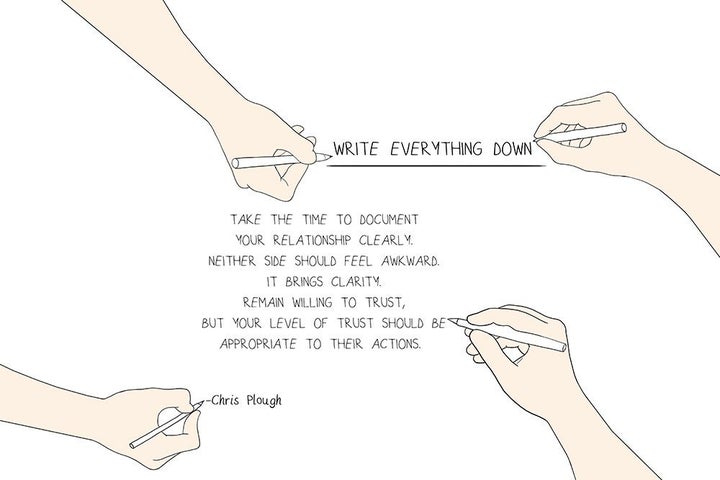 It was a hard lesson to learn: even when someone is a friend, take the time to clearly document your relationship. Neither side should feel awkward about this. It brings clarity and ensures that everyone's on the same page. Remain willing to trust, but ensure your level of trust is appropriate to their actions. I've done this, and my current partnerships are fulfilling and mutually profitable.
I don't believe I've ever failed. Failure implies that nothing was gained. This is an important mindset for anyone who is learning and growing, especially an entrepreneur. I'm committed to making mistakes and learning lessons for the rest of my life.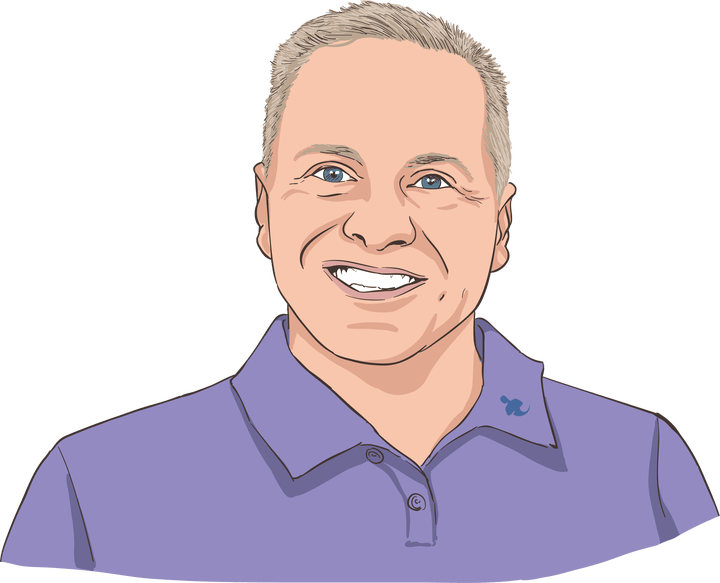 Early in my career, I thought it would be a good idea to form a partnership with an individual who shared my talents. My thinking was that we could split the workload and reap the benefits.
I discovered the downside quickly. One person always feels he's doing more work than the other person; splitting the money in a way that seemed fair became impossible. It didn't work out. We both lost money and, eventually, had to start from scratch.
Never partner with someone who shares the same talents. Rather, find an individual who has skills and abilities that complement your own. For example, if you're the creative one, find the "numbers guy." Do your best to ensure the result is stronger than its sum of parts, so there's no big overlap of skill sets, and ultimately, dominate.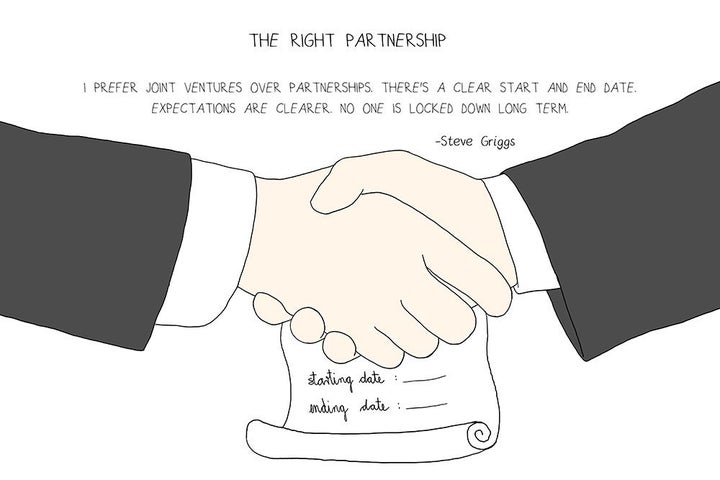 These days, I'm not a big fan of partnerships. Having a business partner feels too similar to marriage—my wife of 21 years is the only partner I need. I do enjoy joint ventures, though: there's a start and end date; expectations are clearer. When the work is done, the relationship is over. No one is locked down long term.
Want to share your insights like those above in a future column? If you're an experienced entrepreneur, please get in touch here.
Want to suggest a future topic for these entrepreneurs to answer? Email suggestion@theoracles.com and it's very possible we'll make your suggestion the focus of a future article!
Originally published on Entrepreneur.com. ©2017 by Entrepreneur Media, Inc. All rights reserved.
Related
Popular in the Community