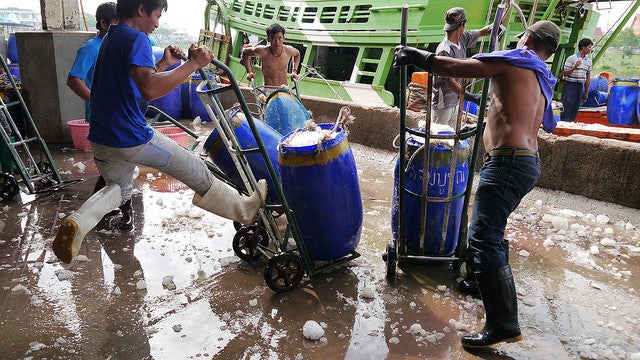 On September 15 and 16, Secretary Kerry held the third annual Our Ocean Conference to focus on the key ocean issues of our time. Marine pollution, climate change, and illegal and unsustainable fishing practices were on the agenda. However, the issue of slavery at sea and the human rights abuses that are a result of the seafood industry were absent from this conversation.
The conference brought together ocean experts, advocates, lawmakers, and foreign policymakers to discuss the most pressing issues threatening the health and sustainability of the world's oceans. But what about the health and lives of 58 million workers, employed in the fishing industry, who depend on the ocean for their livelihoods?
The horrendous working conditions under which fish are caught have garnered increasing amounts of attention. Investigative reports featured in the Associated Press, New York Times, and the Guardian have chronicled slavery, beatings, torture, and murder of workers on fishing boats in Southeast Asia, especially in Thailand.
Human rights abuses in the seafood supply chain are becoming widely known. Human trafficking, forced labor, child labor, and physical abuse of workers at sea and in seafood processing plants has been well documented.
The Our Ocean Conference had the potential to galvanize serious commitments to address human rights in the seafood industry. Likely to be one of Secretary Kerry's legacies, the conference has drawn hundreds of participants from over 50 countries, who have announced financial and political commitments toward marine conservation. The past two conferences combined have yielded new partnerships and initiatives valued at nearly $4 billion, and commitments to protect close to 6 million square kilometers of ocean. This power and influence should also be used to crack down on the rampant human rights abuses in the global fishing industry.
While the 2016 Our Ocean Conference did include a panel discussion on illegal fishing, it did not meaningfully include human rights in the larger agenda. This highlights a serious challenge facing advocates and policymakers concerned about human rights in fishing: efforts to protect fish seem to outweigh the efforts to protect human beings.
While the result is increased commitment to protect the ocean's resources, we continue to fail in protecting the workers we depend on to harvest them.
It is time for Secretary Kerry to include the protection of human rights in conversations about governance at sea and illegal fishing. He can start by addressing human rights issues in future high-profile forums like the Our Ocean Conference, where powerful funders, lawmakers and policymakers are gathering to make commitments. This would elevate the importance of human rights in fishing and encourage similar commitments from governments and funders.
It may seem like a small measure, but such conversations are essential for stakeholders to develop joint solutions and leverage progress made by conservation efforts, such as better technology and increased traceability in the seafood supply chain. In the absence of these conversations, vulnerable workers will continue to be trafficked and enslaved.
Human rights abuse in the fishing industry demands serious attention from U.S. and foreign policymakers. Secretary Kerry highlighted these issues in June, during his remarks at the 2016 Trafficking in Persons Report Ceremony. He described how criminals engaged in illegal fishing "destroy the lives of human beings" through trafficking. He raised a similar point during his remarks at the Oceana Global Fishing Watch Reception on September 14. In both forums,
Secretary Kerry has held up the Our Ocean Conference as a catalyst for solutions, noting that "a global, coordinated effort is desperately needed and long overdue." Yet human rights did not receive the attention at the Our Ocean Conference that it deserved. There is perhaps no greater problem demanding a solution than protecting the lives of the very people he acknowledged are being enslaved, exploited, and even murdered.
REAL LIFE. REAL NEWS. REAL VOICES.
Help us tell more of the stories that matter from voices that too often remain unheard.
This post was published on the now-closed HuffPost Contributor platform. Contributors control their own work and posted freely to our site. If you need to flag this entry as abusive,
send us an email
.