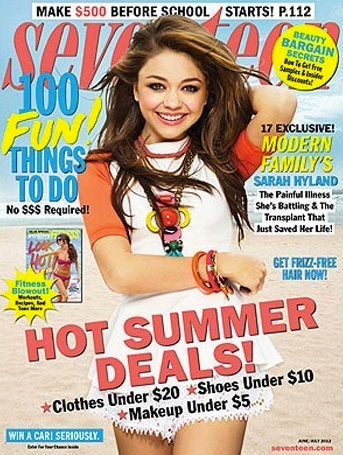 What does a reality TV show following obese teenagers' weight loss struggles have in common with a female-focused teen magazine that recently launched a Body Peace Project? Not much, you might think -- but you would be wrong.
Seventeen magazine recently announced that it will be partnering with Season 14 of "The Biggest Loser," a weight-loss reality television show that is featuring teen contestants for the first time. The partnership will consist of "tons of healthy eating tips from the show's nutritionist, Dr. Joanna Dolgoff, and exclusive workout moves from Jillian Michaels," alongside weekly blog entries from Season 14 contestant Sunny Chandrasekar.
The Seventeen blog features Chandrasekar's "Biggest Loser" audition video, in which the 16-year-old from New York tells viewers: "I want to love myself... which is something I find hard to do at times, at this weight. Secondly, I want to look fabulous for prom." The tape also features Chandrasekar's mother, who states, "It is really my greatest regret in life... that my daughter has gotten into the vicious cycle of weight gain."
Meanwhile, Seventeen's Body Peace Pledge, signed by almost 90,000 young women to date, invites them to vow to "know that I'm already beautiful just the way I am" and "not let my size define me."
Seventeen introduces the "Biggest Loser" partnership in the wake of other recent body image controversies. In late 2012, the magazine came under fire for featuring a BMI calculator on its website. The aforementioned calculator indicated that a girl with a BMI of 14.8 was "healthy," when, according to the Center for Disease Control, such a BMI renders a person "underweight." Seventeen took down the BMI calculator from their website after 3,000 individuals signed a Proud2BeMe petition demanding its removal.
Earlier in 2012, 14-year-old Julia Bluhm criticized Seventeen for airbrushing photos of models, accusing the magazine of perpetuating unrealistic, unhealthy body ideals. 84,000 people ultimately signed a petition asking Seventeen to print one unaltered photo spread per month. In the August issue of the magazine, editor-in-chief Ann Shoket printed a letter in which she agreed to portray models "as they really are" and promising that the photo team would "never change girls' body or face shapes."
Calling all HuffPost superfans!
Sign up for membership to become a founding member and help shape HuffPost's next chapter