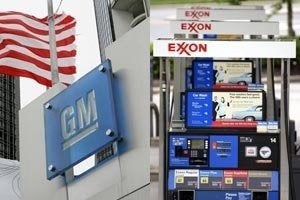 Fortune Magazine reports that "It's no surprise that an oil company leads the list of 2007's top profit-makers." Among the winners on their list:
1. Exxon Mobil

Fortune 500 rank: 2
2007 profit: $40.61 billion

Exxon Mobil, the world's biggest oil company, posted a 2007 profit that was almost twice as much as that of the next company on this list, General Electric.

It is the highest-ever annual profit from a U.S. company, a record Exxon also set in 2006 and 2005.

Earnings rose 2.8% from 2006 on a sales increase of 7.4%.

2. General Electric

Fortune 500 rank: 6
2007 profit: $22.21 billion

More than half of GE's 2007 profit came from overseas, the first time that has happened for the company, as foreign growth outpaced domestic growth.

Sales for the conglomerate, which has its hand in everything from jet engines to mortgages, increased 5% to $177 billion from 2006.

The company reported a record profit at its NBC Universal division.
Fortune also reports that "the mortgage meltdown and slumping auto sales hurt many Fortune 500 firms last year. In fact, 16 posted losses of at least $1 billion." Among the biggest losers:
1. General Motors

Fortune 500 rank: 4
2007 loss: $38.73 billion

Detroit's many woes hit GM hardest last year. The biggest of the Big Three took a tax loss to the tune of $39 billion in the third quarter, citing adverse factors like rising gasoline prices, more expensive raw materials and rival Toyota's new full-size trucks.

GM lost nearly $2 billion in its core auto business and $1.2 billion related to its stake in GMAC, which is No. 8 on the losers list. But there are signs of improvement: Losses in the auto business narrowed after an aggressive cost-cutting campaign that included 2,000 more layoffs. Total vehicle sales rose from 9.1 million in 2006 to 9.4 million last year thanks to increases outside North America--enough to tie Toyota and share the global No. 1 crown.
By Telis Demos, Fortune writer-reporter

2. Sprint Nextel

Fortune 500 rank: 58
2007 loss: $29.58 billion

After forcing out CEO Gary Forsee in the fourth quarter of last year, the No. 3 U.S. wireless carrier acknowledged what the market long suspected about how bad the Nextel merger was by writing off $30 billion related to that 2005 acquisition.

The Nextel network, based on the slower iDEN technology rather than CDMA or GSM, lost 2.8 million subscribers in 2007 and revenue-per-user fell throughout the year. Overall, Sprint Nextel gained wireless users, but a price war with Verizon and AT&T led to lower operating earnings. New CEO Daniel Hesse hopes big bets on unlimited service contracts and a national WiMAX network will help stop the bleeding.
Popular in the Community