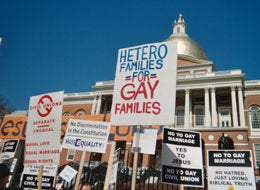 Amid the joy we progressives and Obama fans have all felt since Election Day, you know the most interesting thing that jumps out about the sour note sounded in Florida, thanks to the nearly 2/3 majority which voted to enshrine in the state constitution a redundant ban on same-sex marriage? Ironically, it turns out that elevating the number of black voters so impressively -- which helped turn the Sunshine State blue -- was what really made the difference: a whopping 71 percent of them voted in favor of Amendment 2, according to exit polls; the anti-gay black vote in California was similar. Barack Obama's shout-out to gays and lesbians in Grant Park? Never mind -- after all, as progressive as he is, he, too, opposes same-sex marriage, and from what I can tell didn't bother saying much if anything to voters about the meanspiritness embodied in these amendments.
Well. The Wall Street Journal and many other usual rightwing suspects even of a more secular ilk would have us believe that leaving aside the "morality" of the issue, the will of the voters must at all costs be respected. No doubt in the 1950s such reverence would have led to the continuation of Jim Crow, anti-miscegenation laws, and other racist nonsense for at least another generation, at least in the South, had not the U.S. Supreme Court stepped in. You'd think if anyone would appreciate that civil rights are civil rights, it's black Americans. And that's what makes the support of some among them of such bigotry and intolerance particularly appalling: their spectacular obliviousness to oppression -- just as long as it doesn't apply to them. And yet at the same time, given human nature, it shouldn't be all that surprising, either -- it's far from uncommon in history for the once persecuted to turn into the persecutors or at least condoners of persecution; consider, say, the early Puritans in New England or various and sundry former colonial peoples the world over. In other words, once we've overcome, the rest of you can go screw yourselves -- in fact, maybe we'll even help screw you. Because yes, we can.
Is that too harsh? Well, I'd like to think it's a matter of ignorance that can be solved by more education and outreach the next time around, if there is a next time. This time, activists fighting these measures didn't do enough to combat the prejudice ingrained in some minority communities -- and it sure cost them in Florida and California, at least.
Popular in the Community