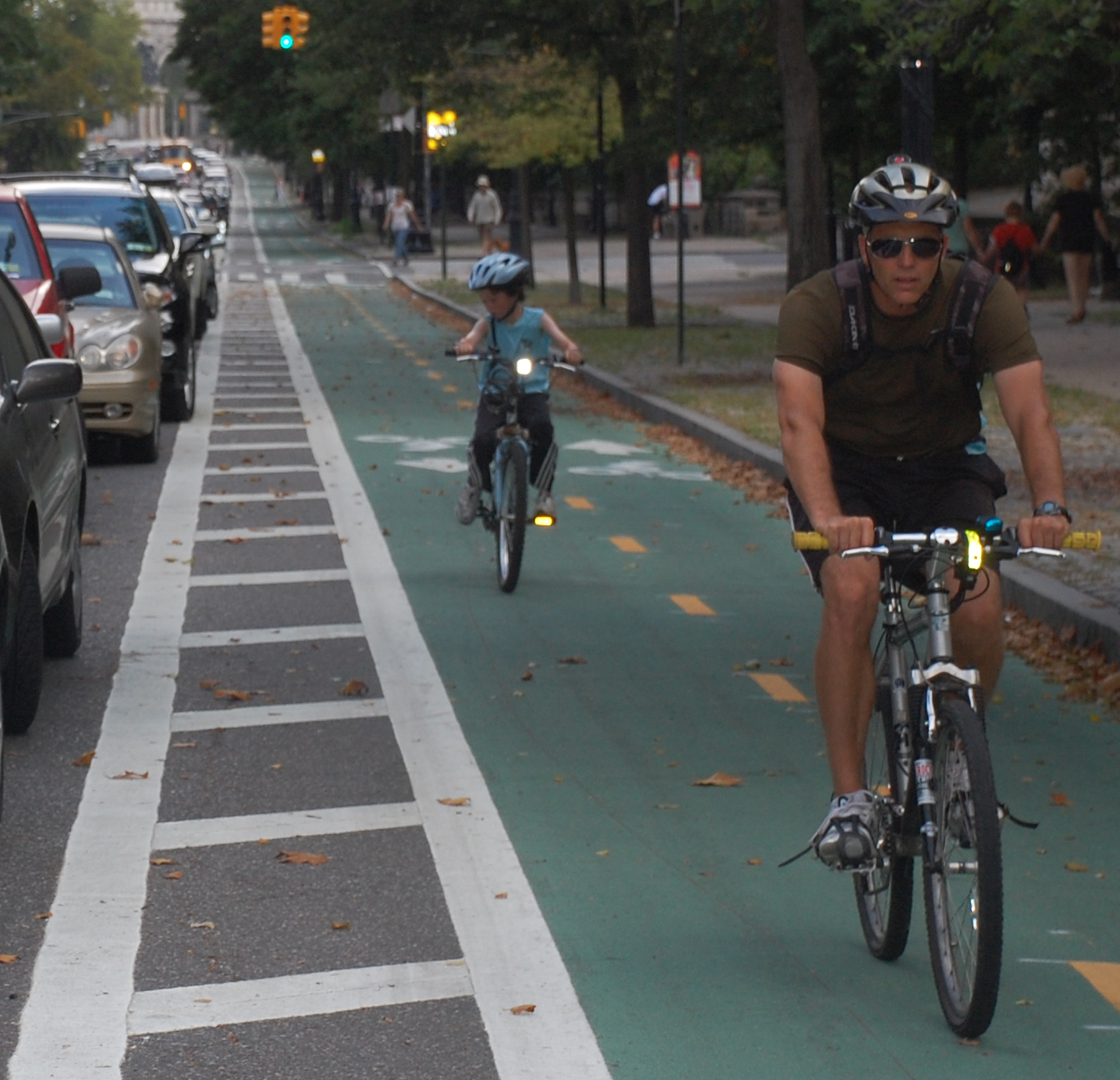 Watching the bike lane folderol from afar I have to smile at the parallels between the pitched public space and transit battles being fought in frostbitten New York and in my adopted hometown, a sprawling left coast city and county of freeways, mountains, billboards and palm trees. And how appropriate that Brooklyn Borough President Marty Markowitz is playing the role of Grand Marshall of the Parade of Cars speeding ahead to take back New York's streets from pedestrians, bike riders, and drivers adhering to the speed limit.
Marty, as everyone in Brooklyn knows, is a man whose tone-deaf sense of political entitlement led him to use his top aide as a lawyer on his house closing, only paying for the service once the ethics police got wise to the deal. He is the beep, a man who could use some physical activity on New York's bike lanes and whose body and face were made for cartoonists of the Boss Tweed era at Tammany Hall. Only in New York could a character actor this perfect be given the role of lead gunner for the Axis powers in the dead of Winter Bike Lane Battle of the Bulge. You know of course that BEEP really stands for, "Get out of my way before I roll over you in my city-issued SUV."
I'll give Marty this, he knows when to fight his battles, choosing the worst winter on record for the assault on Brooklyn's Maginot lanes. The alternative was the spring when the city's streets will be full of smiling pedestrians, bicyclists and media capturing New York at its happiest.
Equally troubling is Senator Chuck Schumer's decision to chime in on the side of the beep and the other anti-community voices on this one. Having lost Congress to the Tea Party, which wants to slash the federal budget to zero, you'd think the senior Democratic senator from the Empire State would have more important things to concern himself with. Could it be that Schumer's wife, the former NYCDOT Commissioner Iris Weinshall, has gotten to him? An avid bike rider, Schumer, who had his own ethics problems years ago when he used publicly paid-for staff to work on his campaign, must cry every time he looks out of his apartment window onto the alluring Prospect Park West bike lanes and realizes his wife would throw him out if he dared ride on them.
The culture wars over what New York should look like are beginning to take on all the color of a New York street fight worthy of Leonard Bernstein. And since it's practically personal between Weinshall and the overachieving current DOT Commissioner Janette Sadik-Khan, Weinshall is bringing out the big guns, including the law firm of Gibson, Dunn & Crutcher as well as her Senator husband. One wonders what the quid pro quo is for the white shoe law firm. Or is this just the firm's idea of giving back pro bono to the people of the fair city?
Aside from the involvement of Gibson, Dunn & Crutcher, Weinshall's All-Schoolyard team is known to play dirty. Take, for example, the way they've enlisted Marcia Kramer at CBS2 to do their bidding. To watch Kramer's "investigative reporting" on the bike lanes, you'd think she shot the stories from the Schumer/Weinshall apartment, glass of white wine in hand. You know the drill; pull at the heartstrings by rolling out the poor schlub whose family member's ambulance needed to use the separated bike lanes to move down a Prospect Park West jammed with traffic. Maybe, just maybe, it was rush hour.
There's a reason the world's cities, including my own, have been watching New York since Mayor Bloomberg gave Commissioner Sadik-Khan carte blanche to make over New York's streets and public spaces. Look what the city has achieved in that time, from Times Square and Summer Streets to bus rapid transit and other community benefits like the bike lanes on Prospect Park West.
Take it from me, stuck in traffic on the freeways, cities don't thrive when things are done the way they always have been and cars take precedence over the residents. Sure, it is effective to trot out the ambulance struggling down a clogged street but it is also as disingenuous as saying the lives saved and injuries avoided by reduced speeds on Prospect Part West and other calmer thoroughfares aren't worth it. And that's to say nothing of the better quality of life the bike lanes and other DOT improvements are bringing to the city.
Change, like this diet I am on, is hard. But if you want to make over the city for the better, you need to break up the pavement sometimes and envision the possibilities.
As the sophisticated media readers and viewers that you are, New Yorkers should look beyond the gotcha sound bites and political theatre that Markowitz, Weinshall and their Broadway cast are performing. You remember what life in New York was like before the Bloomberg changes to the streets and public space and you know what life is like now. If you can't remember that it's a lot better now, you will as soon as the sooty snow melts and has been cleared away.
Yours in transit,
Joel
Lapsed New Yorker
Calling all HuffPost superfans!
Sign up for membership to become a founding member and help shape HuffPost's next chapter