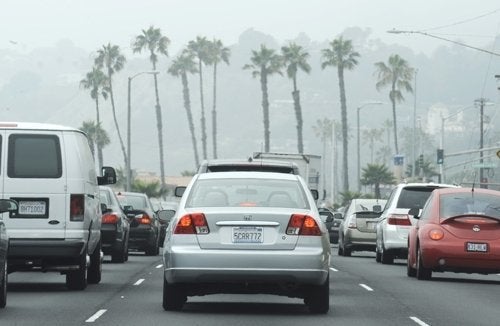 Here's the the Los Angeles billboard, a few blocks from Mercury Insurance's corporate headquarters, that the insurance company pressured CBS Outdoor to take down today. CBS folded and removed the billboard without even a word of warning to its client, my consumer group Consumer Watchdog.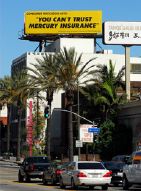 This would be purely about free speech if Consumer Watchdog had not paid $3,000 for the next three weeks of advertising. What good is the First Amendment right to speak if a public interest group's opinion, based on strong facts, in the middle of a wildfire disaster, cannot be heard, even after a billboard company approves and takes money for the message?
Why is Mercury so concerned about Consumer Watchdog's warning "You Can't Trust Mercury Insurance." Look at the facts.
Our nonprofit group posted the billboard to expose serious problems with California's third largest auto insurer and ninth largest home insurer. The company has a long history of mistreating its customers and attacking consumer protection laws.

With wildfires raging, Consumer Watchdog pointed to a fine by the Florida Insurance Commissioner in the wake of Mercury's handling of hurricane claims to warn California homeowners insured with Mercury to take special care in documenting their property in case they need to file a claim. The Florida Commissioner's 2006 news release explained:

The examination found a multitude of violations relating to the companies' business practices including the unwarranted termination of policies upon the filing of a claim, failing to pay the full amount on covered claims, failing to deliver policies within 60 days, failing to provide specific reasons for denial of claims...
[Florida Office of Insurance Regulation, May 8, 2006]
Last year, the California Department of Insurance assessed a $250,000 fine against Mercury for violations of state laws concerning claims handling practices.

We have published the "Top Ten Reasons You Can't Trust Mercury Insurance" on ConsumerWatchdog.org.

The California Insurance Department has frequently investigated complaints about Mercury. A recent legal brief by state regulators seeking penalties against the company stated:

Mercury's lengthy history of serious misconduct, and its attitude - contempt towards and/or abuse of its customers, the Commissioner, its competition, and the Superior Court - are all relevant to determining the penalty needed to best ensure the protection of the public from future violations and wrongdoing. ... Among Department [of Insurance] staff, consumer attorneys, and consumer victims of its bad faith, Mercury has a deserved reputation for abusing its customers and intentionally violating the law with arrogance and indifference. [Department's Opposition to Respondents' Motion In Limine, February 20, 2009, OAH Case No. 2006040185]
In that same brief, the Department of Insurance also cites a confidential "examination" of Mercury by the agency that the company is trying to keep from public disclosure. The law allows the Insurance Commissioner to release the examination. Consumer Watchdog has reviewed the document and is urging that it be made available to the public.

Consumer Watchdog has also reviewed portions of a "claims handling manual" that instructed the company's adjusters on how to lowball customers ("Never use your top dollar to begin negotiations") and delay payments ("Use time as your ally").

Another document released by Consumer Watchdog today is Mercury's agreement with collision repair shops. It shows that Mercury pays financial incentives to body shops that use "aftermarket" and "reconditioned" parts when repairing vehicles. Under the terms of the agreement, Mercury pays a 20 percent mark-up when shops use aftermarket parts, up to $750, and penalizes shops that use original manufacturer parts by paying 5 percent less than the body shop paid for those parts.

"If you have an insurance policy with Mercury Insurance, you need to know that Mercury has engaged in practices over the years that make it harder to get your claim paid and even if you do there is a good chance that you'll be stuck with inferior replacement parts," said Consumer Watchdog's Executive Director Douglas Heller. "Mercury advertises low rates, but insurance customers need to know that whatever you pay for insurance is too much if you can't trust the company to be there for you when you have fire damage or a car accident."

In addition to mistreating policyholders, Mercury has been the most aggressive insurer in California when it comes to attacking California's consumer protection laws. The company has sponsored at least eight bills attempting to dismantle the 1988 voter initiative Proposition 103, which mandated stringent regulations of insurance company rates and practices, and has saved California motorists $62 billion. The only bill that became law - SB 841 (Perata) from 2003 - was deemed an illegal amendment to Proposition 103 and declared invalid by a California court.

Mercury has also filed ballot initiatives aimed at Proposition 103's protections. In 2006, Mercury proposed, then later withdrew, a measure that would have allowed auto insurers to return to the practice of basing premiums primarily on a motorist's ZIP Code rather than driving safety record.

This summer Mercury announced it was sponsoring a June 2010 measure. The fine print of Mercury's initiative would allow insurers to charge drivers higher rates if they ever file a claim, even when they are not at fault, or if they had a lapse in insurance coverage during the past five years and later restarted coverage, or tried to purchase insurance for the first time - all of which are illegal under current law. A new version of that initiative was announced late yesterday by the company.
Another reason that Consumer Watchdog believes that Californians can't trust Mercury Insurance is its aggressive political contribution practices. Mercury has given more money to California politicians and parties between 1999 and 2008 ($2,746,600) than the other four largest auto insurers combined ($2,266,750) - State Farm, Farmers, Allstate and Auto Club - according to data collected from the Secretary of State's office. Mercury's prolific campaign funding is a key element in the insurer's effort to avoid accountability for its bad practices.

In 2000, Mercury paid $50,000 to then-Insurance Commissioner Chuck Quackenbush's campaign committee at about the same time that the Department of Insurance dropped an investigation into Mercury's practice of allowing its agents to charge customers illegal fees.

Californians should not be surprised to learn that Mercury and its founder, billionaire George Joseph, were the subject of inquiries during two FBI corruption investigations in the state capitol over the last 20 years. Consumer Watchdog has released part of one transcript from 1991, in which a lobbyist and state senator (both of whom went to prison) discuss the possibility that Joseph, who needed "help" on legislation, would make a substantial financial contribution to the senator.
Can you trust Mercury Insurance? How can you trust a company that won't even let its critics speak about why you cannot trust it?


Popular in the Community