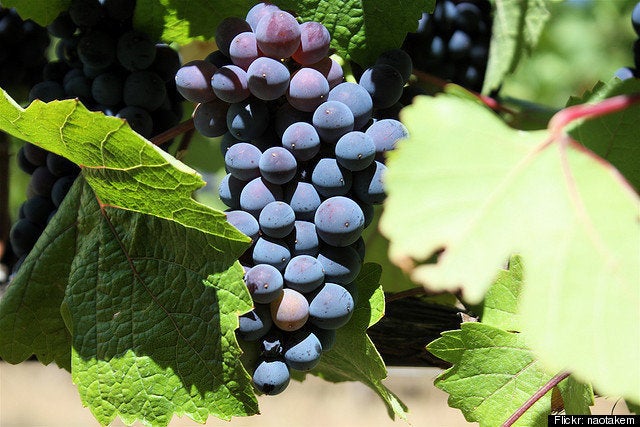 Biodynamic. Organic. These are the kinds of descriptives that Robert Sinskey Vineyards uses when referring to their brand. These are also the kinds of descriptives that I don't really understand. Organics are simple enough -- growing produce through the use of natural fertilizers and non-chemical pest control -- but biodynamics? Exactly.
Turns out, biodynamics aren't all that complicated. The idea grew out of the work of Rudolf Steiner and shares organic farming principles, such as the use of manures and composts. Methods unique to biodynamics include fermented herbal and mineral preparations as compost additives and a planting calendar based on the sun, moon, and stars. Biodynamic farming leaves the smallest carbon footprint of any agricultural method. Natch.
Set atop a hillside in the Stag's Leap district of Napa, Sinskey begs a look as you whiz past on Silverado Trail. "We're growing Cabernet Franc on that very hillside," says Kaine, the very knowledgeable (and personable) Sinskey dude assigned to show us around and take us on our Farm to Table tour -- a tasting and pairing that emphasizes the RSV philosophy behind wine and food.
Robert and Maria Sinskey are something of a power couple here in the Napa Valley. They're young, they're accessible, and they use words like "frickin'" in their winery's literature. Maria's the chef; Rob's the winemaker. I was sent the Sinskey way by an old publishing colleague of mine named Michael Sanders. We worked on a wine book together back in my literary day. Since, I take many cues on wine and winemakers from him. Blindly. "Do not miss Sinskey, it's very special," he said. "Try to meet Maria, if you can. Her cooking is must-try and she spins a great story." But Maria was headed to New York when I was headed to Napa. Alas, Kaine would have to suffice.
A swing around the front garden, and Kaine won us over. He pointed out San Marzano tomatoes, zucchini, and a trellis of butternut squash. Basil, mint, and thyme locked land with lemon verbena, rosemary, and lavender. Small purple garlic flowers were tucked lovingly into orange cherry tomatoes and handed over for a pop into our mouths, candy-like. The awesome burst of flavor defied profiling. Garlic flowers, huh? A stroll around the pristine property accompanied the biodynamic discussion from which I gleaned the above description. Sinskey is doing wine differently than most others in Napa, and it shows.
The Farm to Table pairing came last and here Kaine rocked our palates. With the outstanding Abraxas and Pinot Gris came zucchini and Parmesan tartlets, Cypress Grove Midnight Moon cheese, and sea salt, rosemary, and sage covered almonds. With the Pinots -- the four vineyard designates make up A Perfect Circle, a non-profit that gives back to sustainable farming -- we had oven roasted tomato and basil tartlets, marinated McEvoy Ranch olives, and a country ham and tomatillo biscuit. Kaine showed us the full spectrum of Sinskey wines, popping corks on the big brother-little brother team of Marcien and POV blends, both of which were layered and mysterious. On these two wines, Sinskey doesn't publicize ingredients, as Rob and Maria live by "drinking what you like and liking what you drink." Wine, according to Sinskey, "is meant to be enjoyed with food, family, and friends, not to be scored." Following theme, Sinskey doesn't submit their wines for review. Cheers to them.

I was sent packing with an armful of wine notes to correspond with the purchases I made on site. Each booklet featured the wine, the history of the varietal, and recipes for pairing: wine cooklets, if you will -- more than a leaflet, less than a cookbook. With Pinot Blanc, Maria suggests Pad Thai. With the Carneros Pinot Noir, a wild mushroom and goat cheese strudel. I couldn't wait to get home and try my hand at Maria's suggestions.
Our time at Sinskey passed too quickly, and after snatching up seven organic and biodynamic bottles of wine, we headed out. In celebration of a wonderful morning, we took our leave through the garden, stowing a few garlic flower and tomato treats for the road. Shoplifting, Napa-style. Guilty.
First-Time Insider's Tip:
The versatile and delicious Abraxas ($34) pairs well with a salumi plate, fish tacos, and spicy tuna.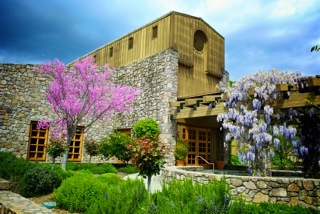 The Tasting Room is open from 10 AM - 4:30 PM Daily. $25.
The Farm to Table Tour. Daily at 11 AM. By appointment. $50.