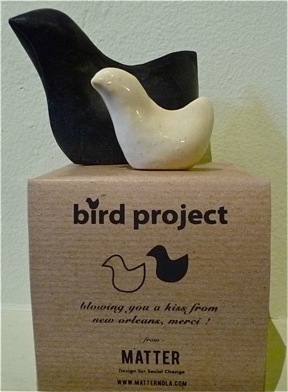 The Bird Project is a perfect blend of Tippy Tippens' background in design and her desire to help in the aftermath of the BP Oil Spill. Her sculpted birds, made with Louisiana clay, are covered in black soap made by Sweet Olive Soap Works with fair trade olive oil, glycerin, aloe, cypress scent and activated black charcoal. So as you clean your bird, your bird cleans you.
What is left behind once the soap is gone is a small sculpture to remind you of the natural world that still needs our help post-oil spill. Tippy describes how the idea blossomed: "The idea for the birds began with the recurring thoughts of abstract bird forms - I was living in Brooklyn at the time of the spill, my hands felt so tied being so far away in addition to the restriction of regular Joe's being able to help directly with the cleanup due to the need for expert care."
The philanthropic aspect was crucial to the project's development, with half of the proceeds going to gulf restoration. "As a long time environmentalist it really hurts to see the devastation to the innocent natural world, so I felt completely compelled to do what I could to help," Tippens said. My bird found me at designer Nadine Blake's shop on Royal Street. The product is also available in New Orleans at Spruce, NOMA Museum and Fair Folks & a Goat; and nationally at at www.birdproject.org, Fair Folks & a Goat in New York City and in San Francisco at Perch (appropriately enough). Details are available at Matter Design for Social Change,
Calling all HuffPost superfans!
Sign up for membership to become a founding member and help shape HuffPost's next chapter