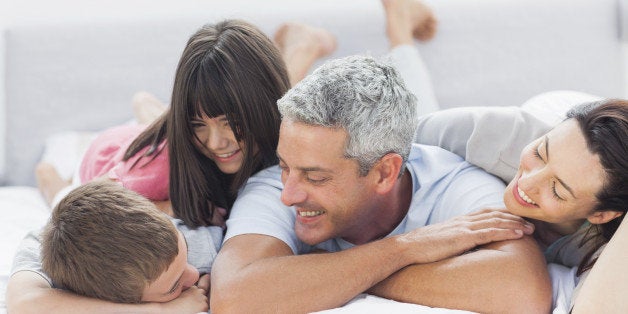 "I have feet just like Daddy's."
"His jeans? Hahahahahaha. You can't wear Daddy's jeans! Hahahahahahaha."
"No, not those jeans. His genes. DNA. It's what he's made out of."
"Oh, those genes. Because you'd look funny in Daddy's pants."
"But how did I get Daddy's genes for big feet if I was made inside of Mommy?"
This conversation happened between my children, over my head as I "slept" the other morning at 6:15. At this point, I had to get involved.
"You have half of Daddy's genes and half of Mommy's. You grew inside of Mommy's body, but it takes both a Mommy's and a Daddy's genes to make a baby. So you're a mix of the two."
There. That should cover it. We've talked about this stuff before, but we've never gotten to the actual mechanics of how the baby starts. They know how it ends, and Sally is already hoping for a c-section and Luke is very happy he's a boy. Are we really going to have this conversation here and now. In the very bed where, well, the starting part happens?
"But what if the daddy wore a glove when he touched it? Then the baby would only have the mommy's genes."
"You know, when he touches it. If he wore a glove, none of his DNA would come off."
"What? What do you mean? Touches what?"
At this point, Luke touches his finger to the pillow beside me, and says,
"See, I left some DNA on the pillow. But if I had a glove on, I wouldn't have."
"Oh, I see. You're right. You have DNA in all the cells in your body. So when you touch something you might leave some skin cells behind that have DNA in them. That's not how babies get their daddy's DNA, but it is how cops can solve crimes."
Yes, let's talk about crime scenes instead.
"So where do babies get their daddy's DNA?"
"From the daddy's sperm. The sperm has the dad's genes and the egg has the mommy's. When the sperm and egg combine, they make a unique person who is a mix of the two parents."
"Where does the sperm come from?"
And here we go. Answer only the question that is asked. Answer only the question that is asked...
"Men make sperm in their testicles."
"So my testicles have sperm in them?"
"Not yet. You'll start making sperm when you go through puberty. Around the same time your voice changes and you grow body hair."
"When a girl shares a room with her brother, she has to move out when she's about 12 because she gets hairy."
"What? Um, well, a girl might go through puberty around 12, and I suppose if a sister and brother shared a bedroom they might want to be separated as they get older."
"Who will look after Sally when I move out? I don't want her to be alone."
"You mean when you go to college? She'll be big. 16."
"Yes, but that's when more serious things can happen and I won't be here to look out for her."
Well, this has taken a surprising turn. At this point, Sally buries her head and says,
"What if someone steals me?"
"No, Sally, no one will steal you! You'll be 16. People can't steal a 16-year-old. Right, Mom?"
Um, potential abduction of my teenage daughter, or the birds and bees?
"We'll be here to take care of Sally. Do you have any more questions about babies?"
"How does the sperm get out of the daddy and into the mommy?"
And there it is, folks. The million dollar question I've been waiting for.
"It comes out through the man's penis. A man and a woman have what's called 'sex.' That's when a man puts his penis into a woman's vagina and then the sperm come out and meet up with the egg. That then grows into a baby for nine months inside the mommy."
Well done, Allison! Just the facts, using real words, no embarrassment. Damn, you're a great mom.
"What if it's born after just four months?"
Gah! WTF, kids? I just told you about freaking sex and you just want to skip right through to miscarriages and dead babies?
"A baby needs to stay inside long enough to live. Four months isn't enough. It's supposed to take 40 weeks. The longer the better, but really it needs to be in there for a good 30 or more weeks to be born and survive without any big problems. So, any more questions?"