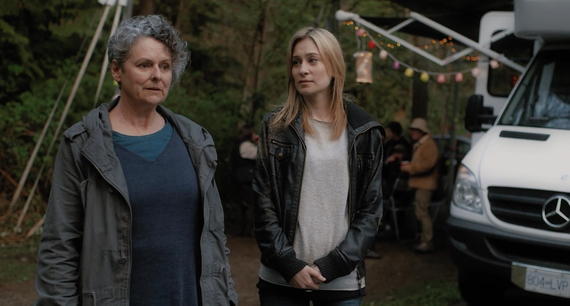 We all know how I feel about supporting Women in Film and anything to do with it. And I love coming at this topic with a compassionate viewpoint. The scales are slowly tipping back into balance, but that can feel very unbalanced right now because we are looking at an over 40% deficit of women in the industry. So I wanted to share with you a film that I had the pleasure of seeing at the Women In Film Festival in Vancouver this year. A small, yet large, victory for Women In Film everywhere.
The Birdwatcher was an incredibly beautiful surprise, in every way. Not only was the acting superb, but the cinematographer and director made sure to have some beautiful sweeping shots that helped bring the movie to life and have it be larger than life. The writing was so eloquent and the characters were full and real. I really cannot say enough about this film.
It's really lovely to see. The Birdwatcher was a film that was brought to life by A Women In The Director's Chair feature film award in 2014. It was shot and released in 2015 and I was lucky enough to have been able to see it at the Women In Film Festival for the Vancouver premiere in March 2016. I was fortunate that I got to meet the writer, director and a lot of the cast members.
Not only was this film a gem, but the people that were involved with this film are also gem's. They were so kind, and so compassionate. They were proud of their film and so loving towards each other. That's the kind of industry we want right?
The film is still making the festival rounds and has so far been nominated for NINE Leo Awards, and just last night as I write this, they took home the award for Best Direction. When I wrote to congratulate Siobhan she replied beautifully and humbly, "I really feel that this is a win for the whole team as what is a director without a writer, producers, cast and crew?" And I agree. But more than that, for me this shows what I want all the film and TV industry to be. Collaborative, open, loving, kind, artistic and understanding. And that on set there isn't one person more important than the other. The end product shows on screen the people you see in front of the camera, but everyone knows that a set is a puzzle, and every single piece is important to that end product.
I am glad that I got to meet who I did on this movie, and I am glad that they are getting so much recognition and much deserved success. If you look at the amount of female involvement on this film, it is beautiful and astounding. They did their best to put as many females in as many roles as possible. AND it was filmed in Vancouver and it's based in Vancouver. I love when people keep films local, what a beautiful gift to Vancouver! So what is The Birdwatcher about?
The short synopsis: The Birdwatcher is the story of Saffron, a single mother of two, who after being diagnosed with cancer, embarks on a journey to reconnect with her estranged birth mother in the hopes of finding family for her children.
This was a story written by Roslyn Muir, directed by Siobhan Devine and Starred Camille Sullivan (Shattered, Intelligence, DaVinci's Inquest, The Killing), Gabrielle Rose (Continuum, If I stay, Hector and the Pursuit of Happiness), Matreya Fedor (Dr. Young, Supernatural, Eureka), Jakob Davies (Smallville, Once Upon A Time) and Garwin Sanford (Stargate SG-1, The Barber, The Long Journey Home).
The next festival that The Birdwatcher will be hitting will be The Female Eye in Toronto. All the best to this beautiful film, all the love, and all the support.
You can check out the website and the trailer for the movie here. http://www.thebirdwatchermovie.com/trailer.html
Here is where you can see them next:
SCREENING:
7:30 PM, June 17, 2016
Female Eye Film Festival
@ TheTheatre Centre, 1115 Queen St. W.
http://www.femaleeyefilmfestival.com/
Calling all HuffPost superfans!
Sign up for membership to become a founding member and help shape HuffPost's next chapter