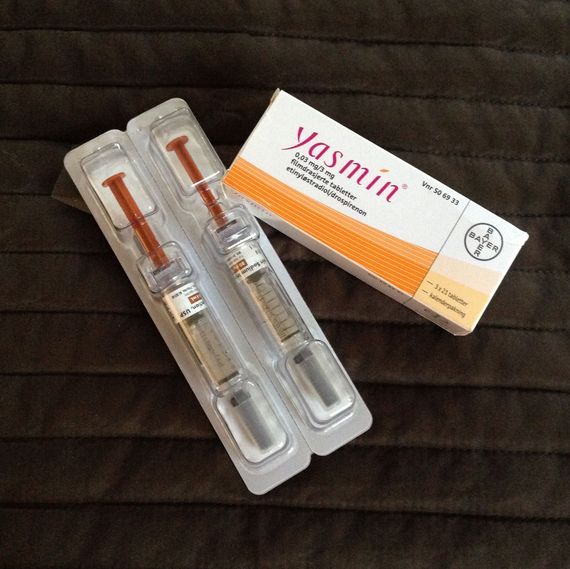 I have been contemplating whether to share what I'm going through right now or not, but I feel this topic is too important not to share. After I posted this text on Facebook a few days ago, a lot of women got back to me telling me about their own experiences or about women they know who have had dangerous reactions to the birth control pill. One mom even told me about how she lost her daughter to side effects from the pill.
What I am going through right now is unfortunately happening to many women. This topic must be addressed, and we must speak about it. Because of this I decided that sharing my story with you is the right thing to do. Sharing can save lives. This is what I posted on Facebook Wednesday March 12th:
Over the past few weeks I gradually developed very strange symptoms of severe fatigue, my pulse raising to 150 after walking up the stairs at home and being completely out of breath after very easy activities. On Monday I finally decided to visit the doctor, and at the hospital they took my symptoms very seriously. Within three hours I had had an EKG, a CAT scan, blood works and two doctor appointments done. The diagnosis was clear before I left the hospital: Multiple blood clots in my lungs. They had a more medical term, but it basically means that this condition was causing my symptoms and that there is risk of a stroke if one of these clots are released.
The reason is probably as simple as it is scary: The birth control pill.
Women everywhere are taking the pill for longer or shorter periods of their lives, and we are all told about stroke and blood clots as a potential side effect. But we all think that this will never happen to me. And now it happened to me!
I believe one of the reasons why we all think that it won't happen to me is that this topic is not discussed or shared openly. Over the past couple of days where only a limited number of people have been told about my health situation, I have heard more stories of blood clots as a result of the birth control pill than I have ever heard before. I think it is necessary to bring this topic out in the open as it is obviously a side effect experienced by a good number of people, and I believe research on women's health is neglected (why have they still not been able to bring good contraceptives for men out?).
Luckily the doctors where able to figure out what was causing my symptoms fast, so things should be fine. During the immediate critical period I need to take injections twice a day and and then stay on blood thinning medications for 6-12 months. Right now I'm taking it easy working from bed to not put any more strain on my heart, but within a week the tests should show a "therapeutic" level and the critical phase will be behind me.
Shocks like this one makes you re-evaluate things and it puts life in perspective. I don't think it's all bad. One of my friends quoted her eastern medicine teacher to me -- and I think this is beautiful and very true:
"Sickness in a body is a great thing, because it is bringing our attention to what we have chosen to ignore -- our inner need for something or our actions against our beliefs. Physical body is here to direct our attention to what is important and helping us get back on track if we know how to listen to it."
Calling all HuffPost superfans!
Sign up for membership to become a founding member and help shape HuffPost's next chapter