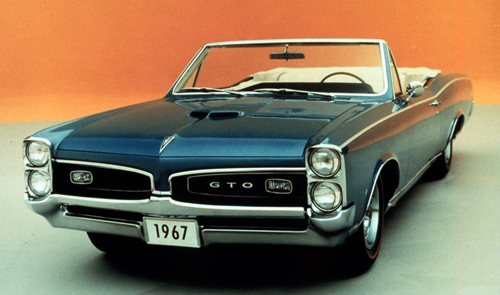 1967 Pontiac GTO, courtesy King Rose Archives
The ongoing revelations surrounding the General Motors faulty ignition switch and possible cover up, brought back memories of past deadly transgressions by the company and raised the specter of reopening its bankruptcy agreement. News about the latest GM debacle is a stark contrast to a time when it was the unrivaled automotive leader that built cars people wanted -- no desired.
A reminder of those heady days recently occurred at the Automobile Driving Museum in El Segundo, California in celebration of the 50th anniversary of a GM car that turned heads, tore up the streets and became an icon -- the Pontiac GTO.
Launched as a 1964 model, the GTO tapped into the needs and desires of young people who were just reaching driving age. But it almost didn't get made.
"There was a new group of buyers coming into the market. Kids wanted personal mobility and some high performance mobility. Young people were the driving force," said Jim Wangers, former PR and advertising executive for Pontiac.
They saw these kids out on the streets racing their cars down Detroit's main drag, Woodward Avenue. It was a laboratory for the marketing guys and for some of DeLorean's engineers who'd join in the fun.
Wangers was addressing an overflow crowd who'd come to the museum. He shared stories about working with two executives at Pontiac, John DeLorean and his boss, Bunkie Knudsen and how they struggled to figure what would appeal to the greatest market segment ever to hit this country. "Which was the group we now call the baby boomers," he said.
They had a problem. Pontiac wasn't a car a kid would want. Knudsen's son told him that his cars "sucked."
"Well they made up their mind that 'Grandma' which is what they kinda of laughingly called it, the nice car, you know, that was built to last 100,000 miles, conservatively styled, conservatively powered. They decided that they were going to turn grandma into a teenager," said Wangers.
DeLorean and Knudsen launched an assault on Florida's, Daytona Speed Week and Race in February of 1957. He hoped this would serve notice that Pontiac was changing. Bunkie's friends laughed when they heard he was going racing. They said, "in what?"
DeLorean and Knudsen knew about racing and they enlisted the help of Daytona regulars like Cotton Owens, who would become icons of NASCAR.
The Pontiac team churned up the sand and started to break records. One car clocked in at 141.2 miles per hour -- the fastest time ever for an American car in its class.
The speed tests and qualifying heats on the beach were just a warm up for the main event -- the Daytona Race. At the time, this ragged contest was run on an oval course carved out of the beach and the scrub brush. Knudsen's cars were pitted against experienced teams from Ford, Chrysler and Chevrolet. No one believed Pontiac had a chance.
But lap after lap -- they showed they could compete. They kept fighting and by the finish, Cotton Owens, a Pontiac driver, flew across the finish line and captured a win. The gods had smiled on Pontiac. DeLorean, Knudsen, Wangers and Pontiac were on their way.
They kept racking up racing wins and the resulting publicity combined with a new look gave Pontiac the boost it needed. It jumped from sixth to third place in sales by 1962 and this once moribund carmaker was in line just behind Chevrolet and Ford.
From our current perspective, it's hard to imagine a time when General Motors was so large and successful that the federal government would threaten to break them up. We're so used to thinking about GM as a basket case but in the early '60s they had a 55 percent market share and were getting dangerously close to 60 percent. If it hit 60 percent the federal government would push to break up GM like they'd broken up Standard Oil years before. They knew the Feds meant business. Panic ensued.
GM issued a corporate edict on January 26, 1963 that put a stop to any support for racing and they told the team at Pontiac, "stop attracting young people," said Wangers. They wanted to control market share and that meant no more racing and no more high performance enhancements.
Of course, this didn't sit well with DeLorean. But he was stumped. An answer came from Russ Gee, a Pontiac engineer for engine development and Bill Collins, the suspension engineer. They were working on a 1964 compact LeMans prototype in the Pontiac garage at the GM Proving Grounds. They were looking for ways to improve it. They're underneath the car in the pits with DeLorean seeing how to put a dual exhaust on the car. "Gee says, to John 'do you see the motor mount? They're the same on all our cars. Would take me 20 minutes to switch out the 326 cubic inch engine and put a 389 cubic inch engine in here,'" said Wangers.
Of course, DeLorean knew that putting a larger engine in the lightweight car would turn the car into a screamer. He told Gee to go ahead and they rolled it out for a lap around the Proving Ground's banked track. It was a rocket ship on wheels.
"In other words, take the biggest engine and stuff it into the smallest chassis. Which is a trick the hot rod community had been doing for years. Well Pontiac decided to do it as a manufacturer," said Wangers.
DeLorean vowed to get this into production. He'd add a few more modifications that would make the kids salivate. He also figured out a way around the corporate ban. He wouldn't tell them. File this under it's always easier to beg forgiveness than ask for permission.
There was a loophole in the GM system. As long as a car wasn't a new model and if you're just adding options or features then a Division didn't have to run it by the corporate committee that was supposed to enforce the ban, the Engineering Policy Group (EPG). DeLorean swore his team to secrecy and they got to work building it and testing it.
Their skunk works was almost unmasked when Gee was running prototypes pretty hard at the Proving Ground. "He passes some guys from Olds(mobile) and realizes that he may have blown his cover. He pulls off and heads for the Pontiac garage," said Wangers. "The Olds guys come knocking and ask, 'what are you running?' Gee says, 'we're just testing some exhaust stuff.' They're not really buying it but he fends them off."
They were able to build 5,000 without any of the other divisions or upper management knowing. DeLorean was pleased with what they'd done and christened it the GTO. Which stands for gran turismo omologato or homologated. In Europe this is a high-speed road car built with parts manufactured by a car maker but not necessarily intended for that model. It also a name Ferrari was using. DeLorean was more than willing to tweak Enzo Ferrari's nose. DeLorean enjoyed antagonizing Ferrari so much that Wangers rigged a showdown with Ferrari for Car and Driver magazine, where Pontiac's GTO bested the Italian supercar in a 0-100 mph test. They neglected to tell the Car and Driver writer that they'd replaced the 389 engine with a 427 -- just an oversight -- can happen to anyone.
As it gets closer to the new model introductions -- where dealers will be ordering for the Fall, DeLorean starts telling key dealers that they were going to be part of a "test." Many of these dealers had a performance guy who'd test the cars and they were amazed. In less than 30 days they had orders for 15,000 GTOs -- or a LeMans with the GTO option.
But the dealers from the other GM divisions start hearing about this test program and are calling upper management. They want one too.
Bunkie and DeLorean are summoned to corporate headquarters. Pontiac is told not to do anymore with the car until Management could hear about it.
DeLorean tells Wangers that he wants him to put together a presentation about how we are using this car in a new way.
"DeLorean's worried -- he's got 15,000 orders already," said Wangers.
They give the presentation and all the representatives from the other divisions, Buick, Oldsmobile and Chevrolet are there. They demand their own high performance car. GM back downs and allows Pontiac to build the GTO but all the others get one too.
"The car was at the right place at the right time -- the GTO. And of course, when it hit the marketplace it was an overnight smash," said Wangers.
The kids loved it and the muscle car era was born. It even inspired a song, "Little GTO."
"These were cars that you could plant your foot in and get thrust back in the seat and have some fun," said Wangers.
Today, GM's challenge is to find a way to tap into the needs and desires of a different generation. Maybe the company needs another team that's not afraid to take a risk or two and build cars that will make people want to sing their praises.
Popular in the Community