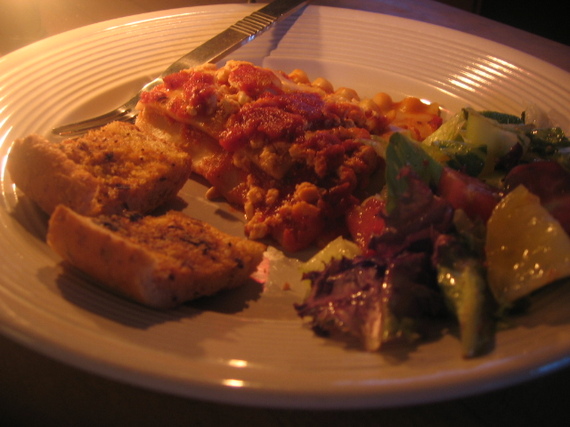 We have a tradition in our family that whenever someone has a birthday, he or she gets to pick the Sunday dinner menu, and I will be the personal chef. With kids I can usually count on Homemade Pizza as the object of desire. Other choices over the years have included Eggplant Parmesan (from an adult vegetarian), Greek Salad (from a junior vegetarian), Noodle/Meatball Soup and Spicy Pork Noodles. When it's my birthday, I always pick Blinis because everyone likes them.
Last week Andy, who was celebrating his 14th birthday and who I thought was a committed vegetarian, surprised me with his choice: Lasagna with Meatballs.
I like making lasagna because there are always leftovers. This recipe is my attempt to recreate the lasagna we ate in Sorrento, Italy, a few years ago. It's good for vegetarians because you can serve the meatballs on the side.
Lasagna with Meatballs - serves 8
4 hard-boiled eggs
3 cups (24 ounces) spaghetti sauce
12 cooked lasagna noodles
2 16-ounce tubs cottage cheese
8 ounces grated mozzarella cheese
Meatballs (see separate recipe below)
Thinly slice the hard-boiled eggs and set aside.
Pour 1/3 cup spaghetti sauce into the bottom of a 9x12 or 9x13-inch pan and swirl around to cover the bottom. Place 4 lasagna noodles in the pan, overlapping so they fit. Spread 2/3 cup spaghetti sauce over the noodles. Gently place 1/3 of the egg slices on top of the sauce. Top with 1 1/3 cups cottage cheese and 1/3 of the mozzarella cheese.
Repeat this process twice. Then add the remaining spaghetti sauce as a final layer and cover with foil.
Bake at 350 degrees for 1 hour. Or refrigerate until ready to bake. Bake an extra 15 minutes if the lasagna goes into the oven straight from the refrigerator.
About 15 minutes before serving, begin heating the cooked meatballs. Serve on the side with the lasagna.
1 tablespoon fresh or dried rosemary
1 pound ground turkey
2/3 cup seasoned bread crumbs
1 large egg
2 tablespoons milk
1 teaspoon black pepper
1 teaspoon bottled crushed garlic
1 teaspoon salt
1/4 teaspoon red pepper flakes
Place an oven rack in the middle position and preheat the oven to 375 degrees. For easy cleanup, line a baking sheet with foil.
Crush the rosemary in a mortar and pestle or break or cut into as small pieces as possible.
Combine the rosemary with the rest of the ingredients in a large bowl. Shape the mixture into 1-inch in diameter meatballs.
Transfer the meatballs to the baking sheet and bake about 20 minutes, or until the meatballs begin to brown. Remove from the oven and serve immediately. Or set aside until ready to eat and then reheat briefly.