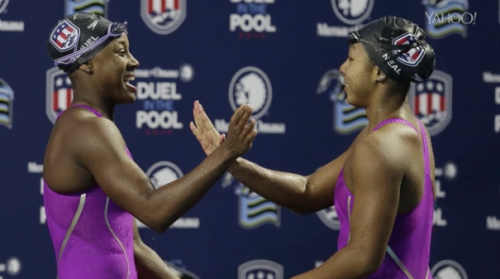 I can still remember standing along the sidewalk of Pico Boulevard in 1984 waiting anxiously as the Olympic torch made its way toward us. I was nine-years-old. The crowd roared as people young and old cheered and applauded. The torch was in its last few miles before reaching the Los Angeles Memorial Coliseum, carried by foot all the way from New York - with torch runners crossing 33 states and over 9,300 miles.
On most other summer days we were found in or around Mar Vista swimming pool, where for less than a dollar we could swim for hours until returning home sun-soaked and waterlogged. I loved the water. I'd been in and out of pools since I was a baby. However when looking to the larger Olympic stage back then, there weren't any female athletes in the pool who looked like me. It would take another two decades before Martiza Correia McClendon became the first black woman to make the U.S. Olympic swim team in 2004. But why did it take so long? The answer was simple: Black people don't swim, they sink. (Or so we were told.)
The Black Line: Challenging Myths & Facing Realities about People of Color in the Water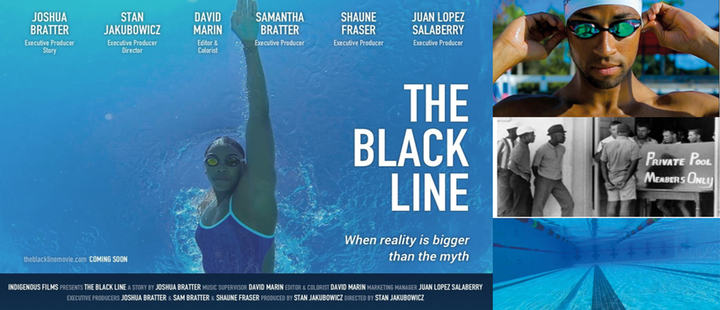 Just as Simone Manuel qualified for her first trip to the Olympics over the holiday weekend, a new documentary called The Black Line (The Indigenous Films) was gearing up for its film-festival premiere in the Cayman Islands. From the West African pearl divers of the 1700s, to the U.S. Jim Crow era and the stratification of US swimming, The Black Line confronts and dismantles the stereotypes facing swimmers of color. More pointedly it raises awareness of an unsettling contradiction: that while black swimmers continue to break racial barriers in the world of competitive swimming, black children are nearly 6x more likely to drown in swimming pools than their white peers.
Featuring interviews with several of the Caribbean's elite swimmers (including Ariana Vanderpool, Alia Atkinson, Shaune and Brett Fraser, Elvis Burrows, Roy Burch, Jamie Peterkin) along with Olympic Gold medalist, Hall of Famer and official NBC Olympic Swimming commentator, Rowdy Gaines and Rio 2016 Olympic swimming team head coach, Dave Marsh – The Black Line works to dispel the mythology that swimming is a "white" sport, discussing in-depth the racism and bigotry directly impacting exposure to safe swim spaces for people of color for generations.
"We were thrilled to receive praise from the Head Coach for the Women's U.S. Olympic Swimming Team, David Marsh and Hall of Famer and NBC swimming commentator, Rowdy Gaines. They highlighted the importance of our film as a vehicle to debunk the myth that African Americans can't swim," said Stan Jakubowicz who both produced and directed The Black Line.
A "generational" divide (i.e. parents and grandparents who instill fear of water in their children due to their own inability to swim) along with limited access to safe aquatic spaces are primary culprits behind the gross disparity between the survival rates for black children and white children in the water. Swimming is an essential life skill – one that must be readily available to all children and their families.
Big Picture Benefits for Schools: Childhood Obesity Prevention & Community "Shared Use" Partnerships
The Rio 2016 Olympics present an especially opportune time for those working to eradicate childhood obesity in the U.S. and abroad. The Olympic trials and upcoming Rio 2016 games are also vehicles for promoting access to water safety, swimming lessons and swim programs in local communities traditionally excluded from the sport. It's also an excellent window for public health advocates to balance the increased messaging around physical activity with nutritional messaging that promotes access to healthy fruits, vegetables, and drinking water instead of sugar-sweetened-beverages and sports drinks widely marketed throughout the Games.
Schools can play an important role by increasing "shared use" partnership agreements, a public health strategy that works to increase opportunities for physical activity and maximize existing resources, such as pools and gymnasiums. Many school sites have swimming pools and this offers a primary opportunity for increasing water safety among communities of color and low-income communities.
A new partnership between the Minneapolis School District and the Minneapolis Park Board for City Swim Programs in Minnesota is one recent example of how "shared use" agreements can foster accessible, inclusive, high quality athletic and fitness opportunities and facilities for children and families. (The Shared Use Clearinghouse provides information on shared use efforts at the national level. Check out the work of the National Shared Use Task Force convened by the Safe Routes to School National Partnership.)
Local Heroes: Transcending the Myth That Blacks Don't Swim

One of the most inspiring segments from The Black Line is when we meet Reece Whitley from Philadelphia who as one of the top young swimmers in the country was chosen as the Sports Illustrated 2015 Sports Kid of the Year. (He just made his first trip to the Olympic Trials in Omaha, Nebraska at the age of 16.) What's interesting to note for young swimmers just getting their feet wet is that Whitley actually failed his first deep water test "miserably" he says, and was a bit overweight when he first hit the water – later shedding body fat and increasing muscle through his time in the pool. Whitley proves to be a remarkable role model for kids across the globe - a reminder that skin color should never prohibit anyone from learning how to swim, and that even rough starts in the water can be turned around if provided with the opportunity to continue learning...
Coach Jim Ellis (who launched the first African American swim team in Philadelphia and subject of the 2007 film, Pride, starring Terrence Howard) is also featured in The Black Line. Ellis has trained young swimmers of color for nearly 40 years after refurbishing an abandoned recreational pool hall in the early 1970s. Ellis sees an increase in youth crossing over into swimming - primarily due to concussions and injuries from other sports.
Exploring New Opportunities for Water Safety and Recreation
With a running time of just under 60 minutes, The Black Line is guaranteed to hit home with parents, schools and swim communities looking to promote water safety and the benefits of water sports and recreation across communities of color. Kids watching the Olympic Games for the first time this summer will see groundbreaking diversity reflected on the U.S. swim team. It may be just what inspires participation in a new sport or physical activity within their school or community moving into the fall school year.
Simone Manuel and Lia Neal have inspired a generation of swimmers and hopefully more people will come to appreciate the significance of their presence in Rio. One of the comments over social media celebrating the two young women said it well, "These two beautiful sisters will help to inspire black children to learn to swim and yes, most likely help save some lives as a result."
The Black Line was executively produced by Samantha Bratter and Olympic swimmer Shaune Fraser, written by Joshua Bratter, and directed and produced by Stan Jakubowicz. For more information visit: www.theblacklinemovie.com
Kimberly A. Cooper, MA is a writer, activist and former chief of operations for the "Reducing Childhood Obesity" initiative – a partnership between First 5 LA and the Los Angeles County Department of Public Health. She's spent nearly 20 years working in project development for entertainment media, nonprofit and community based youth organizations throughout Los Angeles.
Popular in the Community