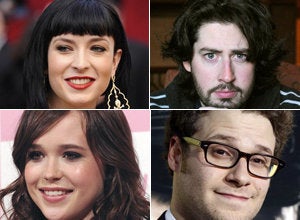 Getting on the Black List -- a Hollywood insider ranking of the best unproduced scripts of the year -- is better than any holiday treat because it truly is the gift that keeps on giving.
The list began in 2004 when Franklin Leonard -- then a creative executive at Appian Way, Leonardo DiCaprio's production company, and now the director of development at Universal Pictures -- surveyed 75 trusted colleagues about their favorite scripts of the year so he would know what to read over the holidays. Now it's officially compiled online, overseen by Leonard, with a poll of about 300 development executives and high-level assistants who rank the hottest scripts in town for films that have not yet been released, though some are already in production. (It also mentions the screenwriters' agents, managers and any producers that have already been attached to the project.) While some scripts on the Black List are written by established box-office stars like "Troy" screenwriter David Benioff and "West Wing" legend Aaron Sorkin, a heavy dose of new talent is always included, which enables these unknown talents to score everything from meetings to development deals.
Since its inception, the list has catapulted dozens of scripts into production, many to major box-office success -- making it a must-read for industry executives eager to corral hot projects and fresh voices. Two of the top three screenplays by breakout writers on the 2005 list, "Juno" by Diablo Cody and "Lars and the Real Girl" by Nancy Oliver garnered Oscar nominations in 2008 for best screenplay, with "Juno" winning. The 2006 list mentioned recent hits including "500 Days of Summer" by Scott Neustader and Michael Weber, "Superbad" by Seth Rogen and Evan Goldberg and "There Will Be Blood" by Paul Thomas Anderson.
On Dec. 11, the Black List will be emailed out to the people who voted on it and posted here. Then it takes on a life of its own, catapulted into cyberspace faster than a Nikki Finke news break.
Screenwriter Allan Loeb's career was ignited when he scored two out of the top four slots on the inaugural Black List in 2005 for "Things We Lost In The Fire", which was released in 2007, starring Halle Berry and Benicio Del Toro and "The Only Living Boy In New York" which is currently in pre-production. The following year, Loeb had two more scripts on the list, which haven't been produced yet ("A Little Game Without Consequences" and "Men"). He also wrote "21", which was released last year, starring Kevin Spacey and Kate Bosworth and "Wall Street 2: Money Never Sleeps", which will be released in April, starring Michael Douglas and Shia LaBoeuf
Deborah Schoeneman asked Loeb about the experience of being Black Listed: The first year of the Black List, you had two scripts in the top four slots. Tell me a little bit about what happened to you the day that list got sent out and in the months following it. Any specific changes, such as 'I went from riding the bus to buying a BMW in 3 months'?. Also, did you write those scripts on spec? How did you find the time?
AL: I actually did go from riding the bus to a BMW, literally. Mostly the 20, which traveled Wilshire, to a 325i. But that wasn't because of The Black List. The scripts that got me on the list also got me in rooms around town. I wrote both scripts on spec. I was supporting myself at the time by being a degenerate gambler who lost tons of money. Doesn't make sense but what does in this biz?
DS: If you had to identify something that helped you break into Hollywood, what or who would it be?
AL: The number one thing that helped me make it in Hollywood was the complete inability to do anything else. I would've worked at Starbucks but they didn't want me.
DS: How much importance do you place on the list now that you are an accomplished screenwriter? Do you find scripts you want to produce or people you want to work with on it? Do you feel competitive with people who are on it? You don't have to name any names, but are there any writers that you get riled up about if they are ahead of you on it or make it more times than you do?
AL: The Black List is a point of reference for me. Whenever I get a chance (which is very rare) to read what everyone is talking about, I'll ask my friends or a VP or creative executive which Black List scripts they love and then get my hands on them. It's not a competition at all and should never be looked at as one. I've written scripts that I've been very proud of that never made it on the list many, many times. A script that makes it to the top of The Black List may not make a commercially viable movie and vice versa. Most of all, The Black List is a wonderful vehicle for introducing new voices to the community.
DS: Any advice to aspiring Black Listers?
AL: My advice to anybody trying to make it on the list is the same advice I give to all trying to make it writing for Hollywood: A) They will make you rewrite it. All of it. All the time. Even what they loved yesterday. Get over it. Write poetry if you want to be precious. B) Don't write a script because you're an actor hungry for a good part, don't write a script because you've got what you think is the best idea ever, don't write a script because you think it'll be easy money -- write a script because you want to dedicate your life to becoming a screenwriter. Anything less than that will fail. C) Marathon not sprint. Process not result. Get better with each one and everything else will come eventually.
Calling all HuffPost superfans!
Sign up for membership to become a founding member and help shape HuffPost's next chapter