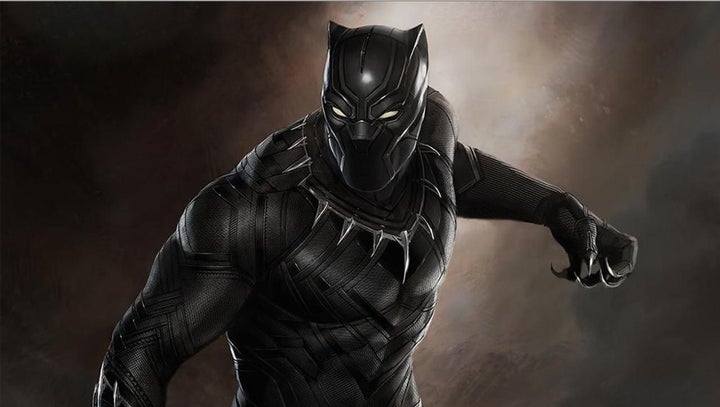 One of the problems with Black superheroes in Marvel and DC comics is that they may look Black, but very rarely do they reflect the experiences and struggles of Black people. This was a point that was made Kenneth Ghee who explained in Black Comics: Politics of Race and Representation that: "Historically in comic books and movies, the Black superhero operates in a totally Eurocentric (White) context; no Black family, no Black lover, no connection to community or culture…For him (and for us and our children) there is no Black consciousness or Black cause, only a generalized 'humanitarian' supportive role from a Eurocentric worldview and perspective." Given that the Black Panther movie is set to be released next month, I would like to point out that one of the unique things about the Black Panther is that he is one Black superhero who has to confront many of the problems that Black people confront daily. The Black Panther doesn't just live in Africa, he also lives many of the real problems that Africa has faced and continues to face. Black Panther comics are filled with themes of Western imperialism, colonialism, and neo-colonialism in Africa. These themes are especially prominent in the six episode cartoon series which was an adoption of Reginald Hudlin's run of the comics.
In the comics Wakanda is the most technologically advanced country in the world because the people of Wakanda are able to utilize their country's resources for their own benefit. Wakanda was the only African country never to be colonized or conquered, so it did not suffer through the ravages of the slave trade and colonialism which disrupted Africa's development and, as Walter Rodney explained, underdeveloped Africa. Some have defended colonialism by arguing that colonization was a benefit to Africa because it introduced European technology, but this was not entirely the case. The technology that was introduced was utilized in the service of European domination in Africa. The vast majority of colonized Africans were exploited and impoverished, and they did not benefit from European technology in any significant way.
Ethiopia was able to fend off the Italian invasion and under Menelik II's rule Ethiopia made many technological advances, including establishing a railway, a postal service, and the country's first hospital. This was because without European domination Ethiopia was free to adopt European technology and apply it in ways that were beneficial to their country, but the other colonized African nations did not have this benefit. Whereas Menelik was able to establish a hospital, in many colonies Africans were malnourished and given inadequate medical care. In Mozambique the Portuguese failed to train a single African doctor and Guinea-Bissau was even more neglected by the Portuguese colonialists than Mozambique was. Julius Nyerere, the first president of Tanzania, once explained that by the time Tanzania gained its independence the country only had 12 doctors. Wakanda presents us with a glimpse of where Africa could have been had it not been for colonialism, as well as a glimpse of where Africa could very well be with the proper leadership.
Comic book superheroes are typically people who decide to become superheroes due to personal tragedy or by obtaining superheroes, but the Black Panther is unique in that he has inherited his role as a superhero. T'Challa comes from a long dynasty of Black Panthers that have protected Wakanda for thousands of years. The Black Panther does fight the typical super villains that are found in comics, but what makes this character unique for people of African descent is that the Black Panther also fights a threat that Africans had to fight in real life, which is European colonization. For example, one story in Hudlin's run depicts one of T'Challa's ancestors defending his nation against an assault led by a European settler known as Klaue. In the story Klaue is a soldier who fought military campaigns in South Africa and has nothing but contempt for Africans, whom he views as uncivilized savages.
T'Challa's own story is rooted in Africa's struggle against neo-colonial forces. T'Challa's father, T'Chaka, was murdered for refusing to give up Wakanda's most valuable resource, which is a fictional metal known as vibranium. In Hudlin's retelling of the story, T'Chaka's assassination was part of a plot that was carried out by various Western countries that were unable to talk T'Chaka into giving them his country's resources. When they realized that T'Chaka could not be bought off, their next option was to simply kill him. This brings to mind the assassinations of Patrice Lumumba, Thomas Sankara, and other African leaders who were killed or overthrown by Western countries for refusing to serve the interests of those countries. T'Challa ascends to the throne and has to remain cautious about the fact that the very governments that assassinated his father would be plotting to do the same to him.
Aside from the Western governments that seek to undermine Wakanda to exploit its wealth, the Black Panther also has to confront African dictators such as M'Butu, who is one of the antagonists in the cartoon series. M'Butu is the dictator of a nation that borders Wakanda and he is depicted as being the opposite of T'Challa. M'Butu is greedy, self-serving, and is easily paid off like many of the dictators that continue to rule Africa today. M'Butu is also a close American ally and even agrees to participate in a plot to overthrow the Black Panther. Black Panther not only fights to protect his nation against European invaders, but against African traitors as well.
I am not sure how deeply the movie will delve into these themes. The anti-colonialist message found in the cartoon series and some of the comics was toned down when the Black Panther was introduced in Captain American: Civil War. In that movie T'Chaka's assassination was part of a plot to frame the Winter Soldier rather than being an assassination that was carried out because T'Chaka refused to give up his country's resources. Even if the anti-colonialist message is toned down, I still think the significance of the Black Panther movie is that it's a movie that will challenge some of the ways Africa and African people are typically depicted in the mainstream media. It is also significant in that it has a message that is relevant to all people of African descent. For African Americans and others in the diaspora it is a reminder that there is more to our history that slavery, and for those on the African continent it is a reminder of the great potential that Africa has.