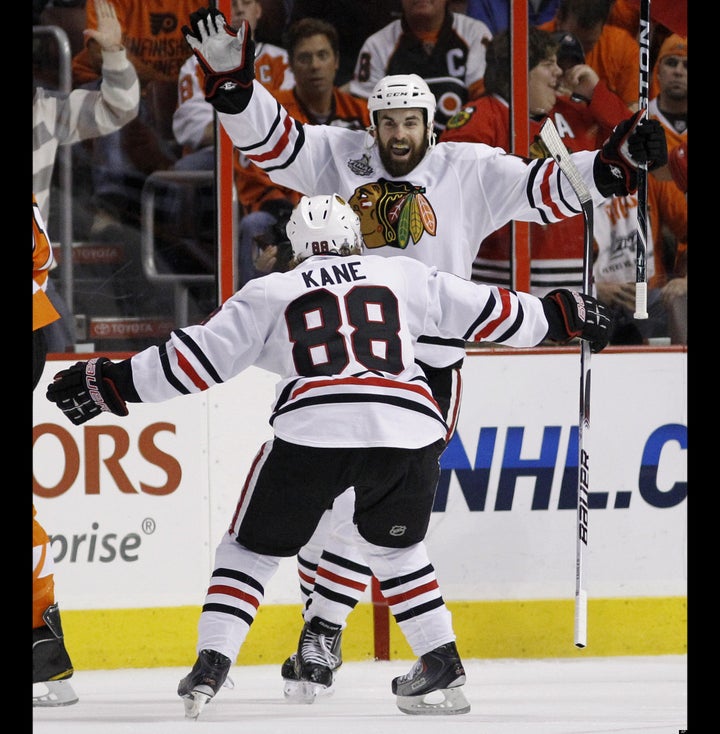 "Shot and a gooooooaaaal!"
The Chicago Blackhawk's Patrick Kane wristed a shot under the stick of the Philadelphia Flyers' goalie Michael Leighton for the sudden death overtime victory in a thrilling finals matchup Wednesday. With that, the Blackhawks won the Stanley Cup Trophy for the first time since 1961.
Kane and Jonathan Toews, the series MVP, and their teammates, outmatched the Flyers with speed and talent. The Flyers were tenacious, but they could not overcome the unrelenting Blackhawk offense and strong defense. Wednesday's final game drew hockey's largest viewing audience in more than thirty years. So much for everyone who follows hockey is at the game.
Chicago is one of the original six franchises of the National Hockey League. It had been in decline for the last forty years primarily due to stingy ownership. But Rocky Wirtz became owner a couple years ago, taking over for his father who had died, and pledged to bring a trophy to Chicago.
Wirtz focused on bringing in a mixture of proven veterans and a lot of youthful players. This team is deep; every line is loaded with talent. Fast, quick, big bodied, the Blackhawks can be physical as well as graceful. This is what it takes to win in the 2010 NHL.
The "Golden Jet" Bobby Hull and Stan Mikita led the Blackhawks to their 1961 victory. Hull was a flashy superstar then, fast and quick, he could split the defensemen and then blow a slapshot by the goalie. Today, Hull would probably be just another one of the star players on the Blackhawk's' roster.
In 1948, my grandmother attended a Blackhawk game during a visit to Chicago from her home in New Orleans. She loved it so much my dad quoted her as saying, "I went to a fight and a hockey game broke out." Not an original quote but nonetheless a powerful feeling for someone who rarely saw snow.
Well, I watched a hockey game Wednesday night and the champagne broke out! This was a very good night for all hockey fans in America.
REAL LIFE. REAL NEWS. REAL VOICES.
Help us tell more of the stories that matter from voices that too often remain unheard.