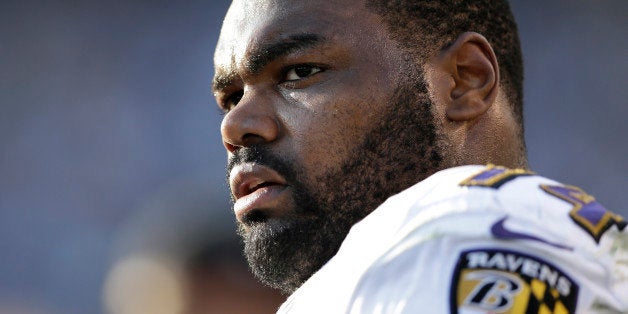 The 2009 "based on a true story" film "The Blind Side" was a massive box office hit, beloved by both critics and the viewing public. The movie raked in $300 million, earned an Oscar nod for best picture, and clinched Sandra Bullock, who starred in the film, an Academy Award and a Golden Globe.
Oher, who currently plays left tackle for the Carolina Panthers, told ESPN.com's David Newton this week that the film -- which details his journey from a homeless teen to a first-round NFL draft pick -- has hurt his football career.
"[The movie's] taken away from my football," he said.
Oher, who after a positive start with the Baltimore Ravens has been struggling to find success on the field, said the film has caused him to endure unfair criticism -- criticism that stems from a world of Hollywood fiction, rather than reality.
"This stuff, calling me a bust, people saying if I can play or not ... that has nothing to do with football. It's something else off the field. That's why I don't like that movie," he said.
Oher is said to have made these comments in response to questions about a scuffle between him and defensive end Kony Ealy at a Panthers minicamp Wednesday. Oher and Ealy were "throwing punches," and "ended up rolling on the ground and had to be separated by teammates," reports NBC Sports.
ESPN's Newton asked the 29-year-old if the tussle showed that he had something "to prove" after his struggles on the field.
"I'm not trying to prove anything," Oher responded. "People look at me, and they take things away from me because of a movie. They don't really see the skills and the kind of player I am."
Oher left the Ravens in 2013 and subsequently signed a four-year, $20 million deal with the Tennessee Titans. He was released during the offseason after suffering a toe injury.
"It's not surprising to hear the guy who just wanted a safe place to sleep at night as a youth grow up to resent the movie that packaged him as a folk hero capable of football wizardry," wrote Bleacher Report in response to Oher's comments. "After all, hype is hype, and trying to live up to your finest moments every day, in front of thousands, sounds like the most tiring job of all."
Calling all HuffPost superfans!
Sign up for membership to become a founding member and help shape HuffPost's next chapter
BEFORE YOU GO
PHOTO GALLERY
Top 10 NFL Wide Receivers