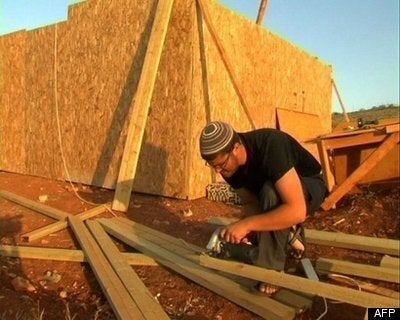 In the shadow of his ruined home, north of Gaza City, Hashem al-Ansari lit a small fire and made me tea. His family's blasted house looked just as it did when the war ended on January 18. Israel's land, sea and air blockade means the al-Ansaris can't get the concrete or glass they need to rebuild. "We locked the door when we left during the war," he said, looking at the rubble.
Hamas, which claims responsibility for suicide bombs and rocket attacks on Israeli civilian centers, won a majority in Palestinian elections in 2006 and violently took control of the Gaza Strip on June 15, 2007. Two years later, the blockade that Israel imposed in response continues in full force. After the war, the Israeli spokesman, Mark Regev, said, "We want to make sure that [post-war] reconstruction for the people of Gaza is not reconstruction for the Hamas regime." But Israel is blocking much more than just reconstruction materials. In practice, the policy means that until Israel stops considering Hamas a threat, everyone in Gaza is going to suffer.
Hamas' attacks on civilians violate international law, but those violations are no excuse for a blockade that, as Israeli officials have implicitly acknowledged, amounts to collective punishment. "There is no justification for demanding we allow residents of Gaza to live normal lives while shells and rockets are fired from their streets and courtyards" at Israeli communities, then-Prime Minister Ehud Olmert said on January 23, 2008.
After two years of looking the other way, the international community, and especially the United States, should be pressing not only Hamas to end its unlawful attacks on Israeli civilians but also Israel to end its unlawful punishment of 1.5 million Gazans.
By October 2008, Israel's blockade had so shattered Gaza's economy that the World Bank feared "it is unlikely that many [private sector] establishments will be able to recover once the blockade is lifted." Even before the war, the blockade had severely damaged Gaza's fraying health-care system, electricity grid, and water and sanitation systems. During the war, raw sewage piled up in city streets; for weeks on end, hundreds of thousands of residents had no electricity or running water.
Now, 20 weeks later, the suffering of ordinary Gazans grows more acute by the day. The war left 8,000 families homeless and another 10,000 without glass in their windows. Almost 30,000 people have no access to running water, and the United Nations is reporting higher rates of diarrhea and other diseases caused by bad sanitation. Gazans have no power for an average of five hours a day.
Gaza needs more imports than ever after the war, yet current monthly imports amount to only a quarter of what they were before June 2007. Israel has allowed virtually no reconstruction materials to enter. There are no exports, with the exception of a few shipments of carnations to Europe. More than 80 percent of Gazans rely on humanitarian aid, and 65 percent live below the poverty line of US $2 per day.
There has never been any security justification for keeping out the goods and materials that Gaza needs. As Washington State Rep. Brian Laird, one of three Congressmen who visited Gaza in February, said of some banned items, "When have lentil bombs been going off lately? Is someone going to kill you with a piece of macaroni?" Only 18 food items are currently approved for import. Other prohibited goods include soccer balls, ink, and paper. Israel could prevent armed groups from misusing imported items for military purposes by supporting a third-party monitoring system.
Israel's blockade has actually helped Hamas. After Israel blocked the shipment of materials a UN de-mining team needed to detonate unexploded ordinance from the war, Hamas made off with 5,000 tons of bombs. The blockade has turned smugglers' tunnels from Egypt into a lifeline, and Hamas takes a cut from virtually every smuggled item.
The United States, Israel's main backer, has publicly distanced itself from the unpopular blockade. President Obama has called for open borders with Gaza. Secretary Clinton pledged $300 million in humanitarian assistance for Gaza at a donor's conference on March 2, but little has been disbursed, since the US insists that the funds bypass Hamas. But the US not taken firm steps to press Israel to end the blockade, despite its enormous leverage. Jeffrey Feltman, acting assistant secretary of state for Near Eastern Affairs, wrote to Human Rights Watch on May 26 that the US "will continue targeted approaches to the Government of Israel on humanitarian projects."
This is not good enough. Gaza's civilians cannot afford to wait.
Related
Popular in the Community