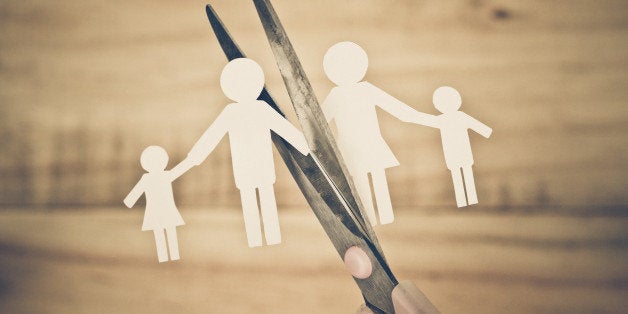 Thank God for Netflix. Since my marriage crumbled, I've needed diversions by the boatload, and you can only drink so much chocolate stout before feeling bloated. So I turned to my digital savior.

Photo Credit: PhotoSpin
Months ago, before everything went to hell, I'd noticed a show called Girlfriend's Guide to Divorce and felt both attracted and repulsed by it. After all, what does a happily married woman need with a show about being divorced?
Fast-forward to my world crumbling. The details aren't important. If you've gone through a divorce, you know that every story is really the same one, whether it's about abuse, constantly arguing, infidelity, or any other of the myriad reasons people split up: it's the heartbreaking end to something you built. But I quickly got sick to death of doing a post-mortem on my marriage with friends, so I turned on the television, and I loaded an episode of Girlfriend's Guide.
The show is incredibly well-written. It's what I look forward to on my lunch break and after a particularly blow-up argument about alimony (aren't those fun?). But, much as I love my shows, I love reading even more. So I started digging to find a blog that was as witty as the show, one that would take real situations like telling your kid that his world is shattered, make it authentic, but also make you laugh through your tears.
There aren't a lot of blogs like that out there. Sure, there's a ton of technical how-to-do-your-own divorce blogs (written by lawyers), as well as transformational, uplifting blogs designed to help you not feel like sh*t about the prospect of moving out of your 2,300 square-foot house into an apartment less than half the size. And then there's the other category: the ranting divorcee. You've probably read those blogs: she's pissed and will bash her ex (or in divorce speak, STBX) until his brains are a metaphorical puddle on the floor of the Internet.
But nowhere was that shockingly honest and refreshing blog that I wanted to read.
A Lightbulb Goes Off


Photo Credit: PhotoSpin
And so, one evening after bingeing on the show and snuggling into my brand new gift-to-myself gel foam bed, I asked, "Why don't I write it?"
(You should know I did not ask this aloud. I do have two cats, but I have not deteriorated so far to be talking to myself. I'm just a few months in. Give me time to become full-on Crazy Cat Lady.)
I mean, I'm a writer. And I'd been wondering how this devastation could be turned into positive creative energy (if you're a Julia Cameron fan, you'll get that). And there it was: write blog posts that would let other women going through a divorce know that they weren't alone. That there were others who silently cussed their ex from the window when they see that, oh, suddenly dropping that gut was a breeze now that he was heartbroken over you. That they weren't alone in counting down the hours until it was socially acceptable to stop being sober for the day. That others understood that trying to find your zen place when your 11-year-old takes out his my-parents-are-getting-divorced aggression on you is effing hard.
That might make it a little easier for them to go through what I wouldn't wish on anyone. I could do that. I could write that. And so it begins.
In writing here on good old HuffPost, it's my hope that we all realize we're not alone, that while there is little in life (mine, at least) that is this gut-wrenching, we can still find moments to connect and to relate. I hope you enjoy it, laugh a little, and know that you'll be okay.
Popular in the Community