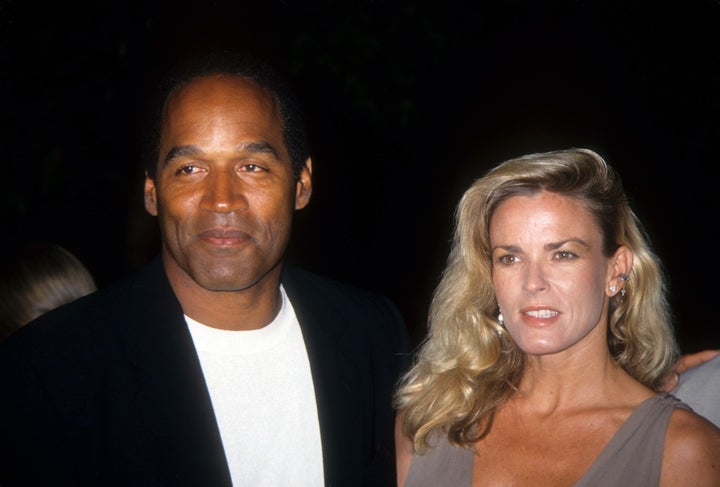 She sat oddly removed from the rest of her party – at an end seat facing the window looking out onto San Vicente Boulevard; a striking young woman with obligatory long blonde LA hair, staring out as if trouble were on the way. That's how my wife Ellyn remembered that ominous night.  
            On our side of the cozy Westside trattoria, the three of us checked out the menu -- Ellyn and I and her close friend from New York in the Sixties. The two bonded when they were NBC tour guides at 30 Rock – guidettes as they were called in that pre-PC era.
            Now here we were, decades later, Ellyn a lawyer and her longtime crony a crazy successful television producer. We were out for a bite to eat following a tour of her sprawling new home in the ultimate lush hills of Brentwood.  
            We were being doted on by a hunky young waiter. He fussed over us because he recognized the uber producer. He seemed an LA staple: actor-model-surfer who worked out and auditioned by day and waited tables at night until It came along, the Calvin Klein ad; a shot on a TV series. Maybe even a romcom. Perhaps he thought his demeanor was subtle; just what waiters do. But the way he moved and spoke and played to our friend said it all. He was within inches of a career maker.
            We finished our plates of who remembers what – I probably packed away a carb load of pasta while the women poked at some mixed greens and grilled salmon. Ellyn would never have ordered spaghetti carbonara with the curvaceous, leggy blonde in her sights; the young woman still not in the moment with what appeared to be family members; still overwrought and on the lookout.
            After the striking blonde and her family left, we three continued playing "whatever happen to?" -- carping about our kids, sipping cappuccinos and noshing on biscotti, the crunchy treats compliments of our eager waiter. We eventually closed down the place on that typically quiet Sunday night in West -Of -The-405 Land.
            We said our goodbyes outside in front of Mezzaluna. I checked my watch. 9:30. We had missed the beginning of the Tony Awards. No matter. I knew we could still catch two hours of musical numbers and enjoy the theatrics of stage stars fawning over each other in the incestuous cocoon of a Broadway Theater.    
            But the next day's big news was not about the Tonys; not about the third game of the NBA finals or West Hollywood's Gay Pride Parade. The news was all about that lazy Sunday night in Brentwood where the blonde and the waiter were slaughtered by an attacker outside the blonde's condominium.
            Monday morning at the federal courthouse in downtown LA, Ellyn overheard the marshals describe what they claimed was the most brutal assassination in memory – one of the victims, the ex-wife of a celebrity sports figure.
            Later that night television newscasts flashed their photos. Ellyn got a frantic phone call from our producer friend who recognized Ron Goldman as the chummy waiter; Ellyn quickly made the connection between the mysterious blonde and the victim identified as O.J. Simpson's ex, Nicole Brown Simpson.
            "Apparently Ron left the restaurant at 9:50. Right after we did."    
            "I knew that blonde was somebody."
            "They said he'd gone to her condo to return a pair of glasses."
            "It's unbelievable. We were his last customers."
            We dined out on that story for some time:
            "Did we ever tell you we were the last people Ron Goldman served the night of the murders? Maybe the last people to see him alive."   
            The whole thing felt unreal. At first numbing, then odd, in retrospect, how quickly we put that night behind us. No drive-bys past Nicole's or O.J.'s or devouring every article in every newspapers and tabloid. Everyone in L.A. has a story. We now had ours.
            We, of course, were glued to our TV screen when a disoriented O.J. sat in the back of a white Bronco driven by his pal A.C. Cowlings, attempting a getaway, helicopters overhead, creeping along on the 405 freeway… at rush hour… a scene surreal, an LA story not even the wildly imaginative Steve Martin could conjure up.
            Without looking away from the action, I called and canceled our dinner reservations. The unreal story of the gruesome murder of two young Angelenos had suddenly turned into America's first reality show and, like everyone else in the country, we were mesmerized.
            June 12 marked the 22nd anniversary of that monstrous episode in twentieth century history – unthinkable even in a society where violence and mayhem are no strangers. While Ellyn and I have long since stopped regaling people with our story, the recent FX TV Miniseries and ESPN documentary brought back to me that "what if." What if we had ordered a second cappuccino, lingered over amarettos while the three of us relived our youth in New York. It may have changed the timeline. May have altered history. Maybe one life could have been saved on that fateful night. Just maybe.
REAL LIFE. REAL NEWS. REAL VOICES.
Help us tell more of the stories that matter from voices that too often remain unheard.