In November 2007, Jeff Koons's "Hanging Heart (Magenta/Gold)" sold for $23.6 million at Sotheby's New York, setting a world auction record for a work by a living artist. In June of the following year, another refulgent sculpture from Koons's iconic "Celebration Series," the similarly candy-colored "Balloon Flower (Magenta)," surpassed that price, fetching $25.7 million in a Christie's showroom. Just months later, Lehman Brothers filed for bankruptcy, most national economies slipped into recession, and the art-market fell into a steep decline. Now, only a little more than two years after the last historic sale, another "Balloon Flower," a blue one this time, is set to hit the block at Christie's New York on November 10, carrying a $12-16 million estimate. Needless to say, its performance that night will be avidly watched as a gauge of the uppermost echelon of today's art market. "I don't think that anyone thinks that the boom times are back," said Brett Gorvy, Christie's deputy chairman and international co-head of postwar and contemporary art. "But the market is very strong for certain important works of art, and it's a global market that is not really reliant on one particular buying sector." The confident seller behind the lot is the Daimler Art Collection, a 33-year-old division of the German automobile company Daimler AG, which owns more than 1,800 works, including particularly strong holdings in Minimalist art. (The previous two high-flying Koonses were put up for auction by the collectors Adam Lindemann and Howard Rachofsky, respectively.)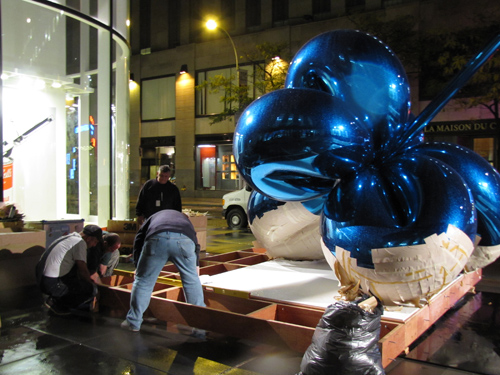 The Koons flower being installed in front of Christie's under the mask of night. Courtesy Christie's Images LTD, 2010.
"We started discussions about this work in May 2009, when the market was not as strong as it is today," Gorvy said of the blue flower. But while the health of the market was one concern, Daimler and the auction house also faced another impasse: because the German company had displayed the work outdoors in Berlin's Potsdamer Platz, the sculpture would need to be refurbished before any sale, and shipped to an auction house. "The work is about perfection, and we wanted the work to be in absolutely pristine condition," Gorvy said. The artist himself monitors such preparation closely as well. "Jeff Koons expects them to be models of perfection when they come for sale," according to Gorby.
Christie's approached the German fabrication firm Arnold, which had been involved in making the work with Koons more than a decade ago. "The sculpture had a life outside," Gorvy said. "We wanted to restore the precision it had in the factory. This is not like working with a Giacometti, where one has a sense of the patina. The expectation of the buyer is that the work is going to look close to how it did when it left the fabricator." The meticulous restoration process, personally overseen by Koons, took more than six months. Now, when the piece hits the block, some of its aspects will "probably even look better than how it was when it first went through fabrication," Gorvy said, because of improvements to Arnold's production technology since that time.
Koons "treats his objects like children," Gorvy said. "He is extraordinarily hands-on." In fact, just Thursday morning, Koons had been up at Rockefeller Center, where the work is now installed, helping a Christie's photographer pick angles from which to shoot the work in situ. The auction house's promotion of the sculpture has been relentless, including the production of a special catalogue devoted solely to the work. Koons "color-checked every single picture" in the book, Gorvy said.
While Koons's high-gloss, immaculately finished "Celebration" sculptures were favorites with bidders during the boom years, with the last one going to auction at the go-go period's peak. (Lehman Brothers collapsed just four months after "Balloon Flower (Magenta)" sold.) Still, works by Koons performed well through the recession, especially over the past year, Gorvy noted. His 1999 "Loopy" painting sold for $5.1 million at Christie's London in June of this year, an auction record for a painting by the artist, and his 52-inch-tall "Large Vase of Flowers" (1991) netted $5.7 million at Christie's New York last November. Christie's also recently brokered a private sale of a yellow version of the balloon flower. (The work was made in an edition of five, and New Yorkers can also see the red version -- reportedly owned by Koons himself -- outside World Trade Center 7, right next to Ground Zero.)
After the high-profile roll-out given to the latest "Balloon Flower," Christie's is confident that it will find a bidder ready to match its estimate. "Where we have seen certain artists come down considerably, Koons's market is still relatively high," Gorvy said. "And if you think about who his collectors are -- whether it's a Steve Cohen, Eli Broad, François Pinault -- these are collectors that are highly committed to this particular artist. You have this fantastic support system both in terms of a collector base as museums."
Displayed for a decade on Potsdamer Platz -- which, after visiting it just after the Berlin Wall fell, Peter Schjeldahl presciently wrote in 1989 was "going to be the most expensive real estate in the universe" -- Koons's blue "Balloon Flower" has been a beloved feature of the rejuvenated German capital, a symbol of the country's societal renewal and burgeoning prosperity. Now the sculpture has the potential to take on new symbolic meanings, as a championship trophy for one of Koons's longtime supporters -- or, if taken by a billionaire from one of the world's newly ascendant economies, a sign that financial power is yet again shifting.
- Andrew Russeth, ARTINFO
Popular in the Community