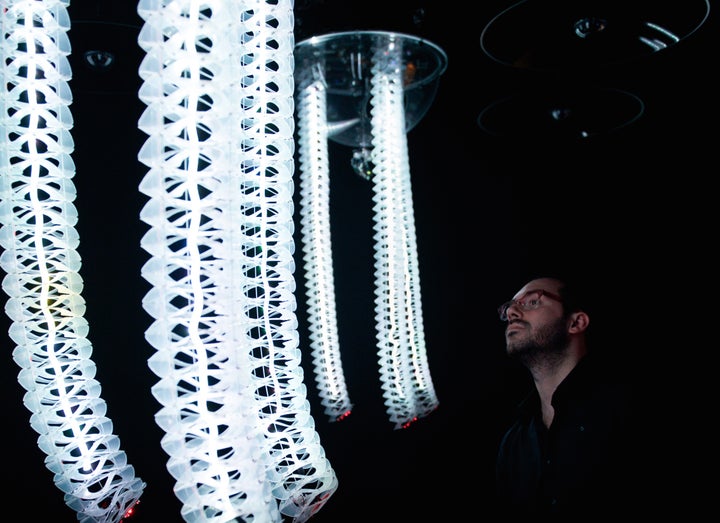 Stephen Spyropoulos landed his first job during his sophomore year in college and spent his first paycheck on music and paintbrushes. Interpret this how you like, but here's one suggestion: the line between work and art might not be that hard to cross for some people.
The line for Spyropoulos, vice president of user experience and design at Gilt, is lithe enough that taking a walk, running an errand or shooting some hoops is all he needs to switch directions and work on his art.
"My approach to work and art come from the same place," he says. "I put people at the center of my process and design experiences that help enable meaningful interactions."
But his art is his passion, he says, and it informs his work. (He's also passionate about the NBA's New York Knicks but they've been less inspirational of late.)
Spyropoulos develops his art under the name Minimaforms, which he founded in 2002 with his brother, Theodore. Minimaforms is an experimental architecture and design studio that he says aims to "make the world a bit more curious and creative. … We work to push the boundaries and develop work that enables people to participate, interact and experience things anew."
They've created projects such as "Petting Zoo," which is described as a "speculative life-like robotic environment that raises questions of how future environments could actively enable new forms of communication with the everyday." Spyropoulos and his brother programmed the behavior of the "zoo" to evolve as they interact with users "through kinesis, sound, touch and illumination."
Some people try to create boundaries between their work and their art, but Spyropoulos says he looks for balance.
"My art creates opportunities for me to challenge habit and convention," he says. "To move beyond the fixed and finite tendencies towards more dynamic, socially motivated and experimental ways of seeing and acting in the world. It allows me to construct an open framework to ask more informed questions about things. I see my art as enabling new frameworks of communication and work towards a participatory form of interaction. With my design team, we explore design search in the pursuit of innovation and product development."
Spyropoulos also says his art inspires the way he tackles problems at work, as well as how he organizes his team.
"Our sensibility explores design as a spatial problem, and this allows us to develop work that can range from an interface, an atmosphere, vehicle or a building," he says. "We have an active and forward-thinking approach towards exploring technologies that push our ideas into more accessible and speculative terrain. We see technology as a very human pursuit."
While art inspires his work, there's also a lesson for him in basketball. Spyropoulos says the game provides a great model for teamwork and chemistry. And while art is passion for him, he says love is blindness. This is how he explains his love for the always-stumbling Knicks.
"As a true Knicks fan, I remain optimistic even in the darkest of days," he says.
Spyropoulos says he tries to watch every game, including nearly a dozen a year in Madison Square Garden. Charles Oakley is his favorite all-time Knick and if asked why he'll say that it should be obvious, that it doesn't need to be explained — and then he'll explain it. His reasons are no surprise: grit and maximum effort.
But when asked where he looks for inspiration that might surprise people, he doesn't mention the Knickerbockers — even though that might have been the most surprising answer he could have given.
Instead, he offers: "To paraphrase the painter Chuck Close: Inspiration is for amateurs. I just get up and go to work."
That sounds like something Oakley might have said, too. When it comes to hard work, nobody great — whether artist, manager or athlete — ever escapes.
Related
Popular in the Community