As tattoos, piercings and other body art have grown in popularity, so have wedding tattoo dilemmas. Yes, I said dilemmas. Why dilemmas? Tattoos are clearly becoming the norm, not the exception, so why would there be dilemmas? But really, think about it. Body art has created a whole host of issues for brides and grooms all over. And lately it's been coming up more and more in wedding planning.
I've had some clients who had a lot of tattoos. They'll usually give me heads up when they're describing their wedding party -- I remember one bride telling me "our crew has a lot of body art" and she wasn't kidding. Some of the most elaborate tattoos I've ever seen. The entire group, except the parents (who for all I know had them too), had really beautiful body art. The bride's gown showed off a lot of skin and featured the tattoos. One of my brides this August had a wedding gown that actually appeared to match her partner's tattoo, and the engagement ring was designed the same way.
But for every bride who is showing off her ink, I've got two or three who are apoplectic about what they're going to do about their own tattoos or the art on their bridal party for their big day. Almost every wedding gown and bridesmaid dress out there today is strapless or has bare shoulders. Very little opportunity for brides to choose something that would discreetly cover body art they would rather not have featured in their wedding photos.
The brides aren't just upset that they can't hide their bridal party's tats, quite a few are trying to cover up their own as well. Not all of them -- let me be clear. But I have had enough clients who have requested to have their body art airbrushed away entirely for their wedding day that my makeup artist is considering getting an air gun. Just FYI, there's nobody who does airbrushing on Vieques so we have to bring it over from the big island and it's not cheap. But a few have decided it was worth the expense. Others have used Dermablend, which works but goes on a bit like greasepaint. A number of other cosmetic companies have alternatives now that hiding body art is more of an issue, but Dermablend was the original.
So there are ways to hide tattoos if that's what the bride wants to do, but it's still a really touchy subject. Some people are passionate about their body art and get really offended if they're asked to cover it up. One MoH (as the Dermablend was being applied to cover a giant 10-inch tongue in the center of her back) told the bride it was unfair because she'd paid a lot of money for her tattoo. I didn't have any comment in response to that. The bridesmaid dresses were pale blue and backless and it would have just looked really, really weird in the photos so I understood the bride's feelings about it. I accidentally offended a client in my first year of planning when I asked her if she wanted to cover an enormous tattoo on her arm. I just thought it was going to look strange in the pictures of her holding the bouquet (it was on the outside of her wrist). Turns out it was a military thing and the look she shot me said it all -- I made sure the photographer got good detail shots of the tattoo with the bouquet and all was forgiven.
My point is that body art can be a very controversial issue with your wedding party -- especially if the bride or groom has a strong opinion on it and if any of their good friends happens to be tatted up. Sometimes it's not an issue -- we had a firefighter with full sleeves who wore flesh-colored long-sleeved shirt under the short-sleeved guayabera that was his groomsman attire for the wedding ceremony. He took it off during the reception, but you can't tell he's wearing it in the wedding photos and so I think it was a really good idea. I later asked the bride if she'd asked him to cover up and she said, "No, his wife handles that." LOL
Another one of my clients isn't having any bridal party at all because her mother's first comment after her daughter got engaged was something like, "and I do hope you're going to choose something with sleeves for all of your decorated friends." Red flag: Bride decided that she'd skip the stress of dealing with her family and simply involved her best friends in the wedding in other ways. It made me sad, but the girls will still be there with her. I don't know if she told them why there's no wedding party but I'm guessing she didn't because the bride herself doesn't actually have any tattoos. It's just all of her friends who do.
Tattoos never cease to be an interesting conversation with my clients, regardless of whether it's because they're psyched to show them off or wishing they didn't have certain ones in certain places anymore. Regardless, they're a big topic and they weren't six or seven years ago. It's yet another lifestyle trend that's having an impact on wedding planning, and everyone is making up the rules on the fly. One set of my clients actually got matching wedding tattoos together after their wedding here on 12/12/12. It's their wedding gift to each other and it's a permanent souvenir.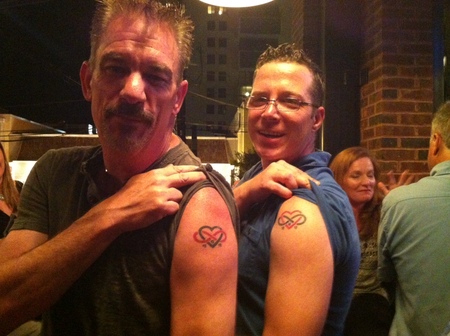 Until next time, happy wedding planning from Weddings in Vieques and Weddings in Culebra! And if you're in the United Kingdom, check out "Wedding Island" on TLC on Thursday nights at 9 p.m. to see what it's really like planning weddings down here in the Caribbean!

Related