Every Presidents' Day holiday, I go through the same confusion of trying to figure out how they pick the date. It's not Lincoln's birthday, or Washington's, but it is definitely closer to our first president so I guess that's my answer. That old seniority thing. This year, we had a brief moment of spring weather here in the East and it turned my thoughts away from eternal snow to having a cookout and grilling burgers, of course.
Burgers just seems to make people feel better. I always think of that great line from Norman Lear's brilliant and hilarious series, Fernwood Tonight. In the show, Susan Cloud, the owner of the Butterfly Deli and a convert to vegetarianism, had one credo:
I don't like to eat anything that under different circumstances might eat me. Except hamburgers, Because the human body requires burgers. - Susan Cloud, Fernwood Tonight.
When I was a film student in the Art School at Yale in 1977, my good friend, Kevin Crotty, who taught Classics there, would take me to the now departed Old Heidelberg for a bite to eat. He would listen to my tales of woe, and remind me that "The body needs burgers." That never failed to make me laugh. And how right he was.
There's something completely satisfying about a great burger. It has a lot of those tastes that the human animal craves: charbroiled meat from the fire; salty and sweet from the ketchup and onions and pickles; and a roll to hold and make it easy to eat. New Haven claims the distinction of being the home of the hamburger: invented by Louis Lassen of Louis' Lunch, which started out as a small lunch wagon in 1895. Frankly the burgers at Louis' Lunch are not that great, and I have trouble believing the local lore. How can you really know who put a steak patty on a roll first? I'm probably going to hear from a lot of people for saying this but it's actually a subject of some vigorous historical debate. What really matters is that the hamburger was a huge hit from the beginning. Even the French were seduced.
It is the Americans who have managed to crown minced beef as hamburger, and to send it round the world so that even the fussy French have taken to le boeuf hache, le hambourgaire.- Julia Child
The hamburger was a fast food sensation, and is still the king of all fast food. But it has gone beyond to capture the imagination of the foodie world. Today there are all kinds of burgers: little ones called sliders, and big, giant supersized ones. There are burgers made from Kobe beef, bison, venison, and ostrich. You have lamb, chicken, and turkey burgers; even tuna, salmon, tofu, and veggie burgers. There are burger bashes, bistros and bonanzas. Personally, I'm pretty old-fashioned. I've been eating burgers and having Blood Mary's for years at PJ Clarke's with members of my large family and friends from my several lives. I even have semi-fond memories of bags of White Castle burgers from the Bronx that arrived at 3 AM during interminable political meetings in the sixties.
But my favorite burger is the burger you make with friends or family when you get home from swimming in the ocean. Someone makes the burgers with great fresh ground meat. You fire up the coals and someone (not me) has to grill the patties perfectly. Then everyone gets to make their own with the best ingredients of summer. Luscious Jersey tomatoes from the garden, and some lettuce you just picked, and for me, it has to be, as John Belushi would say, a cheesburgah. Doesn't get any better.
Our good friend Mannix, the charming and cheeky Australian chef (www.thelovebite.com), has shared his Mannix Burger recipe with us. It's an indescribably delicious turkey burger. Before you start thinking lo-cal and healthy, let me add that this burger is also made with bacon and cheddar cheese, and is SO good. Have a great holiday! Burgers are good any time.
The Mannix Burger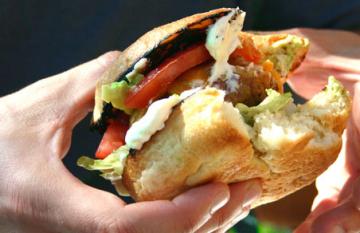 Servings: 6
Description:

Get ready for a 1/4 pounder with a full pound of flavour! Make the burger patties a day ahead if you like. Keep them in the fridge. Slice up all the sidekicks, grill the patties, toss the buns on the grill for a minute... And, for a ridiculous overload, serve the burgers with potato wedges (cooked to crisp perfection in goose fat). What makes this little patty bigger than his beefy buddies? It's the bacon. By using superlean turkey, I felt no remorse in sneaking a little bacon into the mix. The smoky flavor adds oomph and the bacon fat keeps things nice and juicy.

Ingredients:

1 1/2 lb (750g) ground turkey
4 rashers (slices) bacon, finely diced
1/2 lg onion, finely chopped
1 tblspn worcestershire sauce
1 egg
1/4 cup breadcrumbs
1 tspn paprika
salt and pepper
1/4 cup flour

To serve:
6 focaccia buns
avocado
2 heirloom tomatoes
6 cheddar cheese slices
mayonnaise
Spanish (purple) onions


Preparation:

Mix: ground turkey; bacon, onion, worcestershire sauce, breadcrumbs, egg and seasonings (by hand!)
Divide: into 6 balls
Roll: each ball in a little flour, pat off excess and flatten into a patty shape
Chill and grill: I let the floured patties sit in the fridge for a bit (if not overnight), then I either spray them with cooking oil or brush them with olive oil (depends who's watching) and grill them on a hot grill... 7-8 minutes per side, depending how thick the patty is
Serve: cooked patties and toasted buns on a platter with sliced tomatoes, avocado, lettuce and (grilled) onion rings. Have mayonnaise, ketchup, bbq sauce and mustard on the side...let them build it their way!

This recipe and many other family favorites are available on DishandDine.com. Stop by and become part of this grass roots global food community!
DishandDine - It's All About Food
http://www.dishanddine.com
http://www.facebook.com/DishandDine
http://www.twitter.com/DishandDine

REAL LIFE. REAL NEWS. REAL VOICES.
Help us tell more of the stories that matter from voices that too often remain unheard.