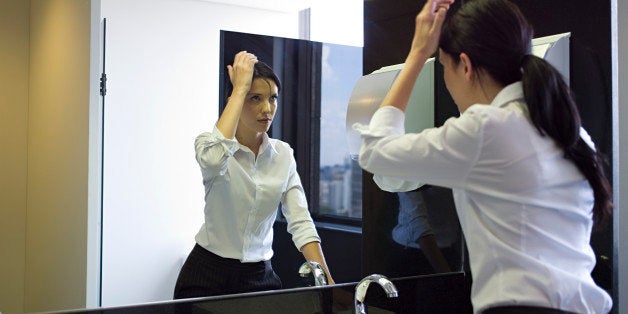 The NCAA just did the right thing and announced it would move the opening rounds of March Madness and six other tournaments out of North Carolina because the state has violated the civil rights of lesbian, gay, bisexual and transgender people.
In a statement, Mark Emmert, president of the NCAA said, "We believe in providing a safe and respectful environment at our events and are committed to providing the best experience possible for college athletes, fans, and everyone taking part in our championships."
How did the North Carolina GOP respond? They took the opportunity to attack the NCAA, insinuating that women would be at risk if people use bathrooms based on their gender identity.
NCGOP Kami Mueller described a fantastical situation in which all NCAA teams are unisex, cheerleaders and football players are forced to share hotel rooms and showers, and women are not safe, writing, "This decision is an assault to female athletes across the nation."
North Carolina is in violation of federal law by requiring people to use the bathroom of the gender that is listed on their birth certificate, not the gender with which they identify. North Carolina has attempted to frame this as a public safety issue, and given Mueller's vision for the future, the NC Republican Party is attempting to frame it as a safety issue as well.

My perpetrator was not transgender. In fact, he masqueraded as a Bible-believing, Republican pious man.

Mueller also brought up the sexual assault scandal at Baylor, erroneously connecting campus rape and the safety of women with the civil rights protections for the LGBT community that the NC Republican Party so vehemently opposes. This is not only illogical; it is dangerous.
My perpetrator was not transgender. In fact, he masqueraded as a Bible-believing, Republican pious man. He earned the trust of people in the community by flaunting his religious beliefs, even incorporating a Christian fish as part of his swim team's logo. For decades, his client base was made up of pastors' children, church-goers, homeschoolers and people who would consider North Carolina's civil rights protections sinful.
And yet, behind his pious facade there was a predator who assaulted me regularly throughout my childhood while I was a member of his swim team. His modus operandi is a common one that is sadly repeated across all types of sports from gymnastics to martial arts.
In fact, former Republican Speaker of the House Dennis Hastert was also a model member of his community, who trusted him enough to coach his school's wrestling team and later elected him to public office. Hastert was also a child molester. Federal Judge Thomas Durkin who presided over his criminal case, said, "Nothing is more disturbing than having 'serial child molester' and 'Speaker of the House' in the same sentence."
Former Penn State coach Jerry Sandusky committed his crimes in the bathroom that corresponded to his assigned gender. He was a male in a men's locker room who molested young boys. North Carolina's law, which the NCAA has taken a stand against, would not have protected those victims.
By fear-mongering, the North Carolina GOP has spread dangerous myths about sexual assault and perpetuated bigoted beliefs about lesbian, gay, bisexual, and transgender people.

Former Penn State coach Jerry Sandusky committed his crimes in the bathroom that corresponded to his assigned gender.

My perpetrator is in prison now, after pleading guilty to abusing me. The overwhelming majority of sexual predators are never reported to police, arrested, convicted or incarcerated. My case was very unusual. Out of 1,000 rapes, 994 perpetrators will walk free, according to RAINN.
When wrestling coach Dennis Hastert, NCAA coach Jerry Sandusky, and my coach were assaulting children who trusted them, high school and college bathrooms were single-sex, only heterosexuals could marry, and discrimination on the basis of sexual orientation was commonplace. None of these attitudes, practices or laws kept me safe. None of these attitudes, practices, or laws kept other victims of sexual assault safe either. In fact, many perpetrators hide behind the same beliefs that you espouse and promote.
I didn't get to feel safe and comfortable during my childhood because of a predator. In fact, because of the PTSD I suffer, I never take my sense of safety and comfort for granted. It is often fleeting.
It is irresponsible and offensive to use experiences like mine to prevent transgender people from feeling safe and comfortable in their lives.
The Boogeyman isn't in the bathroom. The NCAA is right to counter that narrative and take a stand against civil rights violations.
Support HuffPost
The Stakes Have Never Been Higher
Related
Popular in the Community