The Book Doctors first met Judith Fertig when she won our Kansas City Pitchapalooza (think American Idol for Books). She was commanding without being overbearing, powerful but warm, a total pro. And her pitch was really good. When we consulted with her, one of the things we did was help her figure out what genre her book fit in. It's rather shocking how many of our clients don't know exactly where their book wants to sit on the bookshelf. One we helped her get that sorted out, she got a great agent, who helped her edit her book, then got her a two-book deal with Penguin. And since we're doing an Online Pitchapalooza with National Novel Writing Month (NaNoWriMo) right now, we'd thought we'd pick her brain to see how she did it.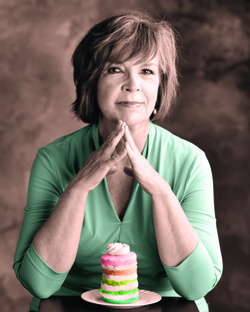 The Book Doctors: So, how did you get started in the book business?
Judith Fertig: Like most English majors, I wrote an early novel, unpublished, that remains in the proverbial desk drawer. When I was living and working in London, England, I realized that absence makes the heart grow fonder and I wanted to write a Midwestern cookbook when I got back home. It took a few years, and a couple of restaurant recipe "starter" cookbooks, but then I wrote Pure Prairie in 1995. After that, I wrote Prairie Home Cooking in 1999, which was nominated for the James Beard Award, became a bestseller, and earned me the title of "heartland cookbook icon" conferred by Saveur Magazine.
TBD: Who are some of your inspirations?
JF: I love cookbooks that tell a story. I still miss the late Laurie Colwin, a novelist who also wrote a column for the equally late Gourmet, which turned into two cookbooks, Home Cooking and More Home Cooking. I am an avid mystery reader, especially those with depth from Louise Penny and Jacqueline Winspear.
TBD: How did you come up with the idea for The Cake Therapist?
JF: I started out with Neely, a young pastry chef whose New York life is melting down like buttercream frosting on a hot day. She goes back to her Midwestern hometown and opens the bakery she's been dreaming about. And then I had a vision of Neely opening the door of her bakery after working all day and unleashing that bakery air into the cold. In my mind, the bakery air refracted into a baker's rainbow that only she can see and taste: pomegranate red, orange, lemon yellow, pistachio green, blueberry, indigo plum, violet blackberry, spice and vanilla.
TBD: How was it making the transition from non-fiction to a novel?
JF: Very interesting. I had to learn to write in scenes rather than in recipes with headnotes and sidebars. I had to develop an ear for believable and interesting dialogue. I had to learn how to go back and forth in time, to put the flashback chapters in chronological order rather than in theme order, which was too confusing for the reader. Non-fiction also requires more planning--you make an appointment to interview someone or buy groceries to test a recipe. With fiction, I learned it was just as important to allow for the unplanned, the plot twist that was just waiting if you gave yourself enough time to lose yourself in the writing. I was also working on a cookbook (Bake Happy, Running Press, May 2015) sort of at the same time as The Cake Therapist. So I would get an idea for a flavor pairing or wonder if strawberries with rosewater really tasted like a summer's day, then go into the kitchen and test it out in cakes, cookies, tarts, etc.. My taste-tester friends and family were very happy there for a while.
TBD: How did you get your book deal?
JF: It all happened much faster than I thought. I won a 1-minute Pitchapalooza contest when The Book Doctors in Kansas City in spring 2012. After my winner's conference with her, I knew my book was not a mystery as I had thought, but commercial women's fiction. After my manuscript went through my writers group, right before Thanksgiving in 2013, I sent pitch letters (with a great cake photo) to agents who I thought might like my work. A friend had recommended I read Beatriz Williams' One Hundred Summers because her plot goes back and forth in time like mine does. And I loved that book. Her agent liked my pitch and hooked me up with Stefanie Lieberman at Janklow & Nesbit. Stefanie sent the manuscript out to readers and I worked on the tweaks to the manuscript over the December holidays. She sent it out in early January, and we had a pre-empt offer for two books from Kate Seaver shortly afterward. The second book in the series, The Memory of Lemon, will be out in 2016.
TBD: What was it like working with your editor?
JF: Kate Seaver at Berkley (Penguin Random House) was very enthusiastic from the start. She went over and over the book, guiding me to tweak scenes, lose the prologue, amp up a character. I think writers have to be open to some change, and she was very skillful at helping me get to the heart of the main character and the story. This past November, I was able to go to New York and meet Kate, the Berkley/Penguin team, and Stefanie; I highly recommend doing that. It's so much better to work with people when you can put a name with a face.
TBD: What do you plan to do to promote and market the book?
JF: Because I want this to become a very successful series, I'm really stepping up my efforts on the first book. Berkley/Penguin already has a strong marketing and public relations presence, but I also know that "who you know" and persistence can also make a difference. That led me to hire additional PR and marketing assistance from Tandem Literary, who will work closely with Berkley/Penguin. I've made, decorated, and sent boxes and boxes of "cake therapy" cupcakes to possible blurb writers as well as book reviewers at major magazines. You always learn something unexpectedly new with every book and I've learned how to overnight cupcakes successfully (a 6-pack clear plastic cupcake container, frozen cupcakes, and a snug box). I've finally gotten my web site going, www.judithfertig.com. In the past few weeks, I've been doing more social media, mainly Twitter and Facebook. And planning the first event at my local independent bookstore, Rainy Day Books. That's the first stop on the author tour. I will be blogging and guest blogging. As much as possible, I will also bring little treats to events so readers can "taste" what The Cake Therapist is all about.
TBD: How did having an expertise in cake help you write your novel?
JF: I grew up in Cincinnati, a great mom-and-pop bakery town. All of our family's special occasion cakes, fantasies of frosting, came from The Wyoming Pastry Shop. For me, cake symbolized something good happening; its elusive flavor made me want to figure out how to make it myself. I've spent my cookbook career starting with an idea for a main dish or a dessert and then figuring out how to get there. It was the same process for the novel--minus the mess in the kitchen!
TBD: You are working within two niches: food & woman's fiction. What are some of the challenges and advantages to this?
JF: The Cake Therapist turned out to be women's commercial fiction, although I thought it was going to be a mystery. That was one of the surprises along the way. But there is a mystery within the novel, like a secret filling. I started out writing cookbooks that had a storytelling quality and now I'm writing fiction that has recipe elements. The challenge for me was getting the plot going, but I went to the Iowa Summer Writers Workshop and had a basic plot by the end of the session. The advantage for me from a non-fiction background is that I think in a multi-sensory way and try to get this on the page so readers can see, hear (with sort of a playlist), touch, smell, and especially taste their way through The Cake Therapist.
TBD: What advice do you have for writers?
JF: Adjust your book as you go along. You may start writing and a new character can appear or a plot twist present itself or something equally surprising can occur when you're into it. AND join a good writers group. Feedback is so important.
Novelist and cookbook author Judith Fertig, who was described by Saveur Magazine as a "heartland cookbook icon," debuts a new novel, The Cake Therapist (Berkley/Penguin, 2015). Bake Happy (Running Press, 2015), a also comes out this year. Her other books include In Heartland: The Cookbook (Andrews McMeel, 2011) and Prairie Home Cooking (Harvard Common Press, 2000), which was nominated for James Beard and IACP cookbook awards. Fertig's food and lifestyle writing has appeared in Bon Appetit, Food & Wine, Better Homes & Gardens, Saveur, Country Homes and Interiors (London), The New York Times, and The London Sunday Times. She is a member of Les Dames d'Escoffier, The Kansas City Barbeque Society, The Kansas City Novel Group, and IACP.
Calling all HuffPost superfans!
Sign up for membership to become a founding member and help shape HuffPost's next chapter