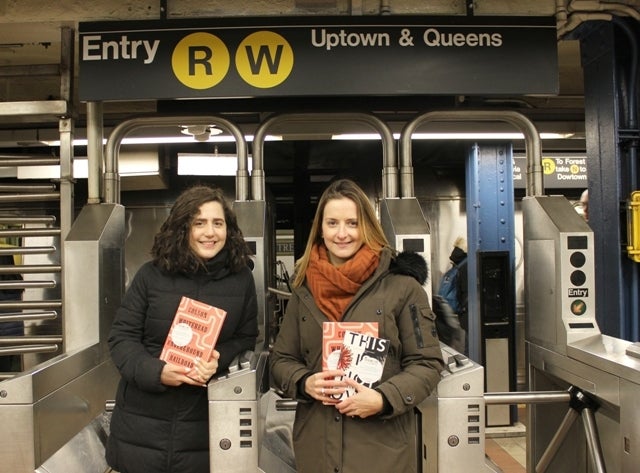 Hollie and Rosy are the lovely and generous book fairies of Books On The Subway. It's like a public library, but on the New York Subway.
In an interview the women told me about their movement.
Hollie started Books On The Underground in London in 2012, She got a new job on the other side of London and her commute was over an hour long, she started reading again while on the subway and realized how much she loved it. So she decided she wanted to create an underground movement of book sharing on the London transport network. She created a sticker that said 'Take this book, read it and return it for someone else'. And she started leaving books from her book shelf and buying books from charity shops before eventually starting to work with Authors and publishers to leave their books for them.
Meanwhile, in NYC, Rosy found out about the project in 2013, and decided to launch it in NYC.
She reached out to Hollie and got her blessing to set it up in NYC, and Hollie helped design the sticker for BOTS and put her in touch with a couple of authors and publishers.
From there, it picked up organically! More authors and publishers found out about it, and it kept growing and getting more attention. In 2015 Hollie moved over to NY for work and we have started running the initiative together.
At the moment, we leave around 20 books a day, unless we are working on a larger campaign, where we do 100 books a day or more at times.
Our aim is to keep it relatively small, but grow our following and garner more interest from commuters everywhere.
We want it to still feel like a small grassroots project being run by two women, and people scavenging for the books, vs. us flooding the subway with books. Some people are actually actively looking for books! It feels super exciting that they feel as passionate about this as we are!
We both love reading, and it's part of who we are growing up, and we want to spread the love of reading to everyone around us. Books are not easily accessible to all, and sometimes, we get carried away with our digital life. So it's our mission to get more books in the hands of more people.
We also want to stand for more: In the long run, we want to be able to work with reading and literacy charities, helping donate books and part of what we make to support them.
We also want to stand for women's empowerment, and supporting girl's education. It's all part of who we are at the core—two women who made it in the big city, and want to help out in how they see fit.
We're hoping by curating some special books, and working with other people/organizations that have the same values, we can use our Books On The Subway platform to advance these causes.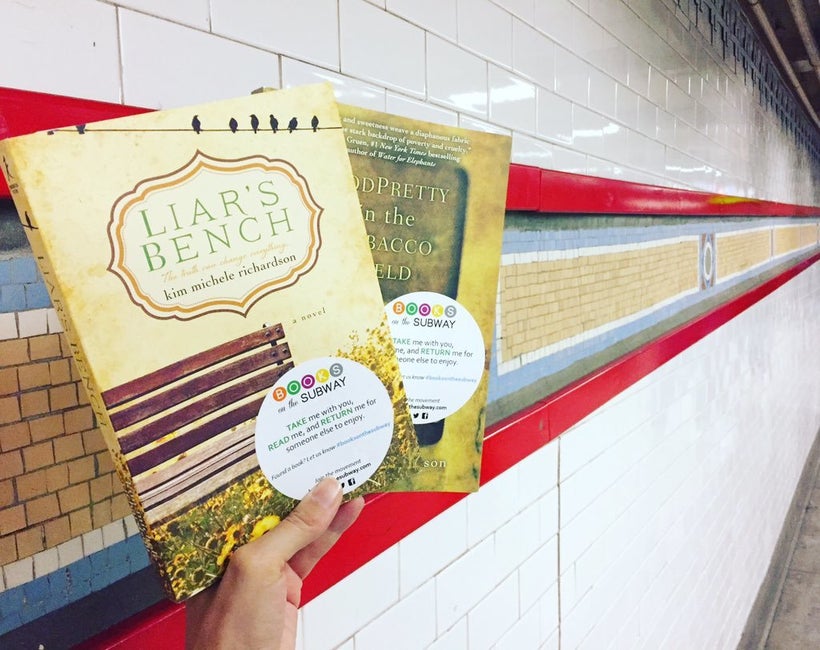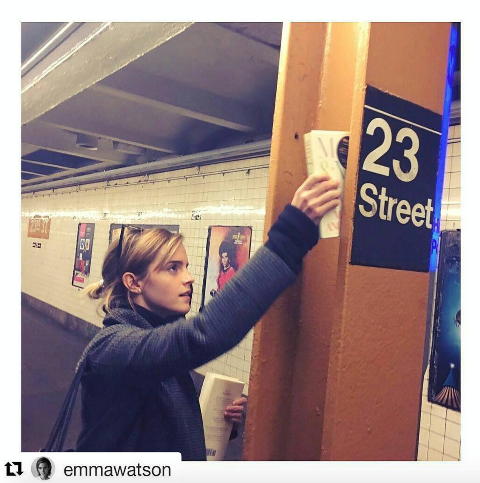 If you find a book from them on the subway, feel free to pick it up and take it home with you, but when you're done, be sure to put it back on the subway for someone else to enjoy.
To learn more about this movement, visit the website Books On The Subway, or connect with Hollie and Rosy on their social sites at Twitter @bookssubway and Insta: @booksonthesubway.
REAL LIFE. REAL NEWS. REAL VOICES.
Help us tell more of the stories that matter from voices that too often remain unheard.
This post was published on the now-closed HuffPost Contributor platform. Contributors control their own work and posted freely to our site. If you need to flag this entry as abusive,
send us an email
.