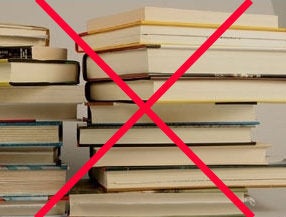 One Texas school district has taken book banning to an entirely new level. Young adult author Richelle Mead holds the distinction to perhaps be the only author ever to have a book banned... before it was even written.
[All six books in her Vampire Academy series were] banned at Henderson Junior High School in the Stephenville, Tex. Independent School District in 2009, [prior to the release of the 5th and 6th books in the series]. The entire teen vampire series was banned for "sexual content or nudity." Stephenville ISD actually banned books that have not yet been published and perhaps even books that have yet to be written. There is no way the district could know the content of, and yet they have been banned.*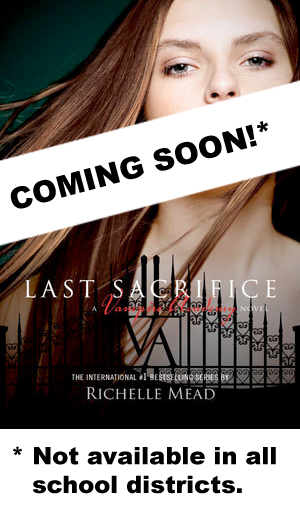 The ALA was indeed correct: at the time that the series was banned, Mead had yet to even complete writing and editing Last Sacrifice, the 6th and final book in the young adult vampire series. Stephenville ISD is "so committed to censorship that they are shattering the space-time continuum to literally ban books from the future," Chris Sims of Comics Alliance wrote this week.
"I can understand how whatever board came up with this list in Texas thought they were doing something good," Mead told Comics Alliance. "But, the fact that they've banned the series in its entirety -- before the content can even be reviewed -- makes it hard to take seriously."
The insanity doesn't end there. This week, fellow Penguin author Andrea Cremer blogged at Mundie Moms about a parent protesting her visit to a grade school due to her forthcoming debut novel's "inappropriate content":
The objection had come from a parent who hadn't read Nightshade (which won't even be available to the public until October 19th). She'd just seen my blog post supporting Laurie Halse Anderson (the author of Speak). Turns out my first encounter with censorship stemmed from my speaking out against it.
Cremer's Nightshade, a young adult novel featuring such objectionable material as gay werewolves, arranged marriages, and a conspiracy involving philosopher Thomas Hobbes, will be released later this month; Mead's Last Sacrifice will be published in December. Expect to see both books on the ALA's annual list of challenged books next year.
In 2009, the American Library Association recorded 460 challenges reported to the Office of Intellectual Freedom. "I teach for a living," Cremer wrote. "I know how to talk to students. I have a Ph.D. in history and I understand the ways in which violence, religion, and sexuality have shaped societies... These subjects shouldn't be avoided or hidden. They need to be discussed."
* Source: Newsletter on Intellectual Freedom, Nov. 2009, pp. 197-98, 225.

Related
Popular in the Community