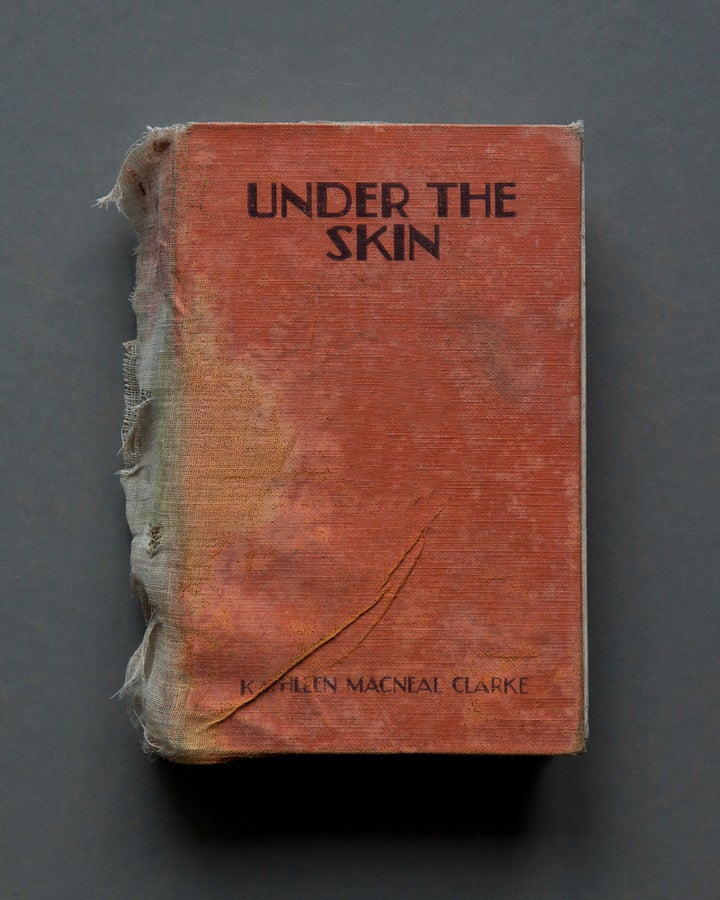 There are several startling qualities about Mary Ellen Bartley's photographic series "Reading Grey Gardens," and they seem to come at the viewer all at once. The subjects are captured by a digital camera, but only using natural available light, the clarity of each print exposing details as tiny as threads and with the luminosity of a painting; each work is shown in large format on matte paper that is more art than photo; the subject is twice as large as it is in real life: decayed, fraying, faded at times to something almost unrecognizable, yet the color—not altered in any way—is shockingly vibrant and alive. And then there is the content: the entire series is comprised of books left at Grey Gardens, the storied East Hampton home of mother-daughter duo Little Edie and Big Edie Bouvier-Beale (Jackie Kennedy's cousin and aunt), featured in the groundbreaking Albert and David Maysles documentary Grey Gardens.
Bartley is known for her photographs exploring the aesthetic, tactile and formal qualities of the printed book and its potential for abstraction. Her work offers a celebration of textural and palpable properties in an increasingly digital age. Previously, she has explored performance artist Robert Wilson's library at The Water Mill Center, creating a "book of books" titled Reading Robert Wilson. A recent installation at The Queens Museum had her working with Andrew Beccone's Reanimation Library.
But "Reading Grey Gardens" is somewhat of a departure for Bartley, who usually places books in formations, closing in on an edge of paper, an open spine, or a sculptural cluster of volumes, to create luscious ambiguity of shape with subtle hue. In this series, book covers and their title pages are shot head-on like portraits, allowing both the physical quality of the volume, and its content and context, to speak for themselves.
The books have, remarkably, remained on the shelves of the East Hampton mansion despite its renovation by Washington Post editor Ben Bradlee and his journalist wife Sally Quinn, who purchased the dilapidated estate from Little Edie in 1979. Bartley, who lives just a few miles from Grey Gardens, only recently learned of the books, and knew their future was uncertain with the house currently again up for sale. She felt an urgency to gain access to the books, which Quinn granted. Quinn, a book-lover herself, had rescued the books from a dumpster during initial extensive renovations of the house, but they have been sitting relatively unnoticed amongst Quinn's own books for decades.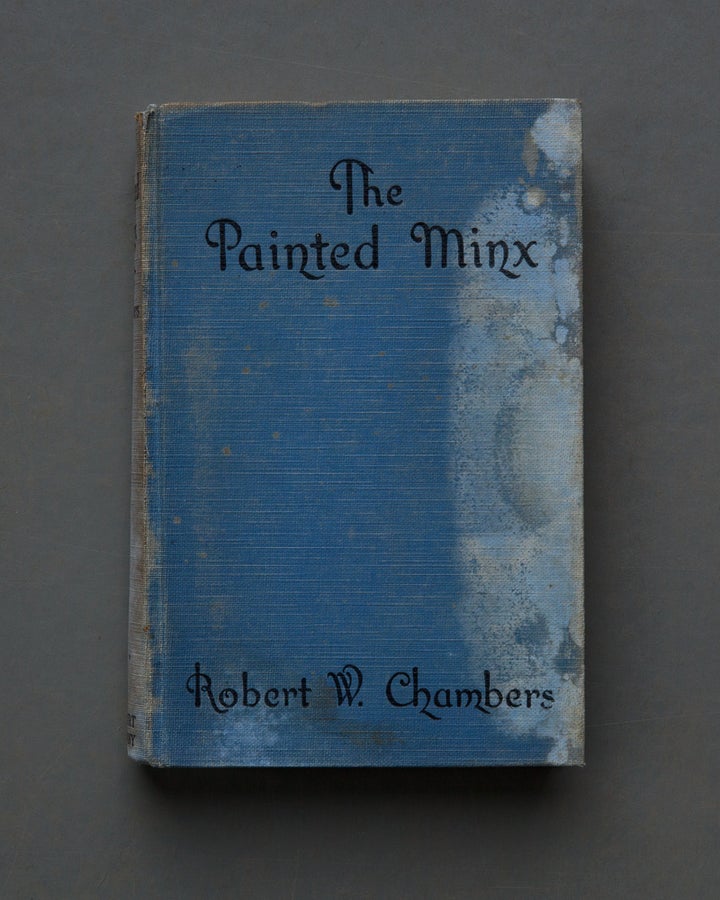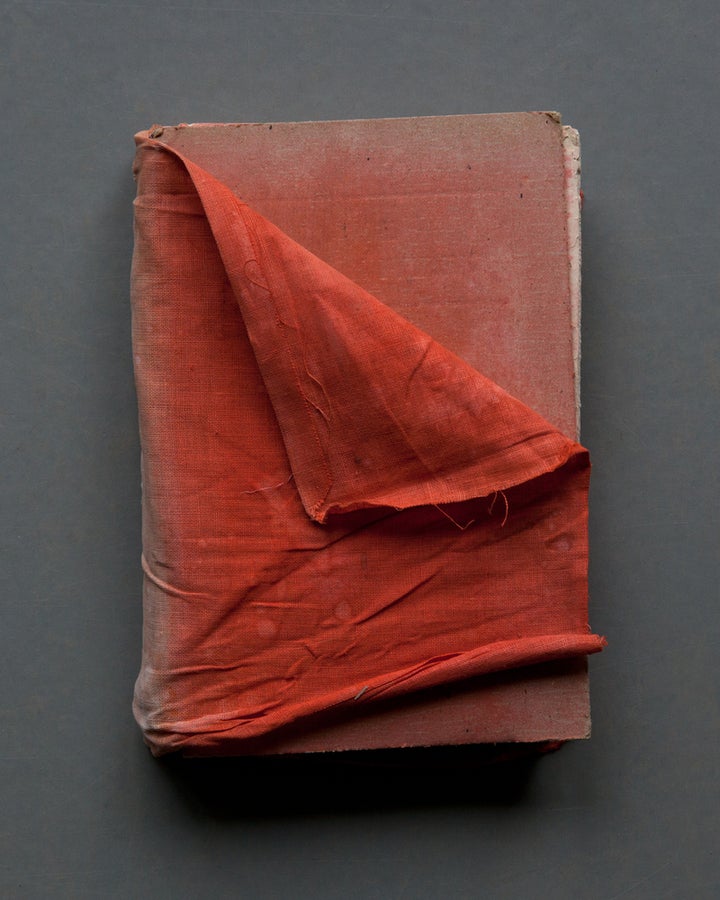 The dyes used on many of the cloth-bound volumes featured in "Reading Grey Gardens" are unusually highly pigmented, the colors surviving and thriving beyond the loosening weave of the fabric. This saturation gives Bartley's images both a sign-like, graphic quality, and a painterly sense of otherness. Each of the photographs—which read more like portraits—are highly textural, almost three-dimensional. As a whole, "Reading Grey Gardens" is disconcerting, stunning, deeply beautiful.
But context at times prevails, whether Bartley wants it to or not. It is nearly impossible to escape the implications of the collection itself: the loads of books about dieting and beauty, school books meant to shape children into little Victorian adults. At times the books form a portrait of a storied feminine mindset: romance novels with alarming titles (The Holiday Husband, The Painted Minx), and early self-help books whose titles seem as comedic as they are sad, in the context of all that we now know about the effervescent but disturbed Little Edie and her long-suffering mother.
Bartley purposely veered from the easy road to camp, though in some instances she could not completely avoid it. Many of the works are both poignant and hilarious, a commentary on an age, as well as on the two women who collected and read the over 200 volumes (most are inscribed, some doodled in, by Edie; many are dog-eared, obviously read multiple times).
Cheerful by Request is a volume clothed in funereal black. Vitality is coverless and naked, actively moldy, every edge frayed and peeling, the color completely faded but for a vibrant speckling of hot pink seeped through to the panels. Elementary LATIN has been altered in pencil by Eddie to read Elementary CHEATING. The Mother's Guide holds dozens of dog-eared pages, Little Edie's writing inside the cover reading "This book does not belong to anyone. And I'm glad it doesn't." Release from Nervous Tension has Little Edie's signature on the inside. She would have turned 100 this November 7th.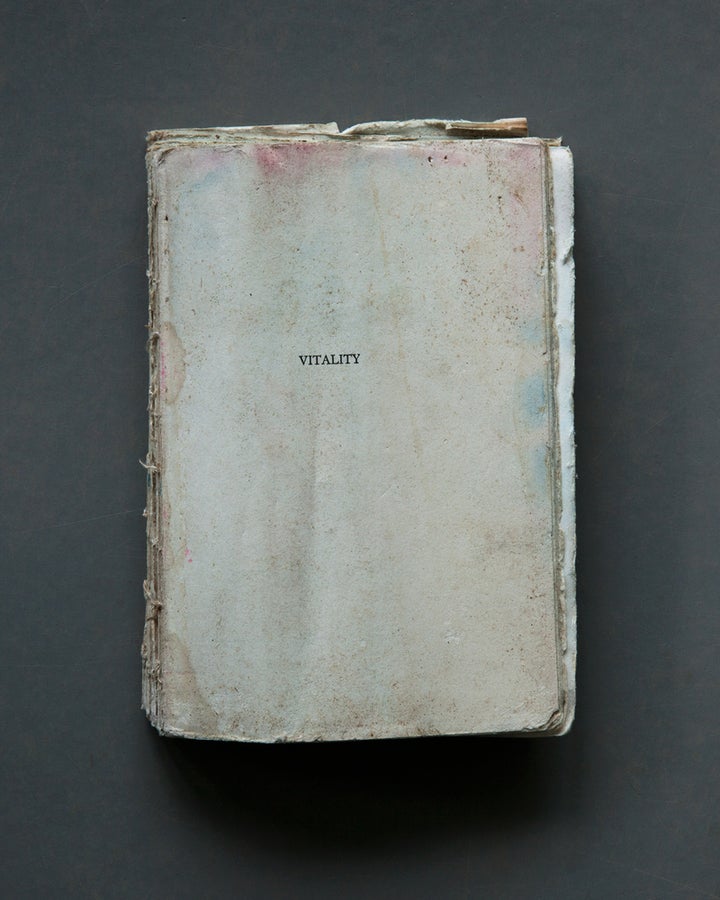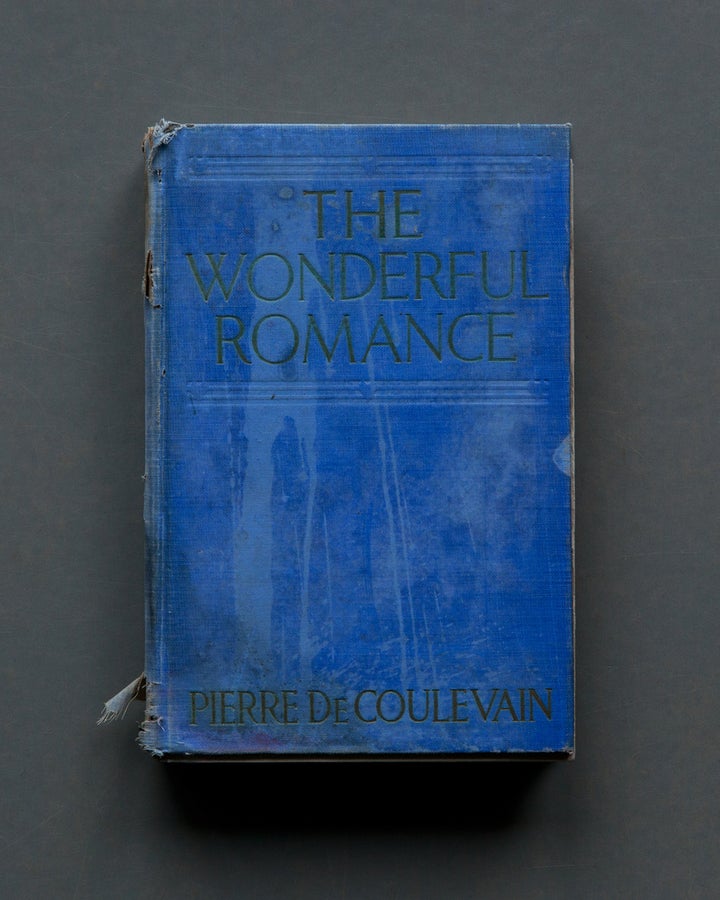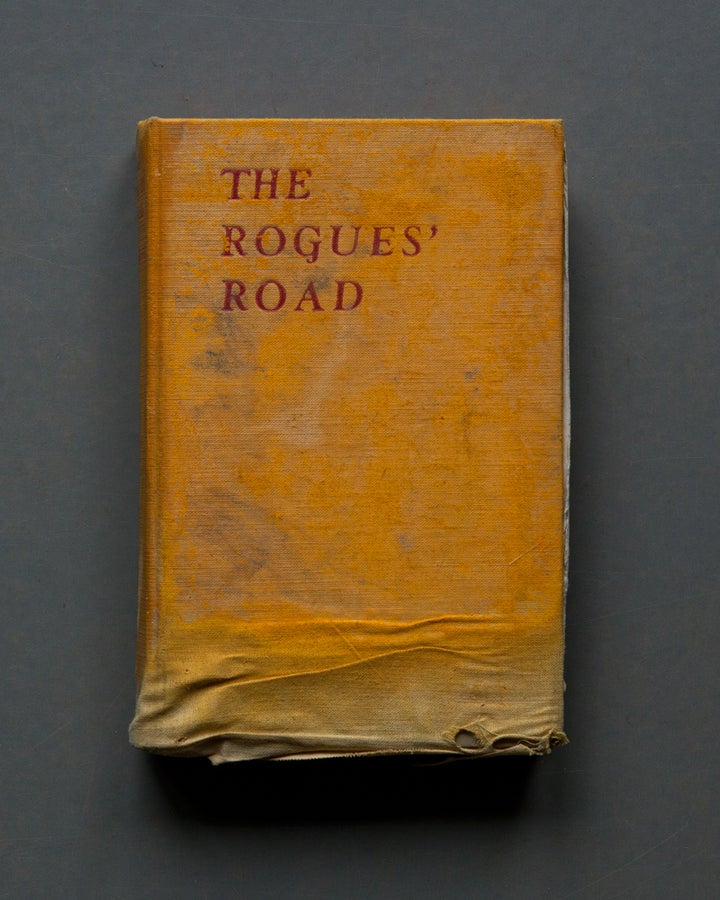 Bartley shot several society guides for the series, including Our Forebearers, the notorious Bouvier family history presented to First Lady Jackie Kennedy, while she was in the White House, as a fake history created by her and Edie's grandfather. Major John Vernou Bouvier Jr. engaged on the construction of the elaborate—and mythical—genealogical family treatise, privately publishing and adding to it over years. He was interested in placing the family in history, which to the Bouviers was a history written down. But these days, books have lost their authority, and these books specifically are literally falling apart.
One can see "Reading Grey Gardens" as a social-historical experiment, but Bartley is more interested in how the volumes parallel the Beales' lives on a more transcendent level. The books are distressed by prolonged exposure to sea air, bearing the scars of the riches-to-rags trajectory of their readers. The images are objective, yet emotionally charged, each volume a medium for the passage of time and the relationship to the personalities that lived and played in that storied home. For, Grey Gardens itself holds the folklore of an area, and of an era. The social history of the Hamptons spans the Gilded Age to the Depression, to JFK, to Warhol. That society began to fray in the 1960s and 70s—social and sexual mores disintegrating, politics and culture shifting—is illustrated beautifully by the decline of the condition of the books and house.
In 1972, Jackie, upon hearing the Town of East Hampton had condemned the house (with the inhabitants still living in it), donated a crew to clean it up, remove the vermin (there were raccoons living with the women and their many cats), and fix the worst of the leaks and mold. It is thought that Jackie herself, hair pulled under a headscarf, gloves on, helped cart out garbage and paint walls. This image of care-taking—but also of a lone woman's efforts to curb the dysfunction of her own family—has also stayed attached to the house and anything in it.
In "Reading Grey Gardens," Bartley has captured books as a botanist might, preserving them and creating a typology that reveals the rich detail of their physicality. Each photograph invites the viewer to discover connections between the narratives suggested by the book's title—and, in some cases, no title—and the fabled lives of the women who owned them . In many ways, the importance of Bartley's series may be seen as an archive of the Beale's library—which surely will not survive much longer. Like the Maysles brothers pioneering 1975 film, it stands as a documentation of lost lives, creating a moving alternative portrait that holds as many layers as there are pages of a book.
"Reading Grey Gardens" will be exhibited in September, 2017, at The Drawing Room, East Hampton.
Popular in the Community