Border Cantos: A Sight & Sound Exploration from the Mexican American Border is a compelling, bi-lingual exhibition that opened on 2-18 at Crystal Bridges Museum of American Art in Bentonville, Arkansas.
If ever there was an exhibit that warrants a legislative field trip, this is it. I want every member of Congress to pack a sack lunch and take an afternoon to look, listen and learn.
Little did the curators know when they booked this exhibition a few years ago how timely it would be. Or how it would illuminate our collective ignorance about the actual border. How we don't know that over 700 miles of walls (roughly 1/3 of the border) already exist, or that the need for a 'wall' is fading as more Mexican leave the US than enter it, or that Mexican illegal's have declined by over a million since 2009.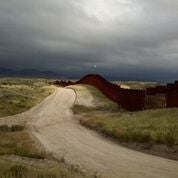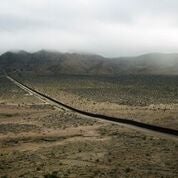 What photographer Richard Misrach and musician/composer/sculptor Guillermo Gallindo have done is make visible and 'voiced' what we never get to see or hear.
For Misrach, Border Cantos expands on years of prior work, covering the entire length of the Mexican-American border, all 1969 miles, Pacific to Gulf of Mexico. He shows us the existing walls that bisect cabbage fields and communities, slice through individual back yards, extend mile after mile through desert and end in the Pacific Ocean. They are a hodgepodge: squat cement barriers, intimidating-towering steel divides, wire mesh, WW II Normandy-style fencing to prevent vehicles but not people. We also see the 'digital walls' (8000 or so cameras, 11,000 underground sensors, etc.) the ones that work.
Galindo's work mirrors the landscape, but through sound and sculpture. He captures in sound what we dismiss as the silence of the desert. Echoes of immigrant voices blend and fade. Scores appear on the lost-and-found objects. He transforms the abandoned into musical instruments.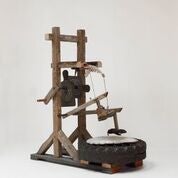 They direct our attention to the unseen and overlooked. The 'valuables' of refugees and immigrants, whether children's shoes (painfully evoking the Holocaust Museum in Washington, DC), the torn pages of a copy of the Russian novel, "Dr. Zhivago," in Spanish translation, or the contents of a child's backpack… all become personal.
Misrach and Galindo give shape and substance to people who must be invisible and remain invisible in order to survive… without showing the people themselves. There are no portraits. What images there are of people are often through fences, partial glimpses as if in passing.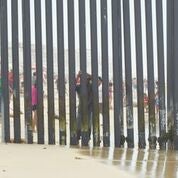 "We're artists, we're not politicians. We want to give people the experience of the border. And to get acquainted with the immigrant's journey. To make it palpable. To make it human," Galindo noted, referencing both himself and Misrach.
While focused on this one border, the exhibit resonates with all borders that must be crossed for people to survive. It is not preachy, not overtly political, but inherently provocative.
"While the topic of the US-Mexican border is challenging and even divisive at times, Misrach and Galindo seek to bridge divides instead of creating barriers. The art work in the exhibition creates a space for visitors to develop a deeper understanding of the complicated issues surrounding a border," said Ali Demorotski, exhibition curator.
It has been almost three weeks since I saw Border Cantos and listened to Richard Misrach describing the progression and meaning of their artistic work in the opening lecture. The impact of the exhibit has not faded.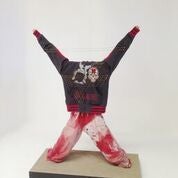 For more info, google Border Cantos: A Sight & Sound Exploration from the Mexican American Border or go to www.CrystalBridges.org.
P.S.: For the under-informed, Crystal Bridges is a cutting edge museum designed by Moshe Safdie and set in a series of pavilions on 120 acres of Ozark woodlands. It is home to an ever-growing permanent collection, a meticulously reconstructed Frank Lloyd Wright house, miles of hiking trails with sculptures, plus provocative temporary exhibits. Founded in 2005 by the Walton Family Foundation, under the vision and direction of Alice Walton, Crystal Bridges opened on 11-11-11. Admission is free.
Susan Kraus is a 'nasty woman' who longs for civil discourse. More of her work is at www.susankraus.com.
Popular in the Community