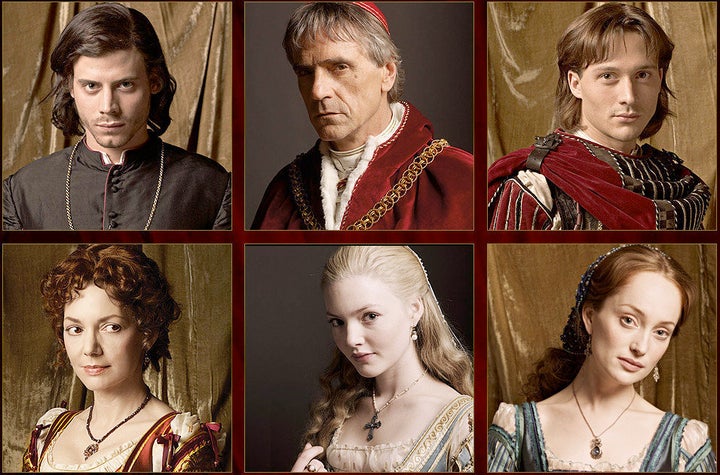 "We are family. We shall achieve the greatness that is your birthright. Together," says Jeremy Iron's Borgia pope in the season opener of Showtime's addictive historical drama The Borgias. These Borgias might be family, but it seems doubtful that the titular clan will ever be as united as their pontiff patriarch hopes for.
Premiering last season amongst a crop of period fare, The Borgias managed to do well by flying mostly under the radar. It premiered around the same time as Camelot on Starz and Game of Thrones on HBO, shows that had radically different fates. Camelot suffered from its dour unimaginative storytelling and was subsequently cancelled after the first season. Game of Thrones has gone on to become a massive cultural phenomenon, winning an Emmy for star Peter Dinklage and putting the fantasy book series on the New York Times bestseller list. The Borgias ended up somewhere in the middle of these two dramatically different poles. Premiering last spring, the show posted good ratings boosted by a stellar cast, beautiful costumes and scandalous stories of papal bad deeds in Renaissance Italy.
Now the show returns for a second season, close on the heels of the buzzy Thrones, and seems ready to up its own "game". (See what I did there?) The first season, for all its bloodshed, sex and papal politics, felt almost slow-moving at times. This worked in the show's favor, allowing it to establish the primary family and the world of Renaissance Italy around them. We met the politically motivated pope Rodrigo Borgia, played with delight by Jeremy Irons and his national treasure of a voice. We also met his children Juan (David Oakes) the perennial screw-up, Cesare (Francois Arnaud) the intelligent cleric more suited to combat than prayer and the beautiful Lucrezia (Holliday Grainger) just starting to learn the power and sacrifices of her position.
Like most families, things in the Borgia household are far from perfect in the show's second season. Juan and Cesare are in constant competition, Rodrigo's eye is wandering from mistress Giulia Farnese (Lotte Verbeek) and brother-sister duo Cesare and Lucrezia look like they are always mere seconds away from making out with each other. More tragically, it seems as if the whole family was attacked by a curling iron sometime between this season and the last. The more nefarious the family becomes, the more secrets must be stored in their crimped hair. By the end of the season, I expect everyone will be sporting afros.
The relationship between Cesare and Lucrezia, inappropriate as ever, continues to be the heart of the show. Executive Producer Neil Jordan has managed to create a relationship so sweet and weird, at once beautiful and completely off-putting, that you could truly buy into the incest rumors. In the world of The Borgias, I can both buy that the historical rumors of incest between brother and sister are fabrications and that anyone watching give each other eskimo kisses would be willing to believe it. This is certainly helped by Francois Arnaud's incredible chemistry with every living, breathing human being he comes into contact with, making even benign family scenes at times deeply uncomfortable. Kids, come on now. You are related.
It's these finely observed details that make the historical family feel less like abstract names in a textbook and more like people with distinct personalities. Unlike European cousin Tom Fontana's Borgia, the Showtime retelling puts less emphasis on action and more on the characters. The problem many people have with history is an inability to connect to historical figures as flesh and blood people. Realizing this, Jordan took his time establishing the central relationships in the first season and now intends to use those same relationships to propel the action in season two.
Perennial disaster Juan gets much darker and more devious this season, successfully alienating himself from both siblings. His combative relationship with Cesare is particularly interesting to watch. If you thought the two brothers were at each other's throats last season, just wait. <David Oakes teased a particular standout scene back when I talked with him in December, a family dinner minus the pontiff that is rife with dastardly innuendos and family strife.
Lucrezia also begins to get her hands dirty this season and discovers her power in the process. Last season Lucrezia subdued the French troops like a boss with only the power of being awesome. This season Lucrezia gets her time in the spotlight on the throne of St. Peter's and uses it appropriately to mess with some cardinals and bake a cake. Grainger really has full command of her role and makes Lucrezia both tough and vulnerable at the same time. She's particularly terrifying once crossed, a mistake brother Juan makes early on.
A great subplot that looks to continue through the season is the awesome Renaissance lady justice league formed by Giulia, Lucrezia and her mother Vanozza (Joanne Whalley). As someone who admittedly loves tough historical ladies, I appreciated this team-up. Also appreciated was the reintroduction of warrior woman Caterina Sfroza (Gina McKee), who looks to play a bigger role as the season progresses. I have a feeling we'll soon be finding out why she is commonly referred to as the "Tigress of Forli."
While history fans might demur with some of the changes made this season, the show feels like it's really picking up narrative momentum. The first four episodes move quickly and rack up a high body count. This includes some players from last season whose deaths will have repercussions for our favorite amoral family members.
In fact, judging from the first four episodes vengeance looks to be the theme of the season. Now that the Borgia family's power is firmly entrenched, getting even is foremost on their minds. The trick will be keeping the volatile family from turning on each other.
The Borgias returns on Sunday, April 8th (Easter! I see what you did there Showtime!) for season two on Showtime.

REAL LIFE. REAL NEWS. REAL VOICES.
Help us tell more of the stories that matter from voices that too often remain unheard.