Showtime's papal drama The Borgias, set to return for season three on April 14, really couldn't have picked a better time to return. Since the surprise resignation of Pope Benedict XVI, the papacy has suddenly become a hot topic. The world recently watched a chimney for days as a new pope was selected, much as the world watched the scandalous Rodrigo Borgia elected supreme pontiff in 1492.
The historical pope played with gusto by Jeremy Irons on The Borgias is always at the center of some new scandal, with his children never far behind. Playing son Cesare Borgia, Francois Arnaud has certainly had meaty material to work with. In season three Cesare will deal with shifting family dynamics after murdering brother Juan, his renewed quest for power, and his progressing feelings for sister Lucrezia [Holliday Grainger].
Ahead of the release of the second season on Blu-ray and DVD on March 26, I had the pleasure of talking to Francois Arnaud about his favorite scene in season two, what's coming up for Cesare in the third season, and all that incest.
Since the season two DVDS are coming out soon, what was your favorite scene from the second season?
I would say my favorite scene was the last scene I had with David Oakes, who played my brother Juan, in episode nine. Also maybe the final confrontation between me and my father, between Cesare and Rodrigo, over Juan's dead body. That was pretty intense.
What is it like working with Jeremy Irons? You've had a lot of intense, emotional, big scenes with him.
It was a blast, all of it. I think we got to know each other more and more every year, and he's become sort of a mentor. We've just become partners in crime really, and Holli also. I just watched Margin Call last week, I hadn't seen it, and I was reminded how great an actor he is. Not that I forget about it, but in Margin Call I just saw how well he could portray strength and power effortlessly. And that's perfect for The Borgias as well.
So the third season is coming up on April 14 and things are getting much more intense. What's Cesare's arc like this year?
He's out of his cardinal's robes and I think he's just allowing himself to be what he's always wanted to be, which is a warrior. After Della Rovere [Colm Feore] tries to kill the pope, I think Cesare finds out there are a lot more threats than he thought there were and that they're coming from all over. He becomes full of rage and decides to avenge his father and his family. He kind of becomes the leader of the family at that point.
I've seen the first four episodes of the upcoming season and it seems like one of the themes is the family turning more towards each other and becoming more paranoid and suspicious of outsiders. How does this affect Cesare and his relationship with his family?
I think there comes a point in probably most father-son relationships where the son kind of starts becoming the parent. And I think early on in season three Cesare realizes he doesn't have to apologize anymore for what he thinks is the right thing to do. He's just basically telling his father how things will work from now on and not asking for permission anymore. That was a big shift in their relationship and also in the way we worked as actors. Because you're so used to looking up to your father and giving him the respect he's due, but now the roles kind of interchange in season three.
So obviously one of the big things in season three, it's been in all the promos, is that Lucrezia and Cesare cross the line into incest. What did you think when you first discovered the show was going to that place with the characters?
Well to be honest we thought it was going that way from the very start of the first season. Neil Jordan, the creator of the show, denied it from the beginning but we were like "it's all over your writing man." It's in every single line, every single scene: these two are definitely in love with each other. So to me it's really a love story. It came as a natural progression I would say. I didn't judge the characters, it seemed very natural actually.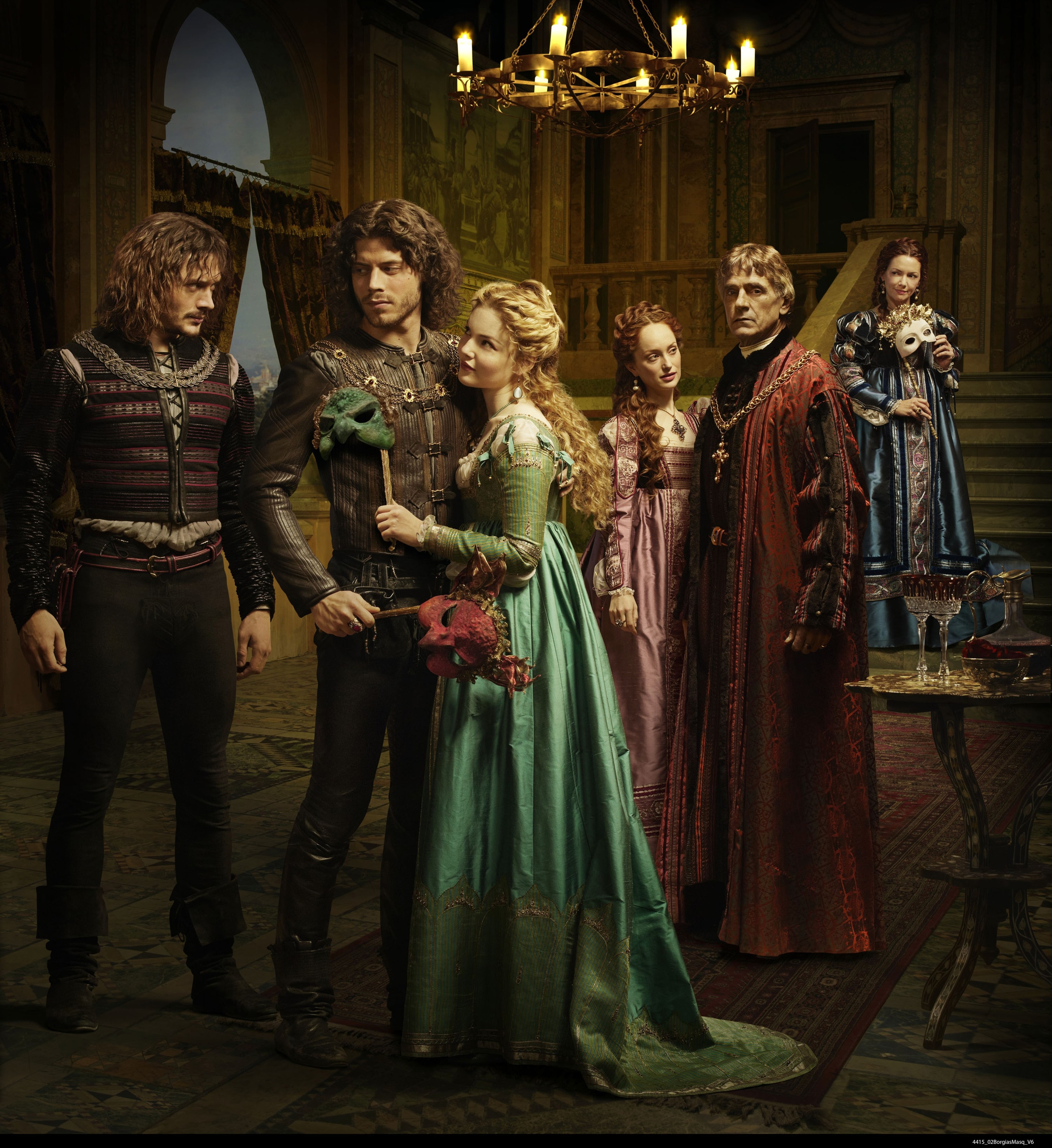 How do you view their relationship now? Has it changed the way you approach their scenes?
I think once they do go down that road there is a certain amount of shame and embarrassment that comes with it. But it's mostly from the way that others look at them and not from the way they perceive the relationship themselves. Of course it affects them, it affects Cesare. But I think his love for his sister is greater than his shame. He basically lives for her and to protect her.
Fans have obviously always loved the dynamic between the two of them, and as you mentioned since the beginning they've always been this side of appropriate for a sibling relationship. But why do you think they finally crossed the line into a physical relationship?
Lucrezia kind of makes the first move. I think they both wanted to try to get it right with other people. Cesare was deeply hurt by his relationship with Ursula, Sister Martha, in the previous season and that left a big scar I think. And also Lucrezia twice, with Paolo who was killed by Juan. And with Alfonso, who she really thought she could love but then ended up not feeling what she thought she would eventually feel. I think it's from that disappointment in their other relationships that they turn to one another and just admit to themselves that that's what they've always wanted.
Jumping back into season two for a bit, how do you think Cesare feels about murdering his brother?
Just no conflict there? Just feeling really good about it?
No I'm just kidding. [Laughs] No, I think it's the hardest thing he's ever had to do. But I think he ultimately feels that it's the right thing for the rest of the family. Well, and for himself. I don't think he takes any pleasure in murdering his brother. He knows that it will change him forever and it will never be the same. But I think there was something chemical in his hatred for his brother as well that's always been there. He just became too big a threat for everyone. For Lucrezia, for her baby, and for the papacy.
How much did you know about the real Cesare Borgia?
Well I read a few biographies that all contradicted each other before starting season one. [Laughs] Then I kind of tried to forget about all of it and just trust Neil's script. Things in the series don't necessarily happen in the order they did in real life. It's not true, but all plausible of what we know of the Borgias.
What I used as like my bible for the show was Machiavelli's The Prince, which is an essay on power -- how to gain power and how to keep it -- that was very much inspired by Cesare Borgia's life. So I read that a couple times and I kept going back to it. For the rest, I kind of tried to let it go and trust the scripts. Ultimately it's historical fiction, and Neil wanted to make it a Shakespearean drama rather than a documentary.
Do you feel differently about the whole Borgia family now that you've been acting on the show for the last few years? Particularly Cesare who, as you mentioned with Machiavelli and The Prince, was a brilliant man and warrior, but maybe not always such a great guy.
The thing is, I don't have to approve or disapprove of his actions. I can't judge him if I'm to be him for a while, so what I try to do is understand where he comes from and what triggers certain emotional or physical reactions. He's awful, obviously. He's an awful man. [Laughs] But a brilliant one. He was a great politician, a great warrior, not a great man of the church, obviously. I respect him in a way.
Are there any fun behind the scenes stories you could share?
I could tell you about the new horse I had this season, he was Spanish and he was called Luis. Before I was too inexperienced to have a proper racehorse so they gave me Murphy, an old Hungarian horse that was lazy and tired and not very dangerous. But Luis was the most amazing horse you'll ever see. He's a Spanish racehorse and he loves to gallop and he can't stand still for a minute, so that proved to be a problem.
Since he was a Spanish horse and I hadn't spoken Spanish in a few years, I decided I would only speak to him in Spanish. So that got me back on track with my Spanish. My horse taught me Spanish.
When you're not working on The Borgias what else are you working on?
I'm just doing reshoots for a movie we did last spring called Copperhead. It's an American Civil War movie directed by Ron Maxwell, which should be coming out later in the spring. Now I'm just lying in the sun for a while.
The Borgias season two is out on DVD and Blu-Ray March 26th. Season three premieres on Showtime at 10 p.m. on April 14.
REAL LIFE. REAL NEWS. REAL VOICES.
Help us tell more of the stories that matter from voices that too often remain unheard.