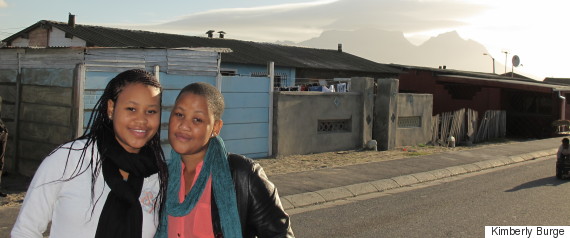 Sisters Sive and Olwethu in Gugulethu. (Credit: Kimberly Burge)
When I went to South Africa in 2010 to lead a creative writing club for teenage girls, I made sure to emphasize that word: club. I had never taught writing before, didn't have a teaching assistantship as I earned an MFA in nonfiction. I would not be correcting their grammar, nor assigning homework. Besides, how could I persuade girls to spend their Saturday afternoons in a writing class?
As it turned out, they did not need persuading. Every week for a year, anywhere from four to 22 girls showed up at a community center in Gugulethu, a black township about 10 miles outside Cape Town and a place where schools often lack libraries. The girls would spend a couple of hours writing, reading their words aloud, and listening to their peers do the same. I offered a prompt -- a word or phrase, a question, a poem or song lyrics -- to get them going. Then everyone would write for a set amount of time, whatever came to mind, wherever the prompt led. This forum was meant for the girls to discover what they had to say, what they thought and believed. It was a chance for them to hear their own voices.
I knew early in this undertaking that I would use the experience to write my first book, a narrative nonfiction account of these girls growing up as the first post-apartheid generation. South Africans call them the "born frees." The book would incorporate the girls' prose and poetry. That's another reason I wanted to form this club. I wanted to find out what they believed, how they saw themselves, their country, their generation, all in their own words. Then it fell to me as the book's author to make these girls and their stories come alive on the page for readers.
The lessons I took from our Saturdays together -- and from the time I spent with many of them outside the club -- traveled home to Washington, D.C., with me as I wrote the book [The Born Frees: Writing with the Girls of Gugulethu, W.W. Norton, August 2015]. Five ideas in particular carried me forward:
1. Listen.
I knew that writers learn how to write dialogue best by eavesdropping. That was easy to do in this case; I can listen to South Africans talk all day. The country has 11 official languages, and each produces its own distinct accent when English is spoken. Most of these girls learned Xhosa as their mother tongue, and English when they went to school, an education denied many of their parents and grandparents under apartheid. The girls would also pepper Xhosa words into their conversation. I might not understand what exactly they were saying, but I saw the ease with which they flowed between languages, the ways they were bridging their country's cultures. By listening to where writing took them, I also learned the deep stories they held inside and sought to tell. Months after I met her, when I offered the writing prompt, "I wish someone had told me...," I learned that Gugu, the bounciest of 16-year-olds, still grieved the father she had lost two years earlier, something she hadn't mentioned.
2. When inhabiting another's life on the page, honor particulars and reach for universal.
By the time I met her when she was 18, Annasuena had lived a life I could only imagine. She was born to a mother who was a famous pop star, who would be the first South African celebrity to announce she was HIV positive and who died when her daughter was 10. Annasuena grew up shuffling between homes and families who were sometimes not her own. She is now HIV positive herself. None of these experiences mirrored my own, and yet I felt like I understood this girl. I recognized her swings between bravado and despair. She rolled her eyes at anyone or anything she found ridiculous, as I did at her age. (As I sometimes still do.) When we were together, Annasuena would keep up a running monologue. She had so much to say, and few available to listen. I knew that feeling as well. Whenever I lost my place in writing the book, I returned to Annasuena's story. There I found my footing again.
3. Learn when to be a critic and when to be a champion -- of your own work, too.
Sharon, the eldest in our group at 20, took naturally to these roles. For a few weeks I asked for volunteers to read their writing out loud, until Sharon made it compulsory. This was not a workshop; the girls didn't pick apart one another's writing. But she wanted to see each girl own her work, her words. Sharon would be the one likely to push a girl to say more, write more, as we talked together in our circle following each reading. She could also sense when a girl needed encouragement. With my own writing now, I listen to Sharon's rich voice urging me to dig deeper. I also recognize the days when I need to hear her -- hear myself -- say, "Well done," for just putting words on the page.
4. Find courage equal to that of your protagonists.
I did not set out to write a memoir with this book. But I'm in the story, and so readers needed to know more about me and my life, why I ended up in South Africa in my early 40s leading a writing club. As publication day draws near, I'm fighting off pangs of fear at feeling so exposed. Perfect strangers will now know some very personal things about me. Worse, so will friends, colleagues, acquaintances. I felt these fears as I wrote sections of the book. I nearly cut many sentences in order to protect myself. But I had already asked these young women to expose their lives to me so I could, with their permission, tell their stories to others. I wrote about girls who have been raped by family members, who struggled through depression, who returned to abusive boyfriends. I owed them nothing less than the same microscope on my own life, as thorough an examination of my motivations and failings, my secrets, as I asked of them. Their bravery in telling their stories heightened my own.
5. Help another find her voice and you just might find your own.
Eighteen-year-old Ntombi hated hearing herself talk. She has a gravelly voice that can be difficult to hear until you grow to know and understand her. She held out longest against her friend Sharon's order that everyone read aloud. But over the months, Ntombi couldn't stop herself. She had things to say, and her voice grew loud and strong. Her hand often shot up first to volunteer to read. Writing a first draft, for me, usually feels like torture. I try too hard and force out words that sound nothing like what I would write. But like Ntombi, I had to overcome cringing at the sound of my voice on the page. I believe this is a book I was meant to write. So I kept going and my voice began to grow on me, began to sound like me. Some days, I even liked it.
At our first meeting the girls brainstormed for a name of the writing club. They came up with Amazw'Entombi -- "Voices of the Girls," in Xhosa. A friend pointed out how close "amazwi" sounds to "amazing." From the beginning, the girls of Gugulethu chose their words well.
Related
Popular in the Community